I hadn't planned to start watching the second season of Outlander just before this trip. But I did, so fresh in my mind was Claire Beauchamp Fraser, the protagonist in the historical fiction series, who travels back centuries to a simpler time where the freshness of food was a given, not a luxury and was often achieved through farming and foraging, not FreshDirect. Consequently, I imagined myself being transported from New York to Georgia through giant mystical stones with the help of an ancient Druid ritual instead of through the Delta terminal at Hartsfield airport with the help of TSA precheck. When I finally got to my destination (about halfway between Atlanta and Chattanooga ) I needed no imagination to help me become truly enamored with my home for the next few days – a place that instantly transported me out of my daily grind and into a different time and place – The Barnsley resort.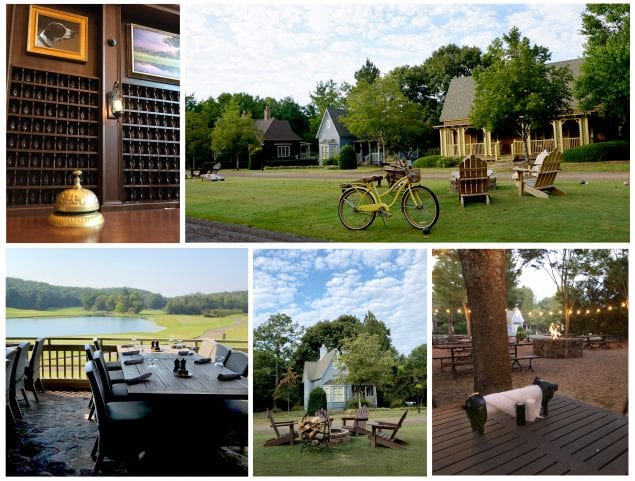 A Storied Estate
The 3,000 acre resort could really be the backdrop of an Outlander season (or three). Built out of the deep devotion of a wealthy British sea merchant to an even wealthier Savannah heiress, the estate was conceived out of love.  The astute businessman was Godfrey Barnsley who easily courted Savannah's elite upon his arrival to the United States. Among that Georgian aristocracy was Julia Scarborough, the southern princess who fell in love with Godfrey despite her mother's disapproval of the charming foreigner. The couple wed; but not too long afterwards Julia became chronically ill. Godfrey attributed her sickness to the coastal city's environment and thought it best to take his ailing wife to the fresh air of Georgia's upcountry to recuperate and raise their family. Here Barnsley could use acres of virgin woodland to build his beloved an estate like none other.
Guest Tip: Visit the museum located where the estate's manor kitchen used to be to learn more about the dramatic history of Barnsley and his estate. The history includes ghosts, murder, civil war, foreign royalty and much more. Go see what these historical figures looked like so you can debate amongst your party which Hollywood stars could play the estates' early inhabitants…or their restless spirits.
The 19th Century Influencer
Godfrey's building style was informed by his many trips abroad, but was most heavily influenced by the era's premier landscape architect and horticulturalist of the time, Andrew Jackson Downing.  Well-known as the United States' most influential advocate for Gothic Revival architecture, A.J. Downing married the style with his love of nature. In fact, he is credited with popularizing porches across the nation. He believed it was the ideal link between the residence and the outdoors. Though Downing's influence didn't catch fire in the south where Greek revival was the architecture style of choice, Barnsely was a true disciple of Downing and brought the horticulturalist's philosophies to North Georgia where there was plenty of nature to incorporate.
Walking through the resort you'll see many of Downing's influences firsthand. As you enter the deep-stained wood lobby of the newly built 55-room inn you'll notice a grandiosity that is far more cozy than pretentious. It's warmed further by the charm that only a southern concierge can greet you with. When you walk past the reception area's living room you'll find doors leading to the main grounds of the pedestrian friendly resort. The meticulously cared for pathways and lawns are not only easy to admire, but navigate, as well.
Guest Tip: Grab a bike and get a quick lay of the land by taking a ride throughout the gorgeously groomed grounds.
You don't have to walk far before you find the other types of accommodations that the resort has to offer. Laid out like the quaintest of English villages, the Cottages at Barnsley are Downing-esque residences that offer a homelike respite for guests. Think of them as idyllic Airbnbs but with the same front desk attention and room service offerings as the inn.  Accommodations in the village range from one bedroom cottages to two-story seven-bedroom Estate cottages. All offer lush hardwood living rooms, wood burning fireplaces, clawfoot bathtubs and, of course, porches galore.
I was truly impressed at the novelty of the cottage village. Though Downing's influence can primarily be experienced in the Northeast where I traveled from (i.e. the grounds at the White House, Smithsonian, Central Park, NYC), I have never seen it applied so deliberately with the houses he popularized. Here his vision transports guests away from their daily surroundings without seeming at all like a theme park. I couldn't have been happier with my stay at the inn, but next time I visit the resort I'll be booking a cottage to really get that nostalgic experience.
Romantic Ruins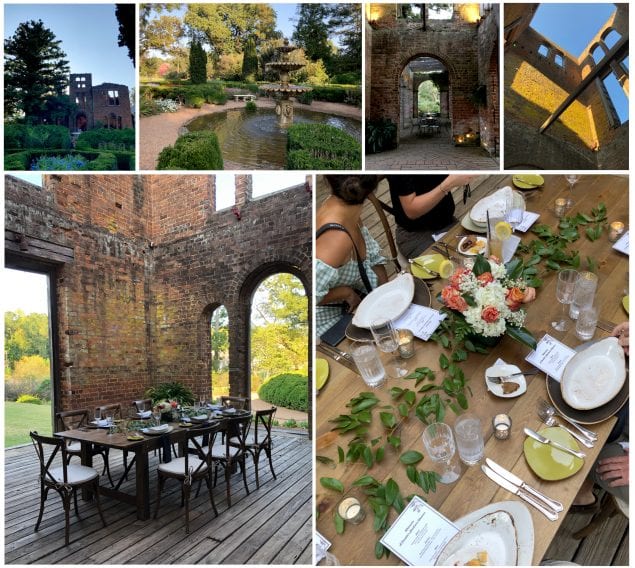 On the west side of the main resort grounds you'll find the ruins of the Downing-inspired Italianate Manor that Godfrey Barnsley built for his wife and family. Destroyed by confederate soldiers occupying the manor during the war and a 1906 tornado that blew off the roof, the Manor ruins are now an open structure that looks like it was either built for an Outlander location shoot or as a background for a Restoration Hardware catalog. In front of the ruins is a Downing Garden that exemplifies the picturesque landscaping of the Victorian era. The original boxwood hedges from the mid 19th century and the surrounding flora have been meticulously pruned and tended to making the garden one of the few antebellum gardens still surviving in the South.  My group was lucky enough to enjoy cocktails, dinner and s'mores al fresco at the ruins where it became abundantly clear why the location is so popular with couples who want to celebrate their nuptials in an unforgettably shabby-chic way.
Al Fresco Activities Abound
As you walk through the resort grounds you'll notice bocce balls and cornhole set-ups laid out for guests to use at their convenience.  They're simple reminders that though the resort takes pride in their accommodations, there are plenty of outdoor activities offered by the upcountry estate.  Sure, there's a fitness center adjacent to the seasonal pool, but there are also miles of outdoor hiking trails through meadows and woods which includes a 1.8 mile 20-station FIT trail. If you prefer walking between 18 holes on a golf course rather than FIT stations, there's a Jim Fazio designed course consisting of 378 acres of rolling championship greens.
For a faster way to see how vast the estate really is, the resort has partnered with High Adventure Company to offer a trail riding experience on UTVs (Utility Vehicles) that will leave you thoroughly exhilarated and satisfyingly dirty. The ride through miles and miles of Appalachian Mountain foothills (where plenty of wildlife call home) was so unlike my daily commute on the subway I honestly wouldn't have been surprised if out-of-nowhere a herd of small dinosaurs started running alongside the roving UTV to avoid capture from a chasing T-rex. The land was that pristine and expansive.
Guest Tip: Unless you want to literally experience the term "eat my dust" make sure you call dibs on a seat in the lead vehicle. The UTV's do not have windshields so those riding behind the lead vehicle will instantly develop an odd empathy with their vacuum cleaners.
The UTV trails wind through the Beretta Shooting grounds where the Barnsley resort and High Adventure Company have partnered with Beretta to also offer long range target shooting, wingshooting and clay shooting.
"Baa-Ram-Ewe"
If you're an animal lover, there are plenty of four-legged cuties to visit and help feed at the farm. From there, guests can take advantage of guided horseback rides and learn more about the estate's history from an experienced trail guide. Visit the snapping turtles that call the 10-acre on-premises lake home by using the complimentary canoes and kayaks that are available to guests. The fishing hole is well-stocked so guests can also try their hand at some catch-and-release fishing, as well. For those interested in fly fishing, an instructor led experience can teach beginners the art of tying lures and angling.
With brand new baby calves, a llama and a minihorse, it's quite debatable which animal on the estate is the cutest. The resort is pet-friendly so it may even be a visiting creature. But If you ask Andi Beyer, the resident bee expert, she'll tell you without hesitation that it's any of the hundreds of bees that live in the hives just steps away from the butterfly garden near the farm. Needing to see that for ourselves, my group zipped up our apprehensions behind beekeeping gear and were introduced to the queen of the hive. The apiarist explained what beekeeping entails and how important the busy insects are to our ecosystem. As a foodie, it's not only interesting to trace where our food comes from but also important to understand how to maintain its sustainability. Afterwards, we were able to taste the local honey paired with cheeses, jams and other condiments. Andi even treated us to her award winning macarons.
Shroomin'

Andi isn't the only wildlife expert on premises. A certified foraging guide is available for the Wild Mushroom & Herb Foraging experience.  Our guide, Evan (also an accomplished chef) was careful to point out to us city-dwellers what to avoid, such as poison ivy and black widow spiders. He was visibly excited when signs of newly forming fungi were spotted. I seriously thought he was bitten by a poisonous arachnid when I heard a sudden outburst from his direction. Luckily for us all, he had just confirmed that a large cap of Reishi mushroom was discovered. As Evan plucked and prodded mushrooms and plants from decaying trees and the forest floor, a closer connection to the foraged food developed in a way that would be impossible in my local grocery or farmer's market.  As a chef, he was able to explain flavor profiles of the mushrooms that were gleaned and possible preparations for the sassafras and mountain mint that were uprooted. We later enjoyed mountain mojitos made from the mint that was harvested just hours earlier.
Guest Tip: After enjoying hours of outdoor activities treat yourself to some rejuvenating tranquility at the newly revamped Spa that offers the latest body treatments, facials and massages.
From Pimento Beignets to Field Pea Cassoulets
For foodies, the only other food-related activity that could trump the beekeeping and mushroom foraging at Barnsley is, of course, eating! One thing I found pleasantly familiar to New York City was the level of the food served at the 3 eateries within the resort. From the uber-casual Beer Garden to the lodge-like Woodland Grill to the fine-dining ambiance of the Rice House, all the meals I experienced left me satisfied, yet wanting more.
I've often found that resort food, though impressive in its variety and quantity, lacks innovation and quality. Barnsley's new executive chef, Nicolas Lebas, makes sure that isn't the case with this resort. Originally from France, it's no surprise that Chef Lebas lists Alain Ducasse and Daniel Boulud as strong influences to his cuisine. Though new to Georgia, he brings with him extensive experience working at various luxury hotels and resorts in Southern states. Consequently, his inspired knowledge results is Southern food that is high-quality and comforting in its familiarity, yet unconventionally light.
The Woodland Bar & Grill
You'll see what I mean if you sit down to any meal at the Woodland Grill. The Buttermilk Ricotta Pancakes with sorghum whipped citrus butter & maple syrup is a refined classic. The Mixed Berry Brûlée with vanilla yogurt and house-made granola is served with local honey made by bees that you may have met.
Guest Tip: As a starter, get an Avocado toast for the table to share with your travel companions. Packed with flavor from the avocado-basil mousse, marinated tomatoes, sliced mushrooms, cured kalamata olives and prosciutto crisp, It's not only tasty, it's a beauty, as well.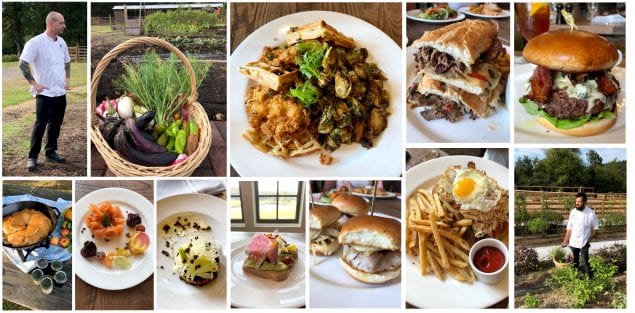 For lunch, the grill offers plates where meats smoked daily from the Beer Garden are showcased, such as the Brisket Philly and the Adult Grilled Cheese. If you want to try something that you can't get at the Beer Garden, try the hefty and juicy Dugan's KO Burger (named after Godfrey Barnsley's boxing great-grandson who shot and killed his brother on the property – you can see where at the museum). Or opt for lighter fare (though equally as filling) such as the Open-Faced Crab Salad BLT or the Grouper Sliders. I personally don't travel to the south without getting Chicken & Waffles and boy does Woodland's version deliver! Juicy fried chicken breasts sit on bacon waffles drizzled with candied jalapeño honey. To add an earthier crunch and to balance out the plate's sweetness, the chicken and waffles are coupled with crispy brussel sprouts flavored with lemon-rosemary salt. It was so damn good.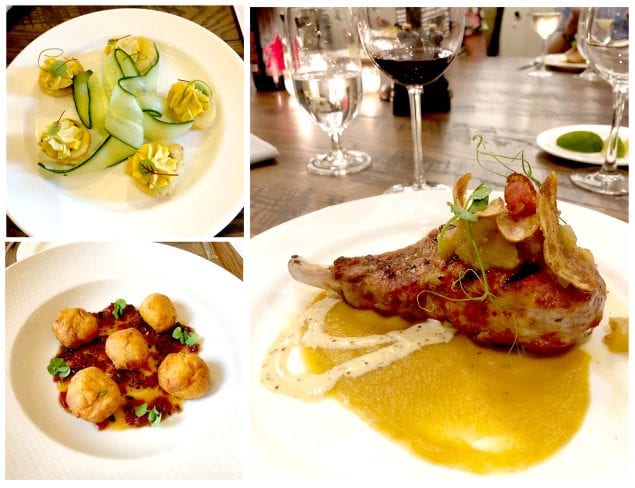 If you eat at the Grill for dinner you'll notice a few items that have remained from the lunch menu…for good reason. The deep fried deviled eggs and the Pimento Cheese Beignets are sophisticated spins on southern appetizers that could easily be on every menu. I'd actually go a step further and put them in vending machines around the property, but that's me.  Dinner entrées are elegant versions of Southern comfort food where fresh ingredients and classic expertise are relied on to elevate dishes instead of trendy gastronomy techniques or gimmicky plating. A lot of the ingredients used in all the services are harvested from the farm on property (found next to those adorable animals). They are cultivated primarily by the estate's sous chef, Hugo Cifuentes who has (forgive the pun) a deep-rooted love for dirt and farming.
Though the proteins on a plate may be the star of the dishes, the accompanying sauces and condiments truly allow those stars to shine. On the Diver Scallops with lobster-corn risotto plate, it's the southern chow-chow that cuts through the richness of the dish and highlights the scallops' sweetness. The Smoked Pork Chop rests on a butternut squash purée and topped with an apple-lemon mostarda that adds a bright tanginess that each bite of pork chop needs. It's also served with an Alabama white barbeque sauce that I could easily put on anything served at the Beer Garden. The mostarda not only enhances pork, but according to Chef Lebas, it also pairs well with most any cheese on a cheese board when served cold. See for yourself by making it at home. Chef Lebas' was kind enough to share his recipe found below.
Guest Tip: While at the Woodland Grill, discover a new bourbon by arranging a Whiskey tasting at the Woodland's bar.
Fine Dining at The Rice House

The third restaurant on the estate is the Rice House. The building itself is an elegant farmhouse that was built in neighboring Rome, Georgia in the 19th century and given new life when it was transported to the estate and refurbished. Here the farm-fresh and foraged ingredients we saw harvested earlier are used in an ever-changing menu that celebrates the crisp flavors developed by the North Georgian climate, the land of the Appalachian foot hills and chef Hugo's farming acumen. The simplest of preparations of the first two courses we tasted in the Rice House's private dining room showcased the kitchen's masterful understanding of how to present an individual ingredients' flavors, textures and temperatures. The amuse course was a Muscadine Gazpacho that was poured tableside into a shallow bowl containing an heirloom cucumber granita which chilled the soup until the last drop. Finely chopped pickled celery and marcona almond next to the granita added slight, but necessary crunch and involved other parts of the tongue with each spoonful. Texture was also a key ingredient in the meal's third course which had the only protein of the meal — a carefully cooked candied porchetta. Apple & pomegranate slaw, crushed peanuts, sorghum and field pea cassoulet all added varying degrees of bite to the dish that could have easily been a plate of varying degrees of mush in less experienced hands. The richest dish of the evening was also the clearest nod to the south. It was a Bourbon pecan bread pudding topped with a spiced white chocolate ganache. The dessert was a superb representation of a southern farmhouse that was updated to be as sophisticated as it is comforting.
Guest Tip: The Rice House is only open for dinner service Thursday, Friday & Saturday evenings.
Make sure to make a reservation to ensure a table.
Back to Reality
Heading back to the metropolis where my daily routine awaited me, I naturally felt those pangs of melancholy that usually accompany vacationers on their return flights home. The wistfulness hit quick and hard since I truly felt that the Barnsley Resort transported me to a different time and place. Yet, I felt rejuvenated and eager to recount the new experiences I had with anyone who would listen; two things I use as evidence of a successful holiday.  The next morning, I woke up to the unavoidable sounds of modern urban life and instantly remembered how Claire Fraser, our Outlander heroine, woke up similarly in her original place and time in the beginning of season 2. Irritated, she gruffly said, "it's so noisy here." I feel ya, Claire. I really do.
Print
Apple & Limone Mostarda
A Mostarda is a condiment made of candied fruit and a mustard-flavoured syrup. This mostarda can be enjoyed hot with pork chops or cold with a cheese and meat board.
Yield:

0

serves 12

1

x
Category:

Condiment
2

each Lemon zests and juice

2 cups

Dry White Vermouth

1.5 cup

Granulated White Sugar

2

each Bay leaves

2.5 Tablespoons

Pickled Mustard Seeds

2

lbs. Granny Smith Apples (diced)

2 Tablespoons

Dijon Mustard
Instructions
Combine lemon juice, sugar, bay leaves, mustard seed and salt in a medium sauce pan and bring to a simmer, stirring until the sugar dissolves.
In the meantime, peel and dice the apples. Add the apples to the sauce pan and bring to a boil over medium heat.
Cook until the apples are soft and the juices are reduced and syrupy; about 30-45 minutes.
Remove bay leaves, stir in the Dijon mustard and lemon zest and let cool.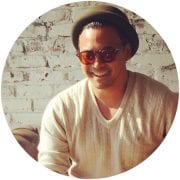 jordi adiao
I learned early in life to embrace your awkwardness... now, are you going to eat your chicken skin?