Warning: These chocolate crackers are quick to make and very, very addictive. Consume at own risk.
By Martyna Candrick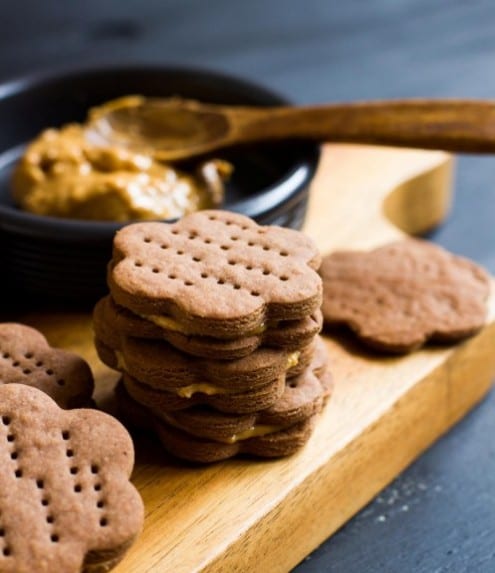 The inspiration for the crackers came from our recent trip to the Philippines, yes, I seem to have picked the least Filipino of foods to be inspired by, but I just couldn't get enough. Plus I felt it was my job to take a commercially-made biscuit and healthy-it-up a little.
Aside from the fact they can be filled with peanut butter as suggested, unfilled, they are also great for ice cream sandwiches or as a cheeseboard cracker – a perfect match for a creamy Brie.

Chocolate Crackers With Peanut Butter Filling (gluten free)
Super easy to make, these chocolate and peanut butter crackers are an ultimate in guilt-free gluten-free snacking. Makes 10-12 cookie sandwiches
Recipe Type:
Dessert, Chocolate, Gluten Free
Ingredients
For the chocolate crackers:
1 cup self-rising gluten free flour
3 tbsp brown sugar
2 tbsp cocoa powder
75g (2.6 oz) cold butter, diced
3 tbsp milk
1 tbsp honey
For the peanut butter filling:
½ cup organic peanut butter
1 tbsp icing sugar, sifted
Instructions
Preheat oven to 180C (160C fan-forced, 350F, gas mark 4).
To make the cookies:
Mix together flour, sugar and cocoa. Add diced butter and process or rub together with your fingers until fine breadcrumbs form. Add milk and honey and mix to form dough.
Transfer to a lightly flour-dusted surface and knead for another minute or so, until the dough is nice and smooth.
Flatten the dough and place between 2 sheets of non-stick baking paper. Using a rolling pin, roll out until the dough is about 3-4mm in thickness.
Cut out your shapes as required, transfer onto a baking tray lined with extra baking paper. Re-roll scraps and repeat the process.
Prick each cracker with a fork a few times.
Bake in a pre-heated oven for 10 minutes. Transfer to w wire rack and allow to cool before sandwiching with peanut butter.
To make the peanut butter filling:
Mix together organic peanut butter with icing sugar.
To make the cracker sandwich:
Place about a teaspoon of peanut butter into the middle of half the crackers. Top each with the remaining crackers and squeeze together to stick and push the filling to the edges.
Notes
If you're not into peanut butter, or are allergic, try them with some creamy brie and sour cherries. Otherwise, use 100% natural or organic peanut butter for the filling. Gluten free flour can be substituted for regular self-raising flour if you wish. You will need a rolling pin, baking paper and a cookie cutter or a sharp knife. Store in an airtight container for upto 1 week.
Martyna Angell
Martyna is a Polish-born Australian recipe developer and food blogger. Her creativity and passion for good food shines through in many of the delicious and easy to prepare meals which she cooks, styles and photographs for her blog, Wholesome Cook. Fresh cream-filled eclairs are her only weakness.