Chocolate Coffee Cake with Espresso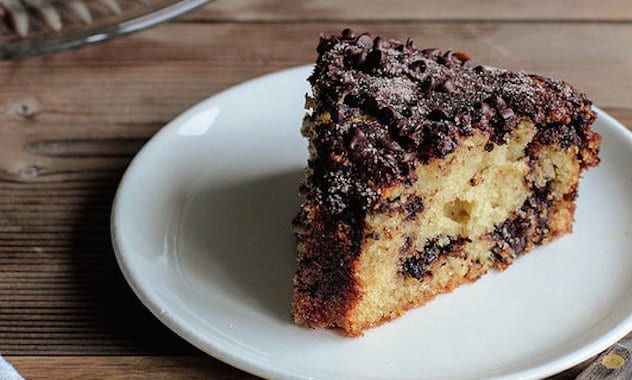 Food is about sharing and togetherness and this coffee cake is perfect to share in everyday occasions. The base is a buttery cake made with sour cream. An espresso cinnamon topping is sprinkled over to add a burst of flavor. Serve this cake with a cup of coffee or a glass of milk and you cannot go wrong.
By Kristin Rosenau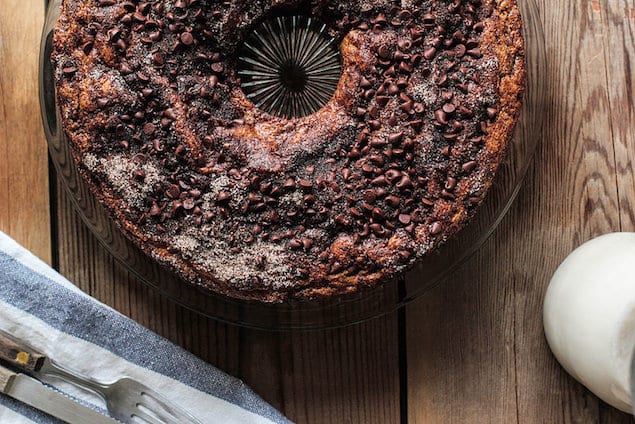 It was Sunday evening, the kitchen was a mess, and I was left empty-handed. It was my first weekend baking in nearly two months, and I had nothing to show for it. After traveling most of August and facing the whirlwind of starting a new school year, the longest I had spent in the kitchen up to this point was the length of time it took to fry an egg. This was going to be the weekend I would reacquaint myself with mixing bowls; it was the weekend I would remember why I held baking so dear to my heart.
Instead, I picked through the almonds in a failed batch of granola bars (I can never seem to get them to stay together) and stared at my attempted vegan caramel in disgust. When compared against the jar of bacon fat from breakfast, the similarities were a little too coincidental for my liking. I had reaquainted myself with the kitchen, true, but the scene was not quite what I had envisioned.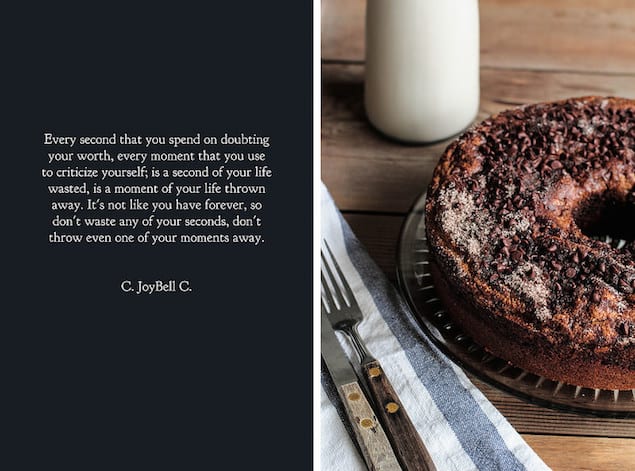 I keep a few recipes on the back burner for moments like this, scribbled on pieces of scrap paper and buried between papers on my desk. I made this coffee cake back in the beginning of June, a gift for my sister and her boyfriend's family. They were going to spend a weekend at their lake home and I thought a cake would nicely round out the weekend. As it turns out, it did.
But, when it came down to it, I didn't want to post this recipe. I didn't want to share it because I didn't think the photographs were good enough. The lighting was stark; the shadows were too dark. Perhaps it is a quality reserved for creators, but the longer I spend with something I have made, the more my vision narrows, focusing only on the flaws until they are the only aspects I can see. After three months of holding onto the photographs, I could find nothing positive with them anymore. My boyfriend tried to sway me in the opposite direction, but I had already criticized my work—myself—to a point where I could no longer see the worth.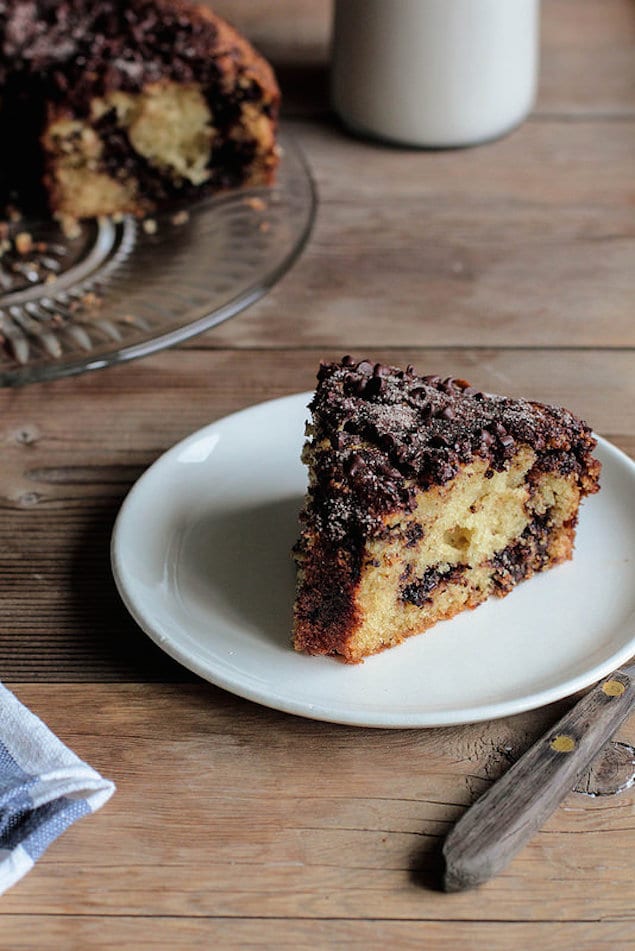 I sat down at the computer tonight, looked through the photographs again, and laughed at myself. With some time to clear my head, the flaws I couldn't escape from earlier seemed to fade away. I had forgotten what this cake was all about, what this blog was all about. Food is about sharing and togetherness. It is about experiencing and expressing joy with the ones that you love. It doesn't have to be pretentious or perfect—the intentions just have to be true.
I lost sight of that for a moment and it seems silly to admit all the trouble that happened over a simple coffee cake. If ever I should lose my way again, please point me back to this imperfectly perfect cake and remind me, softly, of why we gather here.
Espresso Chocolate Coffee Cake is a simple cake for everyday occasions. The base is a buttery cake made rich with the addition of sour cream. An espresso cinnamon topping is sprinkled on the top and in the center of the cake to add a burst of flavor. Since I can never leave well enough alone, I sprinkled chocolate chips with the topping, complementing the flavors already present. Serve this cake with a cup of coffee or a glass of milk and you cannot go wrong.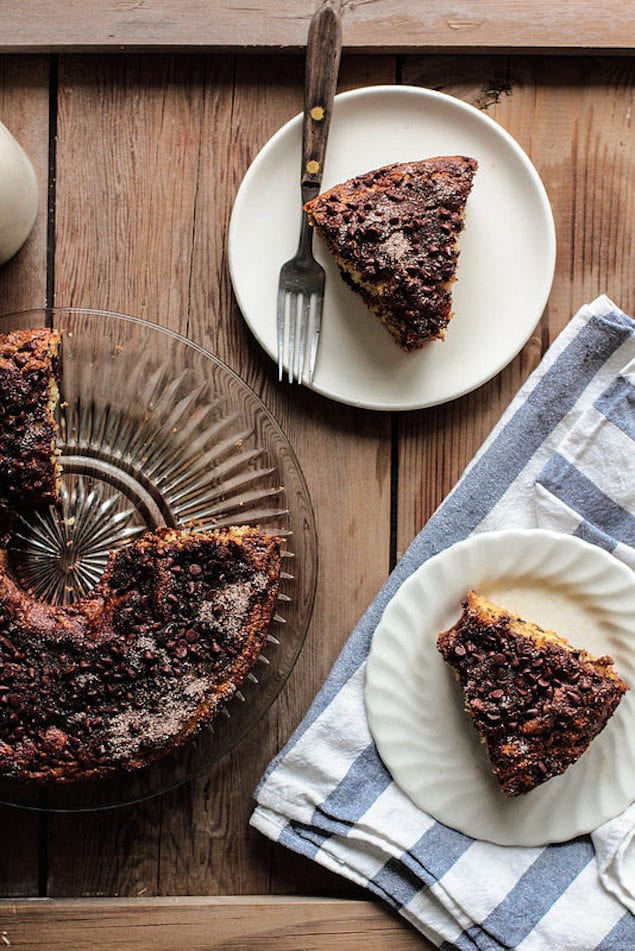 Chocolate Coffee Cake with Espresso
Food is about sharing and so is this buttery, rich cake topped with cinnamon and chocolate chips. Serve with a cup of coffee or a glass of milk.
Recipe Type:
Baking, Chocolate
Serves:
10-inch bundt cake
Ingredients
For Cake:
½ cup (113 grams) butter, room temperature
¾ cup (150 grams) granulated sugar
2 large eggs
1 cup (228 grams) sour cream (or plain yogurt)
2 teaspoon vanilla extract
½ teaspoon salt
1 teaspoon baking soda
1 teaspoon baking powder
2 cups (250 grams) all-purpose flour
For Topping:
⅓ cup (66 grams) granulated sugar
1½ teaspoons ground cinnamon
1 tablespoon espresso powder
6 ounces (170 grams) miniature chocolate chips
Instructions
Preheat oven to 350 degrees F (180 degrees C). Heavily grease a 10-inch tube or bundt pan and set aside.
In a large mixing bowl, beat together the butter and sugar until light and fluffy. Beat in the eggs one at a time, mixing well after each addition. Mix in the sour cream and vanilla until uniform.
Gradually fold in the salt, baking soda, baking powder, and flour. The batter will be thick. Set aside.
For the topping, whisk together the sugar, cinnamon, and espresso powder in a medium bowl.
Pour ½ of the cake batter into the prepared pan. Sprinkle half of the topping and half of the miniature chocolate chips over the batter. Pour the rest of the batter over the top and sprinkle it with the remaining topping and chocolate chips.
Bake for 45-50 minutes, or until the cake is lightly browned and a toothpick inserted into the center comes out clean. Cool in pan for 20 minutes before removing and transferring to a cooling rack to cool completely.
Kristin Rosenau
Kristin Rosenau is a baker and science teacher with a serious sweet tooth. She began an affair with butter and sugar fresh out of college and her love for baking has only matured since.The voice behind the blog Pastry Affair, Kristin develops recipes for the home cook, combining classic recipes and homespun flavors with a dash of honesty.