Tartlets, miniature tarts or tartlette as they're called in France is a very cute way of making and serving sweet treats.
By Tamara Novakoviç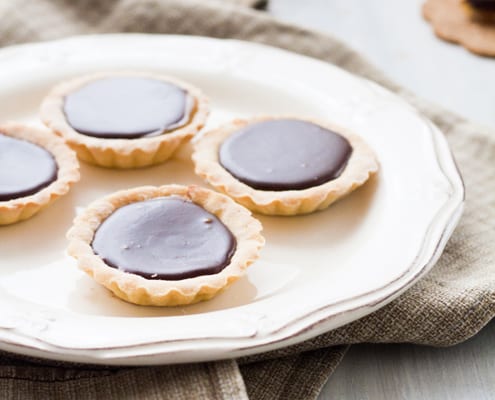 Tartlets, miniature tarts or tartlette as they're called in France are a very cute way of making and serving sweet treats. I've recently returned from France again, full of inspiration of course, so I'm giving you a lovely recipe for these little tarts.
Salted caramel with butter is a staple in Brittany, a region in the north-west of France (I stayed in a beautiful town called Rennes) so I wanted to make the sauce at home. It is really simple and utterly delicious. I refrigerated leftovers and used the sauce over delicious crepes. Dark chocolate ganache works great with sweet caramel and pie dough. Instead of small ones, you can make one large tart.
Chocolate caramel tartlets
Cute miniature tarts!
Ingredients
For the dough
2.1 oz (60 g) butter
pinch of salt
1.7 oz (50 g) sugar
1 egg
4 oz (115 g) all purpose flour
For the caramel
2.6 oz (75 g) sugar
½ tbsp honey
½ tsp salt
1 tbsp water
2 tbsp butter
2 tbsp heavy cream
½ tbsp sour cream
½ tsp vanilla extract
For the dark chocolate ganache
2.4 (70 g) dark chocolate (70 %)
0.16 cups (40 ml) heavy cream
1 tbsp vanilla extract
pinch of salt
Instructions
Make the dough: mix butter with sugar and salt until fluffy. Add egg, sifted flour and knead until you form the dough (don't knead too much). Wrap in plastic wrap and refrigerate for at least 2 hours. Roll it out on floured surface, about 0.4 inch (1 cm) thick. Cut out circles, 0.4 inch wider that tart shells. Press each dough piece into a tart shell. Trim leftover edges and prick with fork.
Preheat oven to 356 F (180 C). Bake them for 15-20 min. Let cool.
In the meantime, make caramel sauce: Combine sugar with honey, water and salt. Place on low heat and cook until it reaches nice amber color. Don't let it turn too dark and don't stir it. Remove from heat and add butter, heavy cream, sour cream and vanilla. Place a dollop of caramel sauce into each tart shell. Refrigerate until you make the ganache.
For the ganache: combine heavy cream with vanilla and place on medium heat. Remove from heat just before boiling point and stir in chopped chocolate and salt. Put a dollop of ganache on top of caramel into each tart shell. Refrigerate.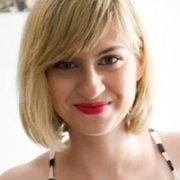 Tamara Novakoviç
Tamara Novakovic is a passionate self-taught cook, food blogger, freelance food writer and photographer behind bite-my-cake.blogspot.com. Her life journey has led her through Faculty of Humanities in Zagreb, Croatia to discovering passion for making cakes. She is currently a weekly food columnist for Croatian newspaper V magazine and food magazine Repete.