Saint Patrick's Day – Irish Soda Bread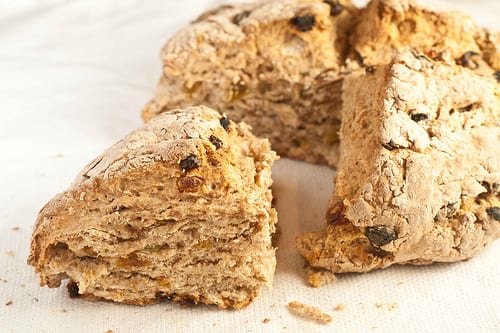 Saint Patrick's Day is looming around the corner. Why not bake this delightful Irish soda bread in honor of this holiday.
By Sara Clevering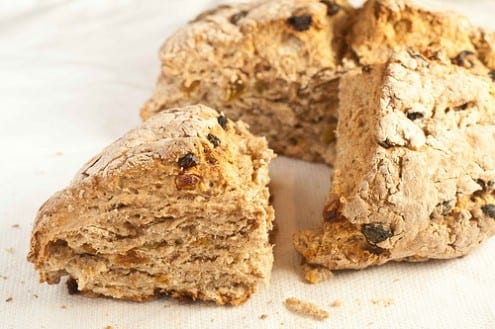 I don't have a drop of Irish blood in my body (which the mess I made of my fingers peeling potatoes yesterday convincingly attests to, result being that I'm typing this with just nine usable fingers right now). But I'm here in Boston so the coming St. Patrick's day holiday (yes, it's an actual holiday here, though the pretext is some revolutionary war battle) looms large. Not only that, my older son is in preschool so shamrocks and leprechaun themed items have been showing up after school. Speaking of which, he and his brother are a quarter Irish via their father, so I suppose it's their heritage calling.
Well, you know me, I'm always happy to find an excuse to bake. And all the moreso from Darina Allen's Forgotten Skills of Cooking, the magnum opus of the "Julia Child of Ireland" (and a birthday present from my mother in law, who would be the source of my son's Irish-American ancestry).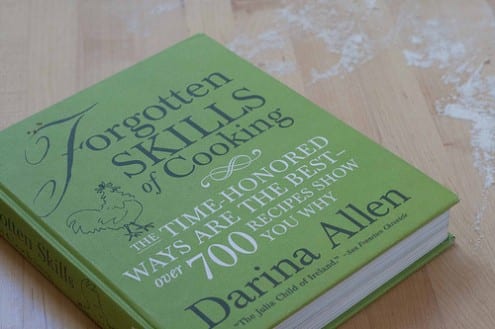 Saint Patrick's Day is looming around the corner. Why not bake this delightful Irish soda bread in honor of this holiday.
Author:
Sara Clevering, adapted from Darina Allen
Ingredients
2 c whole wheat flour
2 c all-purpose flour
1t salt
1t baking soda
¾c golden or regular raisins (optional)
2c buttermilk (you may need more or less)
Instructions
Preheat the oven to 450F. Stir the dry ingredients together (Allen suggests fluffing with your fingers to give the bread better texture). Make a well in the center and pour in the buttermilk. Stir with a dough whisk or a spoon; it should come together quickly. (Allen suggests using one hand, claw-like, to mix). When the dough is mostly incorporated, turn onto a floured surface (you can work in any dry bits while shaping, and you don't want to overmix in the bowl). Pat and shape into a disk about 1½ inches tall. Slide onto a baking sheet.
Cut a deep cross into the dough, then use a fork to prick each of the four sections.
Bake for 15 minutes at 450F, then reduce to 400F for another 15 minutes. Turn the loaf over and bake another 5-10 minutes (really!). The bread will be done when it is hollow when you thump it. Allow to cool and enjoy.
Sara Clevering
Sara sees cooking and baking as a delicious way to connect with the past and travel the world from her kitchen. She is commited to preparing homemade, unprocessed meals for her family and is always looking for tricks to fit this into a busy schedule. Sara is currently in the Boston area after several years living in London, Spain, and the Czech Republic, and travelling extensively in Eastern and Western Europe, always making sure to experience local culture through food. She also blogs with her sisters at www.threecleversisters.com