All the creamy components of these biscuits, buttermilk, yogurt, and of course the cheese itself, temper the heat of the chipotle and keep it in balance, without dulling its smoky character.
By Sara Clevering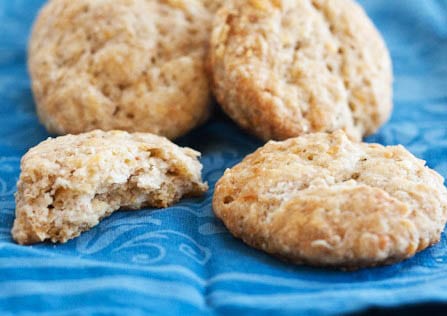 Chipotle Cheddar Buttermilk Biscuits
All the creamy components of these biscuits, buttermilk, yogurt, and of course the cheese itself, temper the heat of the chipotle and keep it in balance, without dulling its smoky character.
Ingredients
2 cups (about 9 ounces) all-purpose flour
1½ cups (about 6.8 ounces) whole wheat flour
2 tablespoons baking powder
1 tablespoon sugar
¾ teaspoon salt
½ teaspoon pepper
4 ounces (1 stick) frozen unsalted butter
2 cups (about 7 ounces) chipotle cheddar cheese
1 cup buttermilk + extra for buttermilk wash
1 cup yogurt
Instructions
Preheat the oven to 350F. Butter or line two baking sheets with parchment paper.
Stir the flours, baking soda, salt and pepper together. Either grate the frozen butter over the flour mixer, using the largest side of a box grater or cut in using a pastry cutter. Stir in, then stir in the grated cheese.
Whisk the buttermilk and yogurt together in a small bowl, then add it to the flour-butter-cheese mixture and stir to combine.
Turn out onto a floured work surface and knead only enough to incorporate into a single mass. Using the palms of your hands, pat the dough into a rough circle about 1? tall. Spoon some flour into a little mound on the table, and dip your cutter/cup's edge into this before making each round to avoid sticking.
Using a 2½? cutter (or the closest sized cup you have–2½? is actually not all that big, and it's not the end of the world to end up with larger biscuits), cut out biscuits. (Until I got those pretty hummingbird cups pictured above, I even used the rim of a baby bottle on biscuits. In case you have some laying around).
Place each biscuit onto your prepared cookie sheet, about one inch apart. Re-form scraps into another circle and cut more biscuits. Work quickly so the butter stays cold, rather than kneading or trying to make the dough perfect and smooth. (I find that the biscuits from the second and third pass aren't as pretty, but they still somehow manage to get eaten).
Pour a little buttermilk into a small dish and use your fingers or a pastry brush to paint the top of each round with a buttermilk wash.
Bake for 35-40 minutes until brown, rotating the baking sheets about halfway through.
Sara Clevering
Sara sees cooking and baking as a delicious way to connect with the past and travel the world from her kitchen. She is commited to preparing homemade, unprocessed meals for her family and is always looking for tricks to fit this into a busy schedule. Sara is currently in the Boston area after several years living in London, Spain, and the Czech Republic, and travelling extensively in Eastern and Western Europe, always making sure to experience local culture through food. She also blogs with her sisters at www.threecleversisters.com