Chickpea Flour Pancakes with Greek Yogurt Caper Sauce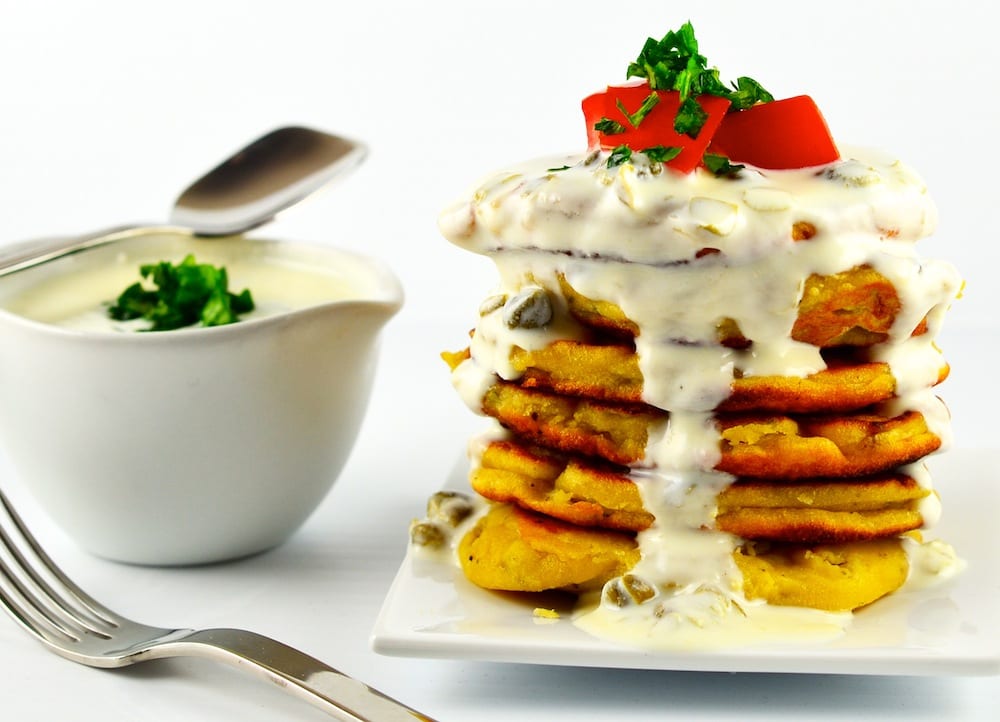 Try these tangy pancakes for a savory and gluten-free take on a breakfast favorite.
By Vicky Cohen and Ruth Fox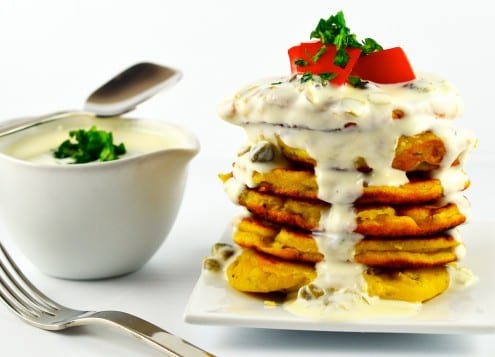 Chickpea Flour Pancakes with Greek Yogurt Caper Sauce
Try these tangy pancakes for a savory and gluten-free take on a breakfast favorite.
Author:
Vicky Cohen and Ruth Fox
Ingredients
Pancakes
1 tbsp olive oil
1 bunch of scallions, sliced (about 6-7 scallions)
2 cups garbanzo bean (chickpea) flour
½ tsp baking powder
1 cup plain low fat Greek yogurt (we used Chobani)
1½ tsp salt
? tsp pepper
2 tbsp extra virgin olive oil
2 eggs
½ cup low fat milk
2 tsp jarred marinated hot cherry peppers
3-4 tsp vegetable oil to cook the pancakes (1 to 2 tsp per batch)
Greek yogurt sauce
½ cup plain low fat Greek yogurt (we used chobani)
2 tsp freshly squeezed Meyer lemon juice or regular lemon juice
? tsp salt
1 tsp dijon mustard
2 heaping tsp drained capers
Instructions
Pancakes
In a large non stick skillet, saute scallions in 1 tablespoon of olive oil for 5 minutes, until tender. Set aside
In a large bowl, combine chickpea flour,baking powder, yogurt, salt, pepper, olive oil, eggs, milk and hot cherry peppers. Mix until well incorporated and fold in cooked scallions
Heat 1-2 teaspoons of vegetable oil in a non stick skillet. Pour about 2 tablespoons of batter per pancake and cook at medium heat, 2-3 minutes per side
Serve hot with Greek yogurt and caper sauce
Greek yogurt sauce
Whisk together yogurt, lemon juice, salt and mustard, until smooth. Fold in capers and refrigerate until ready to serve
Vicky Cohen and Ruth Fox
We are two sisters born and raised in Barcelona, Spain, with Sephardic and Middle Eastern roots. We grew up eating the best, most flavorful, comforting home-cooked meals prepared by our mom, who taught us everything we know about cooking. When we moved here to the U.S. we felt it was really important to keep our traditions and background alive, and we've done so by sharing it with everyone we've met throughout the years. After all, what better way to make new friends and share our love and culture than through food, right? Our friends have come to enjoy our food and gatherings so much that are always asking us for our recipes. That inspired us to start a cooking blog called "May I have that recipe" where we share recipes we've created inspired by our multicultural background.