This chili is full of rich, hearty flavors but is made a little lighter with chicken so it won't weigh you down.
By Taylor Mathis and Sally James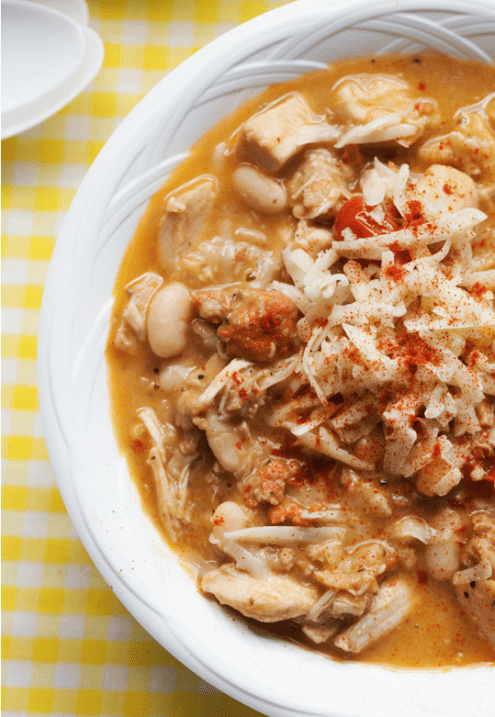 Chicken Sausage Chili with Roasted Tomatoes
This chili is full of rich, hearty flavors but is made a little lighter with chicken so it won't weigh you down.
Author:
Taylor Mathis and Sally James
Ingredients
2 Tablespoons extra virgin olive oil
1 pound hot Italian chicken sausage, casings removed
1 pound mild Italian chicken sausage, casings removed
2 cups chopped yellow onions
1 cup chopped shallots
1 cup chopped green bell pepper
½ cup chopped celery
½ cup chopped poblano peppers
4 Tablespoons chopped seeded jalapenos
2 Tablespoons minced garlic
8 cups low sodium chicken stock
1 pound Great Northern beans, soaked overnight and drained according to the package
1 Tablespoon ground cumin
2 teaspoons salt
1 teaspoon coarse ground black pepper
1 teaspoon Ancho chili powder
1 teaspoon Chipotle Tabasco Sauce
1 teaspoon Worcestershire sauce
½ teaspoon Tabasco sauce
8 cups chopped roasted chicken
1 cup heavy cream
1 Tablespoon plain white cornmeal
2 pints roasted grape tomatoes
Garnish- pepper jack cheese and smoked sweet paprika
Roasted Grape Tomatoes
2 pints grape tomatoes
3 Tablespoons extra virgin olive oil
1 Tablespoon Sherry Vinegar Glaze
¼ teaspoon salt
⅛ teaspoon coarse ground black pepper
Instructions
Roasted Grape Tomatoes
Preheat the oven to 375 degrees. Cut grape tomatoes in half and place on a metal baking sheet. (we use a silicone liner on pan)
Sprinkle the tomatoes with the olive oil, sherry vinegar glaze, salt and pepper. Toss tomatoes until coated with the olive oil mixture.
Bake for 20 minutes or until tomatoes are bubbly. Remove from oven. Reserve.
Chili
In a large stock pot add the olive oil and chicken sausage. Cook over medium high heat, breaking the sausage up into small pieces with a spoon, until the sausage is cooked completely. Add the onions, shallots,bell pepper, celery, Poblano pepper, jalapeno peppers and garlic. Cook stirring frequently, over medium heat, until the onions and vegetables begin to soften.
Add the chicken stock and the drained, soaked beans to the stock pot. Bring the stock to a simmer and cook the beans for about one hour, stirring occasionally, until the beans are tender. Add the cumin, salt, pepper, Chipotle Tabasco, Worcestershire and Tabasco sauce. Stir. Add the roasted chicken. Cook Chili for 30 minutes, stirring occasionally.
In a small bowl, add the heavy cream and cornmeal. Stir until blended. Pour the cream mixture into the chili and stir until incorporated. Cook chili on simmer for 15 more minutes stirring frequently. Add the roasted tomatoes and their juices. Stir. Serve the chili warm garnished with grated pepper jack cheese and smoked sweet paprika.
Taylor Mathis and Sally James
Sally James and Taylor Mathis are a mother and son duo from Charlotte, NC. Sally, a professional recipe developer, and Taylor, a professional Food and Lifestyle photographer, work together to create beautiful and delicious recipes designed to be eaten anywhere! Together they are the creators and authors of the food Blog Taylor Takes A Taste and worked together on The Southern Tailgating Cookbook.