Dig into this flavorful fish curry on a weeknight. With chickpeas and cod, this curry has plenty of kale and Indian spices to make your tastebuds happy.
I regularly get What You Should Be Cooking sort of notifications from the New York Times. In the past I've had a recipe or two featured and so I'm always looking for interesting dishes that I can get on the table in a hurry during the work week. The last thing I want to think about in the middle of my writing is some long-assed complicated dish to throw to the starving masses at our house. So last week when I saw a piece on a fish dish made with chickpeas and I thought ah ha! this fits the bill perfectly, especially once I read the comments.
A note on reading comments. I find them very helpful. Most of the comments on the dish were positive, but the ones that weren't, complained that the recipe as written was merely a template and lacked enough flavor for some people. Now we like flavor around here. After cooking Indian food for the last 29 years, we've gotta have our spices or no one's happy. So I took the advice of the folks who commented and decided to use the recipe merely as my template for a fish curry. I started with the basics of fish, chickpeas and the dreaded kale and expanded out into the world of Indian spices from there. What I got was a dish that was easy to fix and also delicious. It was a great dish for midweek tastebud boredom without a lot of effort.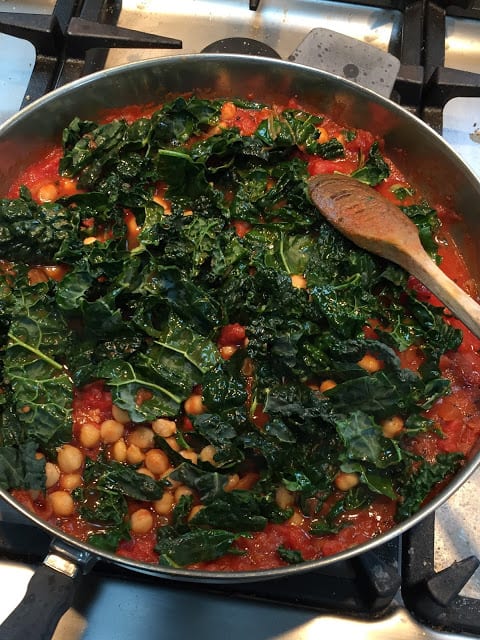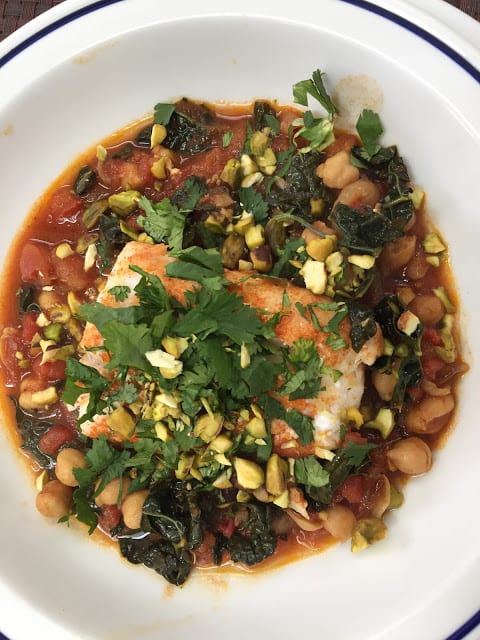 Chickpea and Cod Curry
Ingredients
1

lb

of cod or other fish cut into fillets

1

can of chickpeas rinsed and drained

1 28

oz

can of chopped tomatoes...

if it was the correct season I'd have used fresh

3/4

cup

of thinly sliced shallots

1

bunch of dino kale

washed dried and cut into strips

salt to taste

1

bunch fresh cilantro chopped

2

Tbs

coconut oil or other vegetable oil

1/2

tsp

kashmiri chili

1/2

tsp

black mustard seeds

1/2

tsp

cumin seeds

1

tsp

ground cumin

1

tsp

ground coriander

1/2

tsp

turmeric

1

tsp

garam masala

1

cup

chopped pistachios

for garnish
Instructions
Heat the vegetable oil in a skillet or kadhai.

When the oil is hot add in the mustard and cumin seeds.

When the mustard seeds start to pop and the cumin seeds turn fragrant, add in the thinly sliced shallots.

Saute the shallots until they start to darken then add in the ground cumin, coriander, and turmeric.

Stir the spices around until they turn fragrant. This takes just a minute or two.

Now add in the chopped tomatoes and salt to taste .

Bring the tomatoes to a boil then turn the heat down quickly to low and cook the tomatoes at a low simmer until they begin to soften, breaking them up with the back of a wooden spoon.

When the tomatoes have softened, add in the rinsed and drained chickpeas, and the sliced kale.

Stir everything together and then simmer for about 10 to 15 minutes, or until the kale has completely softened.

Rub a bit of kashmiri chili on the raw fish for seasoning. I used my homemade kashmiri spice blend.

Place the seasoned fish pieces into the tomato, kale, chickpea mixture. Nestle them in well.

Place a lid on the pan, turn the heat waaaaay down to the lowest setting and cook until the fish is cooked though and flakes easily. This takes about 10 minutes, and bingo , you're done.

Place the tomato, kale, and chickpea mixture in a bowl and place the cooked fish on top of it. Top with some of the sauce, then sprinkle with chopped fresh cilantro and chopped pistachios.

This was a big hit on a cold and rainy Sonoma day with snow on the foothills, and is now going into meal rotation at our house. Simple, cheap, and above all, fast to fix on a work day. This is an Indian dish that can easily be accompanied and dressed up for a fancy company dinner.
Kathy Gori
Kathy Gori has a passion for Indian cooking. She brings 20 years of cooking experience and a natural flair for communicating her culinary adventures to her blog The Colors of Indian Cooking "A Hollywood Screenwriter, A Bollywood Kitchen". Food writer, commercial and cartoon voice actor (Rosemary the telephone Operator in Hong Kong Phooey among others) and screenwriter (Chaos Theory starring Ryan Reynolds) Kathy is also a Clio award-winner. She and her screenwriting-partner husband Alan live with their Siberian Husky Patsy in Sonoma, California.