Carrot cake is a favorite, especially around Easter and the start of spring. Take a page out of these favorite chefs' cookbooks and enjoy one of these delightful twists on carrot cake. From milkshakes to cookies, there's a form of carrot cake for every occasion.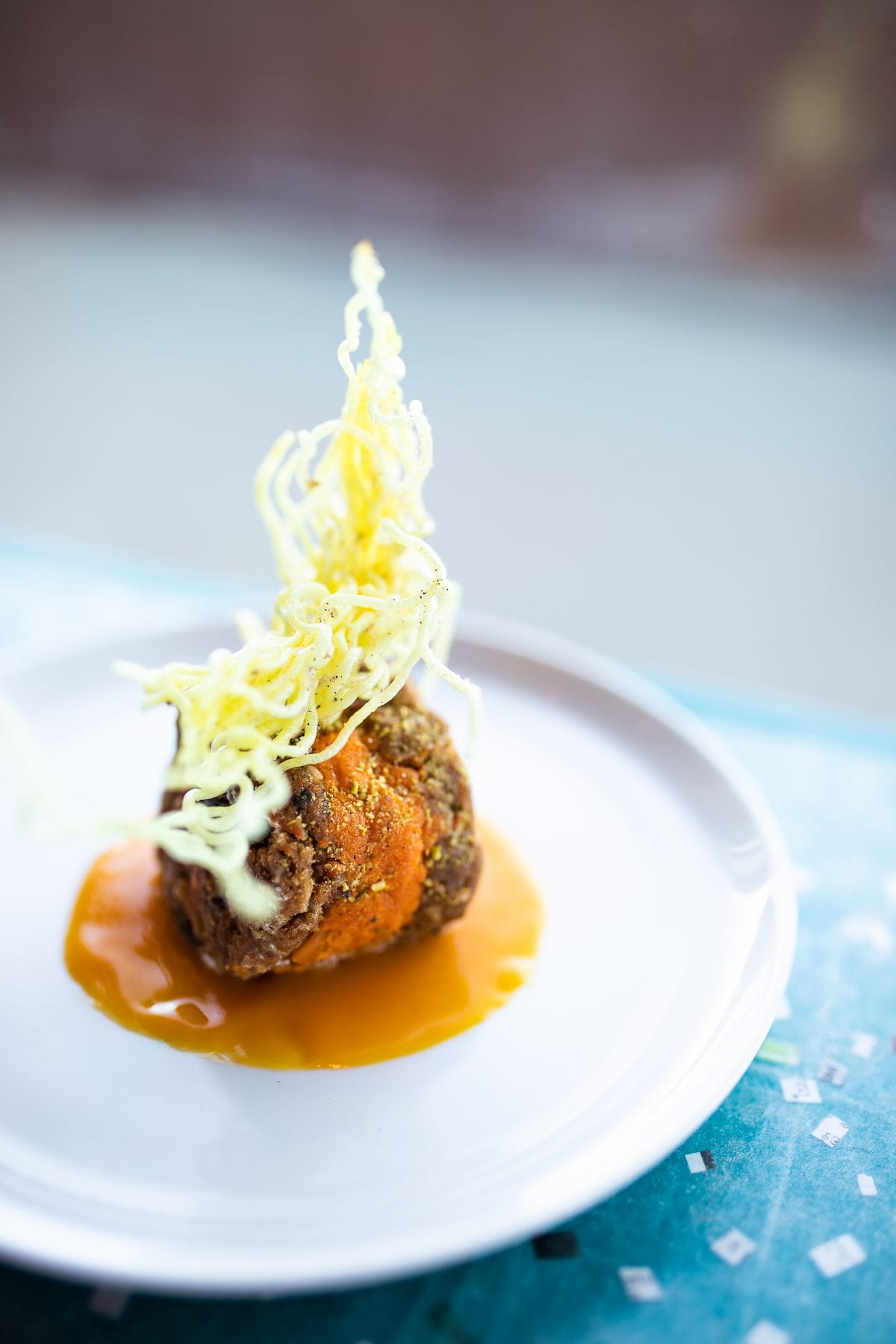 Carroty Affair – An Indian Twist on Carrot Cake
From chef Maneet Chauhan of Chauhan Ale and Masala House in Nashville, TN
A Carroty Affair is an Indian twist on your classic carrot cake with pecans, decadent cream cheese frosting, carrot halwa (a sweet Indian pudding) and orange carrot gelee with juicy carrot murabba topped with pistachio dust.
A Carroty Affair – Carrot pecan cake, cream cheese frosting, carrot halwa, orange carrot gelee with carrot murraba and pistachio dust.
Carrot-Pecan Cake
1 cup pecan(toasted and chopped)
3/4 pound raw carrots (grated)
2 cups all-purpose flour
1 teaspoon baking soda
1 1/2 teaspoons baking powder
1/2 teaspoon salt
1 1/2 teaspoons ground cinnamon
4 large eggs
1 1/2 cups granulated white sugar
1 cup canola oil
2 teaspoons pure vanilla extract
1. Preheat oven to 350 degrees and line the bottoms of the baking pans with parchment paper.
2. In a bowl whisk together the flour, baking soda, baking powder, salt, and ground cinnamon.
3. Beat the eggs until frothy.
4. Gradually add the sugar and beat until the batter is thick and light colored. Add the oil in a steady stream and then add in the vanilla extract. Add the flour mixture and fold in just until incorporated. With a large rubber spatula fold in the grated carrots and chopped nuts. Evenly divide the batter between the prepared pans and bake 25 to 30 minutes or until a toothpick inserted in the center comes out clean.
5. Remove from oven and let cool on a wire rack. After about 5 -10 minutes invert the cakes onto the wire rack, remove the pans and parchment paper, and then cool completely before frosting.
Cream Cheese Frosting
1/4 cup unsalted butter, room temperature
8 ounces cream cheese, room temperature
2cups confectioners' sugar, sifted
1 teaspoon vanilla extract
1. In bowl of electric mixer (or with a hand mixer), beat the cream cheese and butter, on low speed, just until blended with no lumps. Gradually add the sifted powdered sugar and beat, on low speed, until fully incorporated and smooth.
2. Beat in the vanilla extract, and lemon zest.
Halwa Filling
260g finely grated carrots
425g half and half
100g condensed milk
2 teaspoons cardamom powder
A few strands of saffron
1. Bring all ingredients to a boil, reduce to a simmer, stirring occasionally. Cook until carrots are cooked through and the mixture has thickened.
2. Allow mixture to cool on half sheet tray, then fold in the following: a. 290g Golden raisins b. 8 ounces cream cheese c. 5 ounces condensed milk
Carrot Orange Gelee
1 cup fresh carrot juice
1 cup fresh orange juice
12 sheets sliver gelatin sheets
1. Bloom gelatin in cold water.
2. Mix the carrot and orange juice and bring it to a simmer. Add the gelatin sheets and dissolve completely.
3. Bring to room temperature before using.
Carrot Murabba
1 cup carrots cut in small dice
1 cup sugar
½ tsp water
Pinch saffron
1. Mix all ingredients.
2. Cook till carrots are cooked.Store the carrots in the syrup.
Pistachio Dust
1 pint pistachio toasted
1. Place pistachios in food processor and pulse into a fine powder
FINAL PREPARATION
1. Cut carrot cake in rounds, using a ring cutter.
2. In a whisky glass, alternate layers of carrot cake, cream cheese frosting and the carrot halwa twice, then pour the gelee mixture and let it set in the refrigerator.
3. Serve with the carrot murraba and the pistachio dust.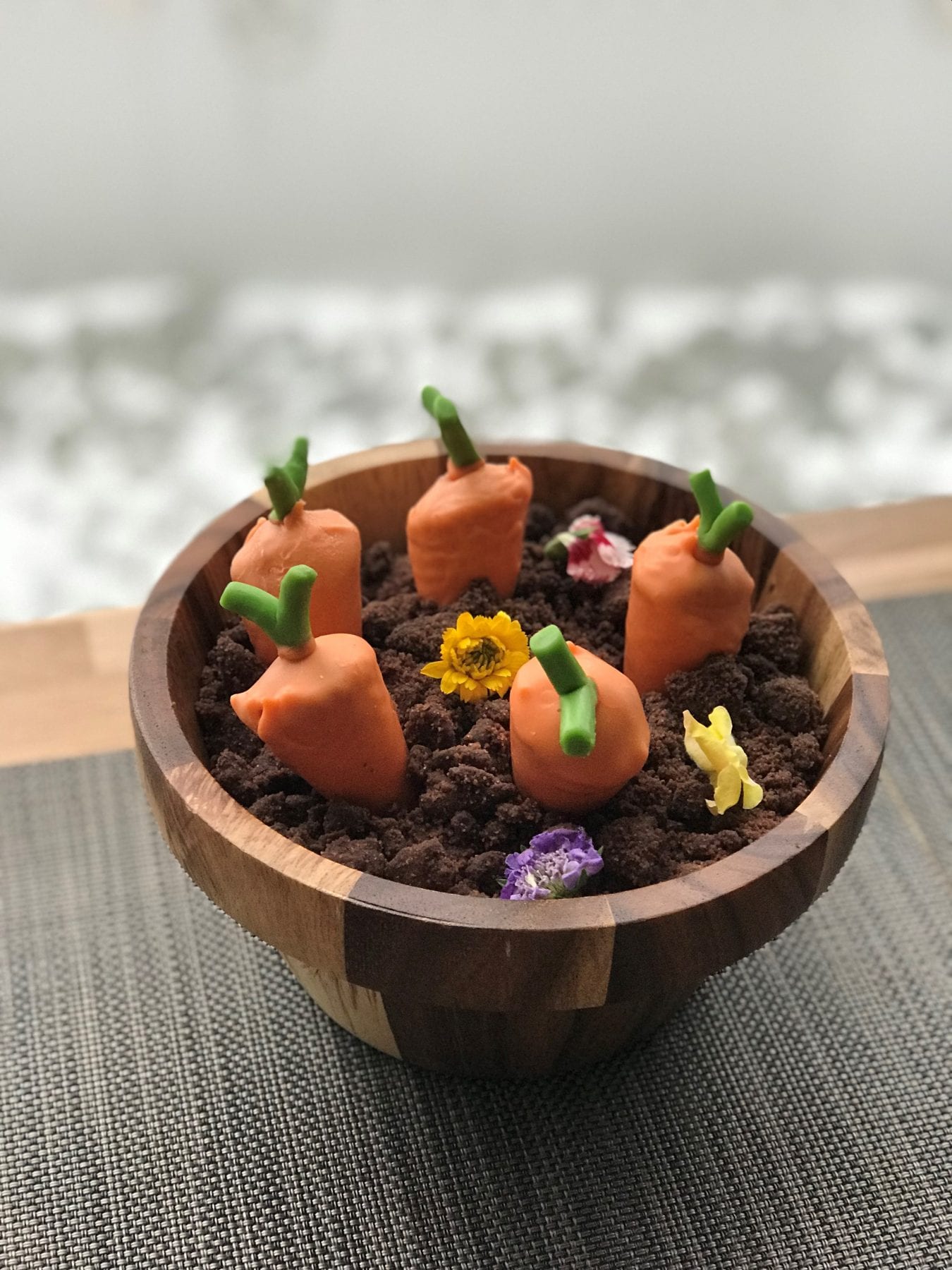 Carrot Cake Carrot Patch
From Honey Salt in Vancouver, Canada
The Carrot Cake Carrots at Honey Salt are a feast for the eyes and your tastebuds! Resembling five mini carrots, these carrot cake bites sit nestled in soil made entirely out of chocolate, making this a fun and festive dessert for the holiday.
STEP ONE INGREDIENTS
1 cup brown sugar
0.5 cup canola oi
l2 large eggs
1.25 cups grated carrot
1 tsp vanilla extract
STEP TWO INGREDIENTS
1 cup AP flour
1.25 tsp baking soda
0.25 tsp nutmeg
0.25 tsp ginger
0.25 tsp salt
1 tsp cinnamon
CREAM CHEESE and CAKE FILLING
0.75 cup icing sugar
1.5 cup cream cheese
1 six-inch carrot cake
See Also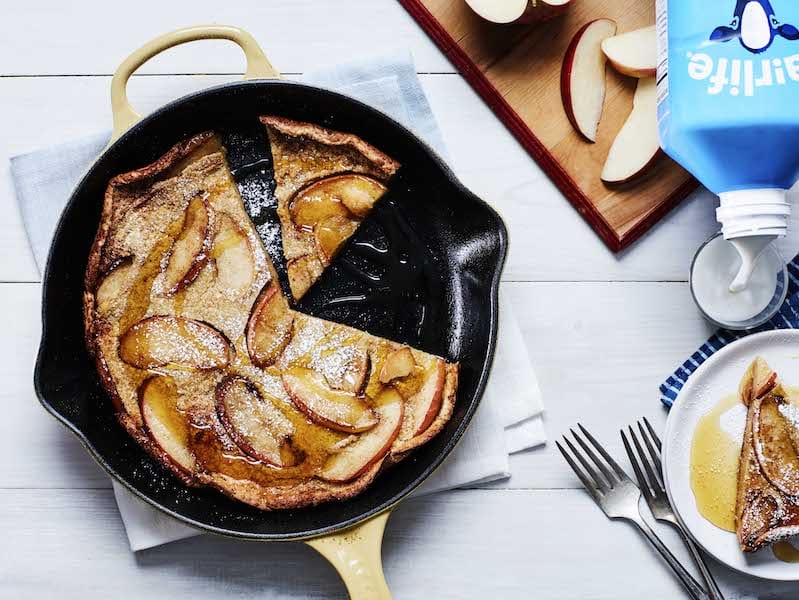 CARROTS
1 lb. orange coating chocolate
1 recipe of carrot and cream cheese filling
30 miniature waffle cones
THE DISH
1.Combine all ingredients in step one and whisk together until smooth.
2.Combine all ingredients in step two and sift over the mixed step one ingredients.
3.Whisk together, being careful not to overmix.
4.Spray or brush a six-inch baking pan with oil and fill with carrot cake mix.
5.Bake at 325 degrees Fahrenheit for 15-20 minutes.
6.For the cream cheese & cake filling: a.Combine the sugar and cream cheese in a mixer with the paddle attachment and beat until smooth and soft. b.Break the carrot cake into egg-sized chunks and place in the mixer with the cream cheese. c.Beat on low until the carrot cake combines with the cream cheese. Scrape the bowl down a few times to ensure all of the cream cheese is mixed into the cake.
7.For building the carrots: a.Fill the mini cones a little bit at a time so that the filling goes right to the point of the cone. When you reach the top, make sure to round the top off so it has a carrot top shape. b.Once all the cones are filled, skewer the carrots and freeze forone hour or overnight. c.Melt the orange coating chocolate. Be careful not to overheat. d.Pour the coating chocolate into a tall vessel, like a drinking glass. Take the frozen carrots and dip them into the chocolate so that it covers right to the skewer. e.Let the chocolate drip off, then place finished carrots onto a baking tray lined with parchment paper. f.Allow the carrot to defrost in the refrigerator for at least one hour before twisting the skewer out. g.Garnish with a mint leaf or chocolate stem and serve!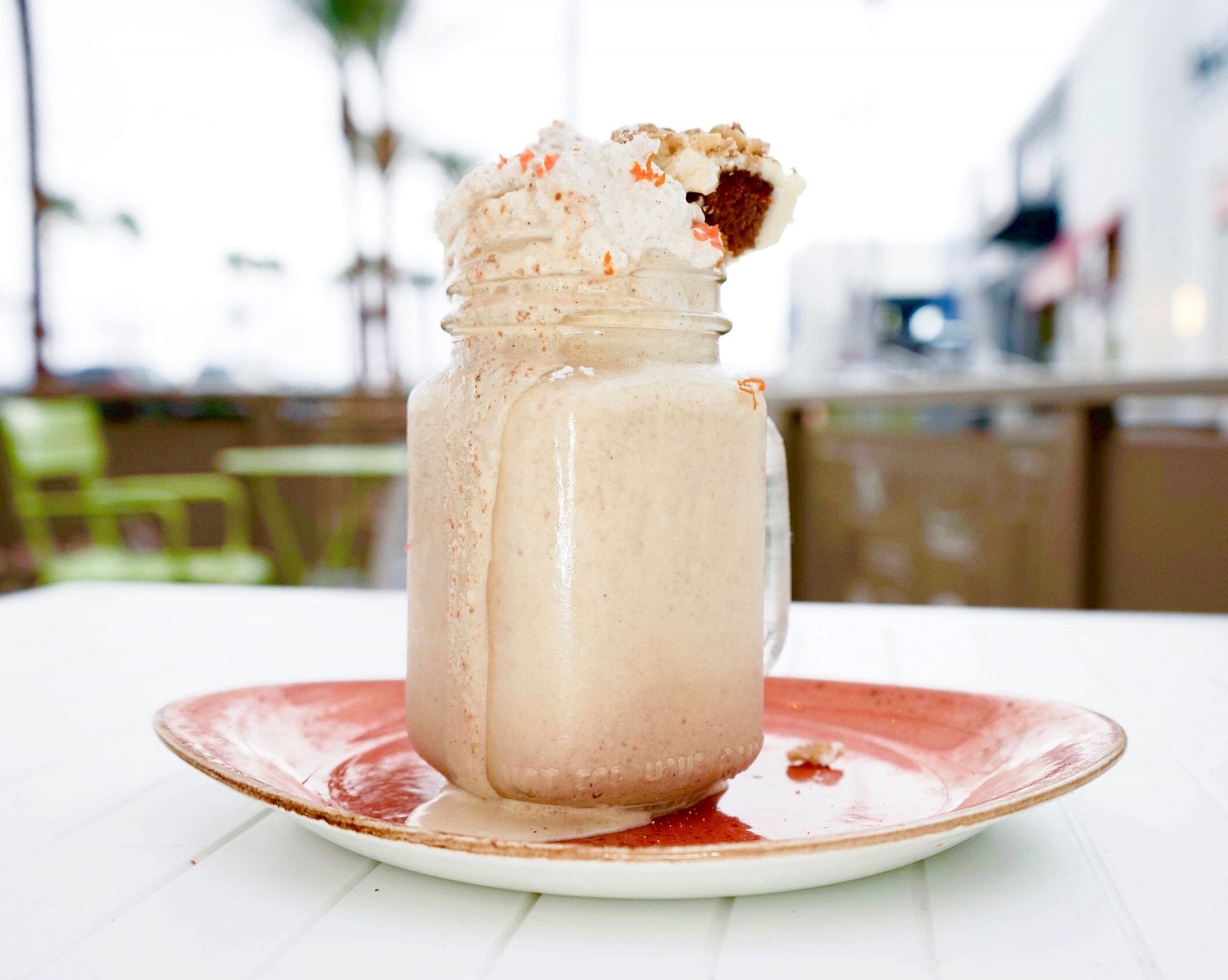 Carrot Cake Milkshake
From Honey Salt in Las Vegas, NV
Honey Salt Las Vegas is serving up a fun twist for the holiday, offering a limited-time Carrot Cake Milkshake at the famous farm-to-table restaurant. Those feeling extra chipper can add a shot of bourbon to their mason jar for. It's seriously the perfect brunch treat for kids and adults.
CARROT CAKE MILKSHAKE
1 part cake
2 parts high-quality vanilla ice cream
1 part half and half
1.Make your favorite carrot cake recipe. Please note, you can use any recipe you prefer for this dessert.
2.Once made, blend together with vanilla ice cream and half and half until smooth.
3.Build ingredients in mason jar. Top with a chunk of remaining carrot cake and powdered sugar.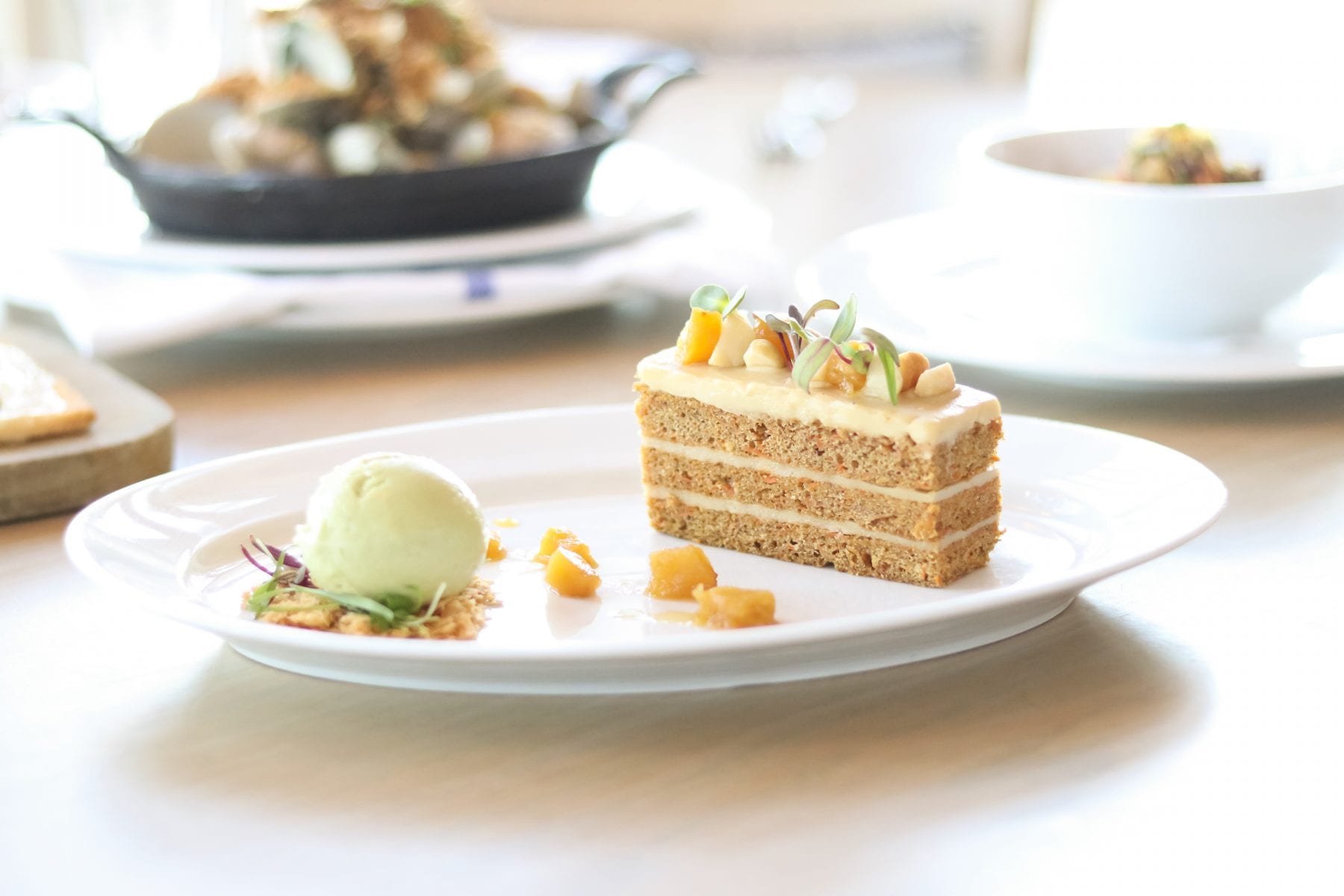 Vegan Carrot Cake
From chef Josh Sauer of Avenue in Long Branch, NJ
In our opinion, carrot cake is one of the best cakes to recreate into a vegan masterpiece. The carrots to a great job of keeping the cake light, airy and soft, even in the absence of eggs. Chef Josh Sauer's Vegan Carrot Cake is a moist carrot cake layered with macadamia nuts and roasted pineapple, topped with cashew cream cheese frosting and served with avocado ice cream.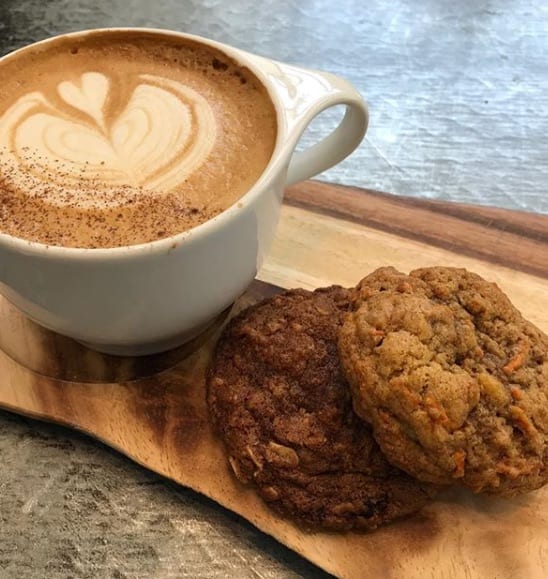 Carrot Cake Cookies
From Jane Q at The Kimpton Everly Hotel in Los Angeles, CA
Perhaps the only thing better than carrot cake is carrot cake cookies. These chewy delights are perfect for a Easter gathering.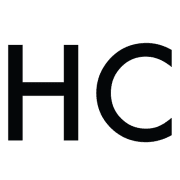 Honest Cooking
The Honest Cooking editorial team handpicks inspiring culinary stories to share with you that we think are beautiful. We strive to create an inspiring place for culinary exploration, salivating recipes, interesting personalities and stories.