As Labor Day weekend approaches in the States, an easy to prepare and please appetizer is on the menu.
By Alisha Randell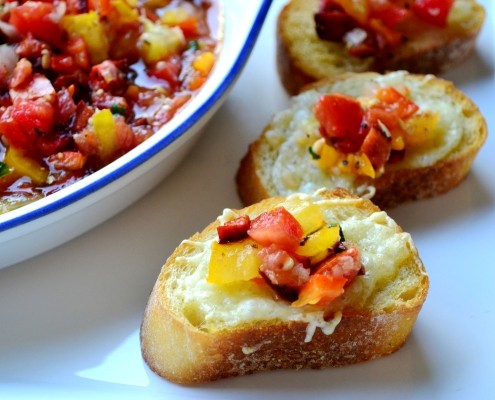 Crostini or "little Toasts" are just about the easiest crowd pleaser to pull off. These versatile bites can be served alone or with just about any topping you desire.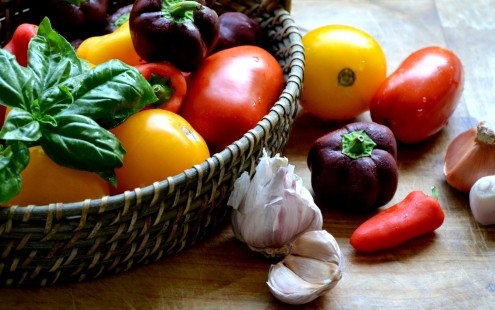 I have an abundance of tomatoes in my garden this year, so as many ways that I can find to enjoy them, I will. Pairing them along with these colorful and adorable sweet baby pepper was an easy choice. However large sweet peppers in a variety of colors will do just as well.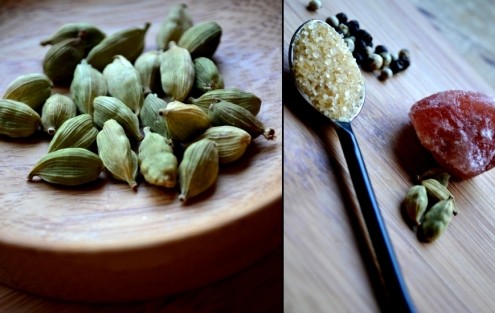 I have chosen just a few simple spices to enhance or draw out the flavors of our fresh organic produce.  We have a bit of raw sugar, peppercorns to be freshly ground, cardamom and a pretty pink rock?
Well it is pretty and it is a rock, but it's more accurate name is "Himalayan Pink Rock Salt". These beautiful crystal like rocks occur with the drying up of an enclosed lake or sea known as an endorheic basin. These basins retain water with no outflow to open water bodies such as an ocean, thus leaving behind a floor layer of salt crystals or rocks. These salt rocks can be purchased in either rock formation or in various grinds.
Then of course we have our cardamom pods, and although one of the more pricier spices, these whole pods are far preferable in getting your monies worth over ground or seeds. With the whole pods you simply open the outer shell casing to reveal the inner seeds, these seeds can then be processes in any manner you would a whole spice.

Topping our crostini with a bit of Raclette adds subtle sweetness and smooth texture that plays of nicely paired with our relish, or any slightly acidic condiment. However any of your milder semi soft to soft cheeses will work exceptionally well.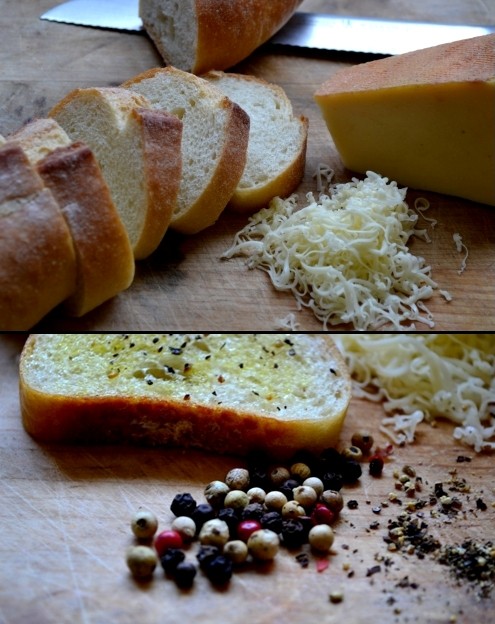 Cheesy Crostini with Tomato and Sweet Pepper Relish
A colorful relish topped cheesy crostini
Ingredients
For the relish:
1 lb ( 454 g) tomatoes, chopped
½ lb ( 227 g) sweet baby peppers, chopped
1 shallot, finely chopped
3 cloves garlic, minced
¼ c ( 59 ml) fresh basil, torn
1 tsp ( 5ml) raw sugar
1 tsp ( 5ml) cardamom (3 pods), cracked
1 tsp ( 5 ml) pepper, freshly ground
½ tsp ( 2.5 ml) salt
1 small lemon, juiced
1 Tbs (15 ml) lemon zest
¼ c ( 59 ml) extra-virgin olive oil
1-2 splashed white balsamic vinegar
For the crostini:
½ large baguette, see note
Olive oil for drizzle
2-4 cloves garlic, split
fresh ground pepper
¼ ( 113.5 g) pound Raclette, grated
Instructions
Start by prepping tomatoes, peppers, shallot and garlic, then place in a large mixing bowl. Add remaining ingredients and gently toss until well coated.
Set aside at room temperature for 15-20 min, then refrigerate until 20 min prior to use.
When ready to prepare the crostini, allow relish to sit at room temperature for 20-30 minutes.
Slice baguette into ¼ - ½ in slices and drizzle with a bit of olive oil, rub over the oiled bread with halves of garlic, a few grinds of fresh pepper then top with grated cheese.
Place on a baking sheet in a pre-heated oven at 375 (f) 190 (c) degrees. Bake for 7-10 min or until cheese has melted and sides are a deep golden brown.
Serve topped with relish or alone with relish on the side.
Notes
It is best to make the relish a few hours ahead of time and allow the ingredients to marinate for full flavor. Resist the temptation to add additional salt to the relish until the mixture has marinated at least 2 hours. It is best to have a finishing salt and fresh ground pepper available for individual servings. * It is preferable to use day old or slightly stale bread for the crostini.