As the weather cools down, the urge for baking that was hybernating through the summer comes back to life.
By Sawsan Abu Farha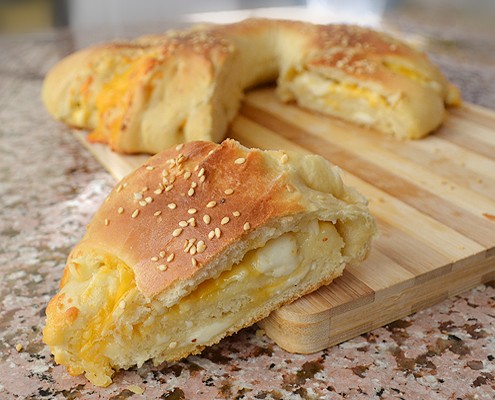 As the weather cools down, the urge for baking that was hybernating through the summer comes back to life. I love baking, trying out different flavors, herbs,and stuffings is something I never get tired of.
Stuffed bread is so versatile, it makes for a great lunch or sliced up it is a wonderful appetiser for a party. The possibilities for the stuffing are endless.
Triple cheese stuffed bread: combine cheddar, Colby and Monterey Jack.

Mediterranean cheese: Feta, cheddar and Halloumi cheese with mint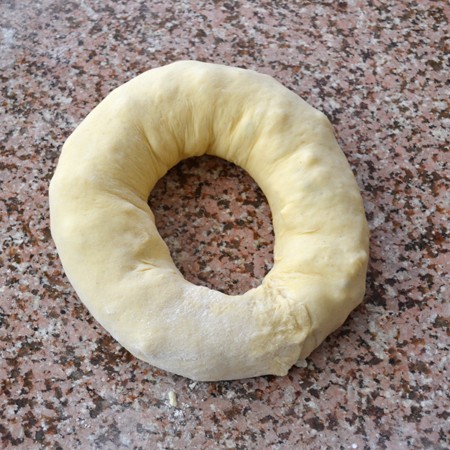 Not a fan of cheese try : minced meat with  sauted onions, tomatoes and pepper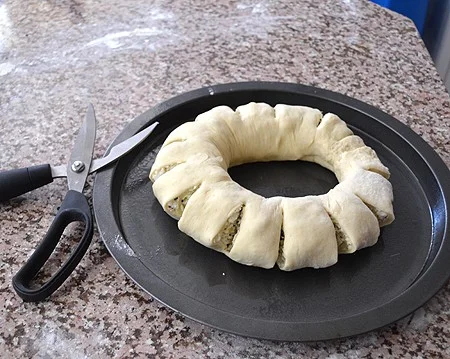 Want a vegetarian version: try spinch and sauteed onions
Feeling like something sweet: some softened butter and cinnamon turn this into a yummy dessert
See Also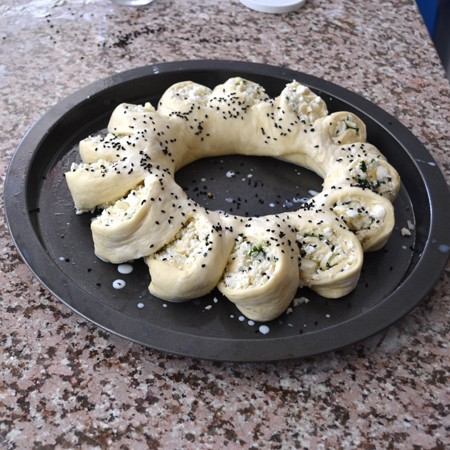 Not into too much butter but still into something sweet: try stuffing it with date paste with cinnamon and cardamom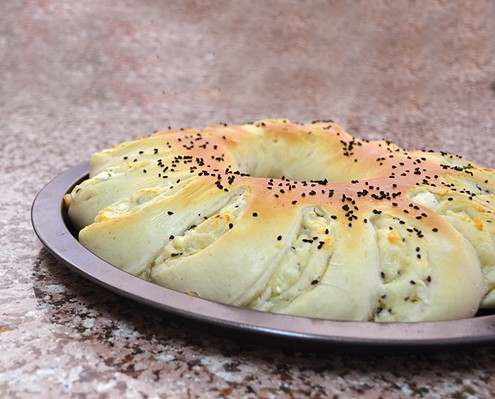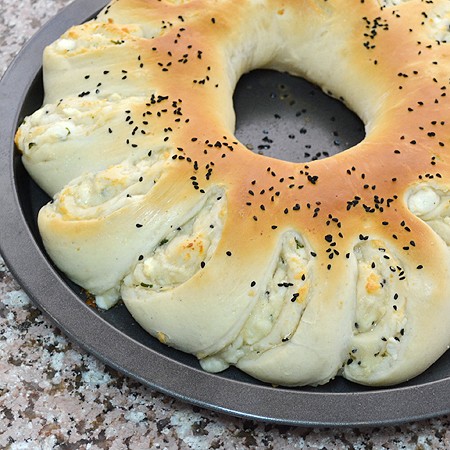 Cheese stuffed bread flower
Savory treat with a lovely presentation
Ingredients
¼ cup (60 ml) warm water
¾ cup warm milk
1 egg
¼ cup (57 gram) butter, softened
¼ cup (50 gram) white sugar
½ teaspoon (2 grams)salt
3¼ tp 3½ cups ( 416-448 gram) all-purpose flour
2 teaspoons (8 grams) dry yeast
¼ teaspoon (1 gram)cardamom optional
For topping
¼ cup (60ml) of milk
1 tablespoon (14 gm)sugar
stuffig
1 cup (80 grams) akkawi cheese shredded (you can use any firm salty cheese)
5 springs parsely or mint
Instructions
In a bowl whisk the egg with milk, water, sugar, butter and yeast.
Set aside
In another bowl sift the flour with the salt and the cardamom .
Add the liquid ingredients to the dry ingredients and knead until you get a smooth dough.
Place it in a bowl you have brushed with some oil and cover it with a wet cloth and leave it in a warm place to double
(If you are tight on time you can heat your oven to 200 C then turn it off and place your dough in a glass bowl and place it in the warm oven with the wet cloth covering the bowl)
Turn the dough out onto a lightly floured surface
Roll into a rectangle
Spread cheese stuffing leaving 1 inch (2.5cm) margin all around
Roll the dough from the long side into a tube form
Join both ends of the tube and pinch the dough together
Using a scissor or a knief make cuts that go ⅔ of the way through the dough (as you can see in the picture)
Turn the slices 90 degrees so that cut part faces upward
Using a brush, brush the dough with milk
allow to rest for 15 minutes during which you would heat your oven to 270C (500F) (rack in the middle)
Bake for 5 minutes on 270C (500F) then lower the teperature to 220 C (425 F) and cook for 10-15 more minutes
turn on the broiler for a couple of minutes until it is golden brown on top
Sawsan Abu Farha
Passionate food explorer Sawsan Abu Farha lives in Jordan and enjoys mixing east and west in her kitchen aiming to get the best of both worlds.Juggling work, motherhood, blogging and a passion for food and food photography, she shares her journey in her blog "Chef in disguise".