Brisket chili is topped with chipotle cheddar biscuits and baked to perfection. A perfect autumn meal for halftime and to warm you to the bone.
By Sarah Mason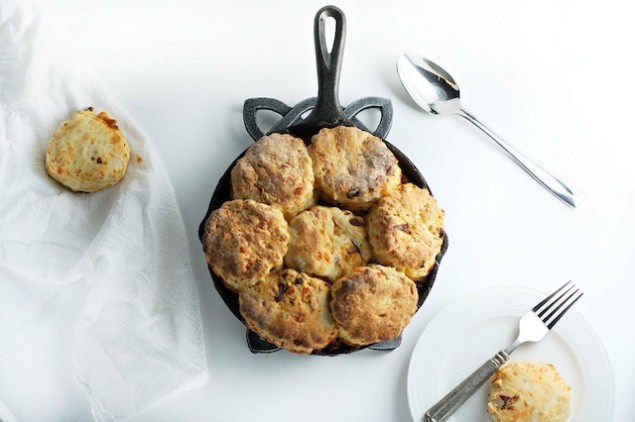 During football season, it's time for warm chili.
Mike smoked a 10 pound brisket. We've been so super excited for football season and what's more football than smoked things? So on went the brisket. Which was awesome, except what in the world are we supposed to do with 10 pounds of meat?
This. This is what.
These aren't just any biscuits.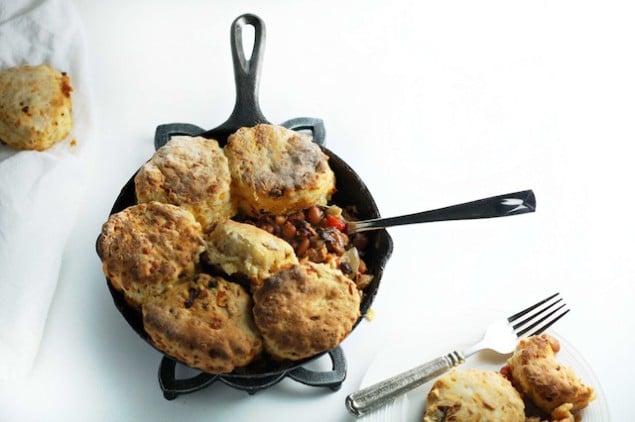 We're talking cheddar chipotle biscuits. With actual cheddar and actual chipotle chilies inside them.
See Also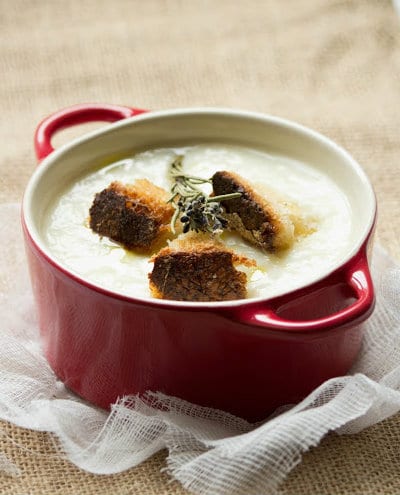 Once upon a time I didn't like chili. (Also, once upon a time I didn't like anything that wasn't snacks so please don't judge too hard). And actually, I still don't adore chili. Or stew. I know, but it's the truth. Something about the fact that it's all just in there. Plopped together.
This chili is more than just chili. It's brisket chili. Topped with biscuits. It's warm and comforting.
If getting your hands on a pound of cooked brisket isn't the easiest thing ever (which, let's be real, it's not), you can substitute it with chicken or pork. Or if you were feeling really devoted, you could take some brisket to-go from somewhere.
But yes, once you have your meat it's just a matter of mixing and simmering and you're going to fall in love. Head over heels. This is what autumn/winter is all about.

Cheddar Biscuit Topped Chili
Brisket chili is topped with chipotle cheddar biscuits and baked to perfection. A perfect autumn meal for halftime and to warm you to the bone.
Serves:
4 generous servings
Ingredients
2 tablespoons olive oil
1 onion, chopped
1 red bell pepper, chopped
3 garlic cloves, minced
2 teaspoons chili powder
2 teaspoons cumin
½ teaspoon garlic powder
1 (14-ounce) can crushed tomatoes (with juice)
2 (14-ounce) cans pinto beans, drained
1 (14-ounce) can black beans, drained
1 cup beef broth
1 pound smoked brisket, shredded
For the chipotle cheddar biscuits:
2 cups flour
1-1/2 teaspoons salt
1 tablespoon baking powder
¼ cup butter, cubed
1 cup buttermilk
1-1/2 cups shredded cheddar cheese
2 tablespoons chopped chipotles in adobo, patted dry
Instructions
Heat a pan or dutch oven over medium heat on a stove burner. Add olive oil. Add onions, peppers and garlic; sauté, stirring, for 4 minutes until veggies start to soften. Add chili powder, cumin and garlic powder. Cook until veggies are soft.
Add crushed tomatoes, all the beans and the beef broth. Bring to a boil, then reduce and simmer for 30 minutes. Add the shredded brisket. Simmer for another 10 minutes.
Meanwhile, make the biscuits. Preheat oven to 450F. In a large bowl, combine flour, salt and baking powder. Cut the butter into the dry mix until it resembles cornmeal (I like to do this with my hands, you can also use knives or a pastry blender).
Mix in buttermilk until just integrated. Fold in shredded cheddar and chipotles.
Turn dough onto a lightly floured surface. Roll out until it's about 1-inch thick. Use a round cookie cutter to cut out biscuits. Reshape scraps and repeat.
When the beans are finished, spoon them into a deep cast iron skillet (drain off some of the excess liquid using a ladle - this will help prevent the biscuits from turning soggy). Top the beans with uncooked biscuits; bake for 20 minutes or until biscuits are golden brown.
Notes
The bottoms of the biscuits will still be slightly soggy. I like it this way. Mike prefers them firmer. For completely crispy biscuits, you can bake the biscuits separately and place them over the chili afterwards.