Stockholm may be the big sister, home to some of the best shopping in Scandinavia and boasting great restaurants of the world, but when it comes to the finest ingredients to feed hungry guest, chefs head west.
By Michelle Tchea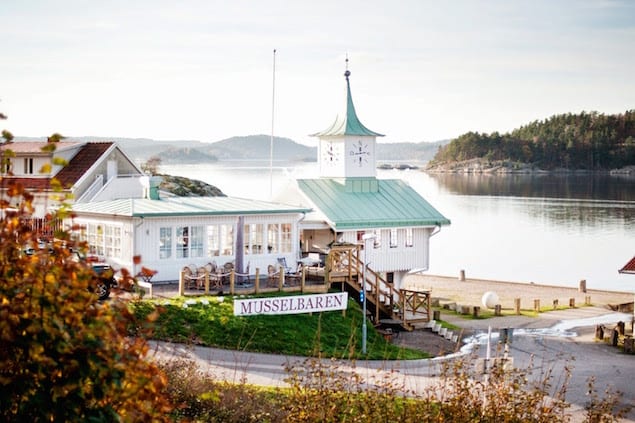 Image: Swedish cool – Musselbaren in Ljungskile
Stockholm may be the big sister, home to some of the best shopping in Scandinavia, as well as boasting some of the best restaurants in the world. But when it comes to the heart of Sweden, locals head West for a bit of R&R.
After hopping from one great restaurant to another in Stockholm, I was curious to discover where exactly the chefs of Sweden go for the freshest ingredients to feed hungry guests. Many of the highly acclaimed chefs of Sweden have their own places to forage but nothing beats the West for the freshest seafood. So I went on a journey… to West Sweden
Swapping my 'disco-tech' stilettos for a bright orange jumpsuit, I was well and truly in deep water when I ventured to the West of Sweden – famous for its bounty of uber-fresh ingredients.
Jumping on the high speed SEB train, conveniently located next to my hotel – the iconic Scandic Grand Central – Gothenburg was my first stop. Affectionately touted by locals as the cooler sister to Stockholm, the sister city is more sullen and quiet, like all littler cities are but hip enough to carry its own. It's easy to navigate the shopping streets of Gothenburg and a visit to the Old Town is definitely worth your time, but for a true sense of the city, ignore the guidebooks and discover great boutiques from low-key fashion designers to well-known fashionistas like Nudie Jeans to feed your inner shopper.
After grabbing a quick lunch at the famous Fish Church, I remembered the real reason for journeying out to the West and continued onwards. With advice from friends, born and raised in the West, you can really only see the West of Sweden in a car. Not only do you move at your own pace but you discover 'off-the-path' villages. Taking in the dramatic countryside scenery and following all signs to Oslo, I arrived at my first village: Bohuslän, in less than an hour.
Home to Sweden's first floating hotel, the restaurant by the same owners is the only real landmark in this otherwise quiet isolated village. Salt and Sill famously known by all lovers of seafood is where you go for your 'Herring fix'.
For foodies that love a good story and a good feed, the Herring Platter at Salt and Sill is worthy of anyone's bucket list. Grab yourself a seat by the window, admire the Bohuslän coast and indulge in the country's best fatty herring. For seafood lovers that share the same passion, you must visit during the famous Herring festival, where local chefs gather at Salt and Sill to compete for the year's award winning trophy of best herring recipe. The most recent being a slightly sweet, yet totally delicious berry herring marinated in secret juices and spices. The herring plate consists of past winners and local favourites, with the usual trimmings of finely sliced red onions, boiled egg and warm potatoes to keep things healthy.
Following local diners, I take in a quick sip of aquavit before heading to my destination, Villa Sjötorp, Ljungskile for a quick kip before another day of adventure to follow: Mussel Adventures
Janne Bark wears many hats. An entrepreneur, fisherman and restaurateur known famously by neighbours as the Mussel Man. The small little village of Ljungskile is exactly as you imagine a Swedish fishing village to look like, quiet, relaxing and a perfect place to call home after retirement. Jumping on board his boat, named affectionately M/S Marta in recognition of his beloved grandmother, Janne tells me about his plans for his home town. "After a big recession in the 90s, I was forced to find a new job. I moved to the West and started my own business in mussels," says Janne with a smile. "We bring people out on the fjords to learn more about the environment, life in the ocean and about my village, Ljungskile – a great village starting in 1877," he adds.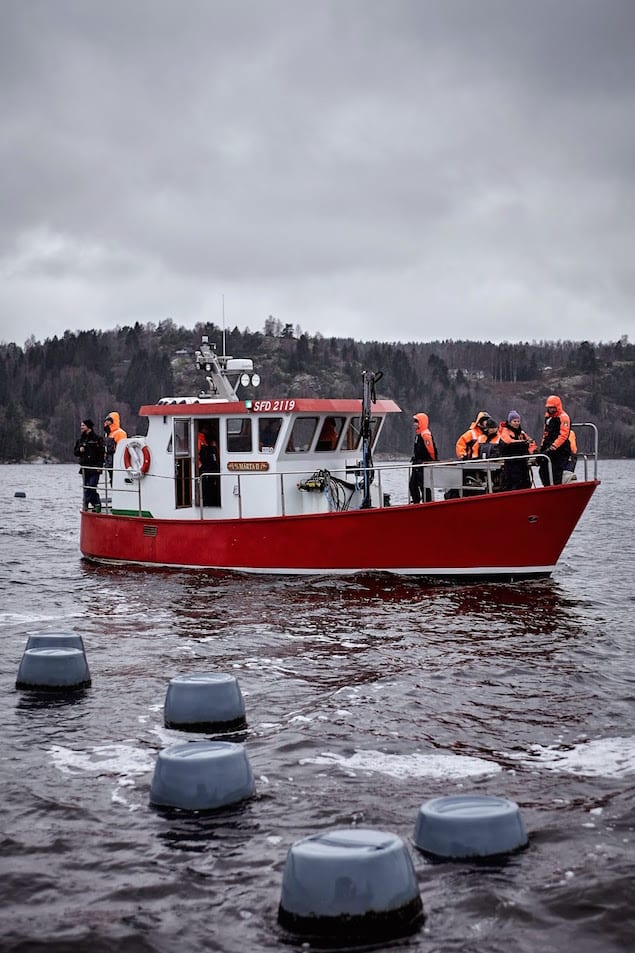 Image: Mussel Safari with Janne and Crew
Having turned the historical clock tower into a casual, 40-seat restaurant selling freshly foraged mussels from the cold waters of overlooking his restaurant, this hands-on fisherman is as real as you can get. Literally, showing me the ropes and pulling up premature mussels in the cold waters that house at least 85 percent of the country's shellfish, I'm convinced that there is money in mussels. Despite the world's love for oysters, mussels slowly grow on me, particularly since they are more affordable and according to Janne, sustainable as well as a good source of lean protein for all your dieters watching your cholesterol.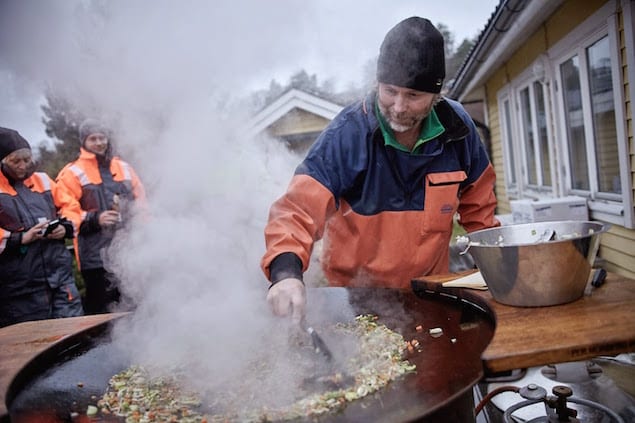 Image: The Freshest Mussels in the World!
As Janne prepares a huge batch of mussels on his small boat, we discuss the viability and sustainability of his work, and the importance of matching a good local beer with his perfectly steamed mussels. Admiration being one of the emotions for this one-man show consumes me before I start to feel seasick and need to head home for a soak in a hot tub.
You really can't visit the West without visiting Smögen and saying hi to a fourth generation fishing family by the name of Olofsson. If you are a shellfish fan, ask Tommy to organize a trip on his boat with himself or his son for one of their famous Lobster Safari's. You may not catch and feast on a lobster during your first visit, but you will definitely make new friends by the end of your choppy adventure.
Lobster safariing is a big deal along the West Coast of Sweden. With more than 90 percent of oysters and at least half of the country's lobsters being caught in the cold Bohuslan waters, the sweet taste of catching a lobster is victorious even if you have to throw it back in the waters.
As I don my new orange jumpsuit uniform, I look out to the rocky waters and wonder whether I should just head back to a restaurant and order the daily catch. I push on, take my motion sickness pill, albeit too late, and head out on the waters with Tommy…expert fisherman, boat specialist and grandfather. The glimmer in Tommy's eyes tell me to suck it up and brave the icy wind.
Rocking back and forth, standing in my little corner, hugging my camera and the iced pole keeping me from landing straight on my bum, I watch Tommy heave over 15 different lobster nets from the waters over 2 hours straight. Despite catching almost 2 dozen crabs and one giant cod fish for Tommy's dinner, we manage to only pull out 2 lobsters, but rightfully throw them back in the ocean for further harvesting. 'I love it, every day I can spend time on the boat with my son and have the best seafood in the world,' says Tommy. Having traveled the world, consulting in Taiwan and everywhere else, there's no doubt on what drives Tommy, 'There's no better place than Smögen, and I want to share it with the world…I love my hometown,' the fisherman says with passion.
Having a new found appreciation for the hard work of Sweden's fisherman's, I'm grateful to find my footing on land, before warming up over Kalles cavier spread, hot coffee and shrimp with my new fishing hero.
West Sweden is secret spot readily loved by locals but not yet by international visitors.
Image: Locals make West Sweden worth visiting

As I contemplate pushing the 'publish' button, and send this out to other food aficionados, I would love to call this place 'my own secret paradise'. But pushing aside all my selfish hesitations, the hard working families of the men I met during my travels encourages me to spread the word and I hope you do too after your visit.