Amrita Rawat with the classic American cookie, infused with just a little bit of India.
Text And Photo By Amrita Rawat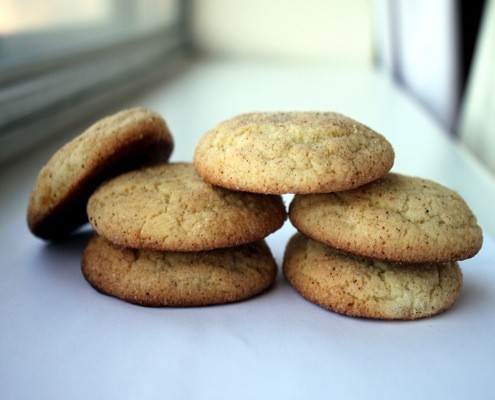 A Snickerdoodle is a classic American sugar cookie that is rolled in cinnamon and sugar. Although the original is delicious and can stand on its own, I experimented with incorporating chai spices into the batter and this resulted in a fabulous Chai snickerdoodle cookie that has become quite popular among my friends and family. Cinnamon is still the star of the show, but cloves, ginger, cardamom, and nutmeg all serve as back-up dancers… not necessary but a jazzy addition, none the less.
I've made these cookies countless times now. Twice, I had to make do with lost ingredients, and once I had to deal with an overzealous oven, and they still turned out wonderful. These are catered more for adults than kids. My four-year-old niece did not appreciate these cookies as much as my friends and family did. And I can't exactly blame her, with all the masala chai spices in it and lack of chocolate chips.
Since the balls of dough are rolled in chai spices and sugar before baking, it's sometimes difficult to tell when they're done baking. However, I'm a fan of chewy not crispy cookies so I'd rather undercook them slightly and have them still be soft. If you prefer crispy, bake for a couple minutes longer than the baking time listed.

Chai Snickerdoodle Cookies
A classic Snickerdoodle rolled in masala spices in addition to cinnamon.
Recipe Type:
Baking, cookies
Ingredients
1½ cup (288g) sugar
4oz (113g) of butter
¼ cup (54g) canola oil
2 large eggs at room temp
2¾ cup (273g) AP flour
2 tsp (6g) cream of tartar
1 tsp (4g) baking soda
¼ tsp (1g) salt
1 tsp (2.5g) cinnamon
¼ tsp (0.6g) ginger
⅛ tsp (0.3g) nutmeg
⅛ tsp (0.3g) ground cloves
⅛ tsp (0.3) ground cardamom
Mix these separately in a dry bowl:
1 tsp (2.5g) cinnamon
¼ tsp (0.6g) ginger
⅛ tsp (0.3g) nutmeg
⅛ tsp (0.3g) cloves
⅛ tsp (0.3g) cardamom
¼ cup (48g) granulated sugar
Instructions
Cream the sugar and the butter in the bowl till fluffy.
Add the oil and the eggs one at a time.
Slowly add in the dry ingredients (minus the separate bowl of spices+sugar) and let it form into a dough.
Make balls of dough and roll each in the mixture of spices before placing it on a baking sheet.
Bake 8-10 minutes.
Remove from oven and let cool before eating.
Enjoy and happy baking!