Castello Summer of Blue — Blackberry and Thyme Creamy Blue Cheese Crostini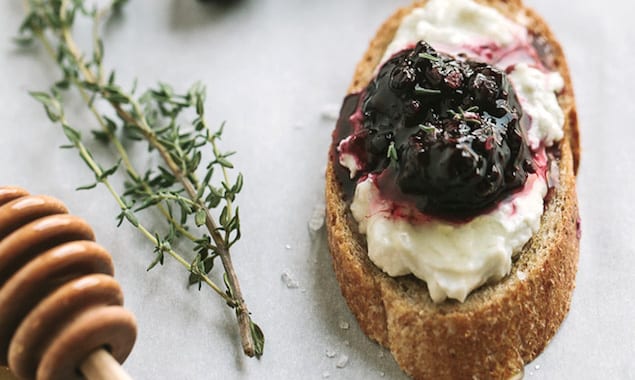 PARTNER POST – Get inspired with creatively crafted Castello Blue Cheese as we celebrate a Summer of Blue with #BluesdayTuesday.
Drizzled with honey and a pinch of salt, this crostini is loaded with a ricotta and blue cheese spread and topped with a sweet-savory blackberry compote.
By Emily Nelson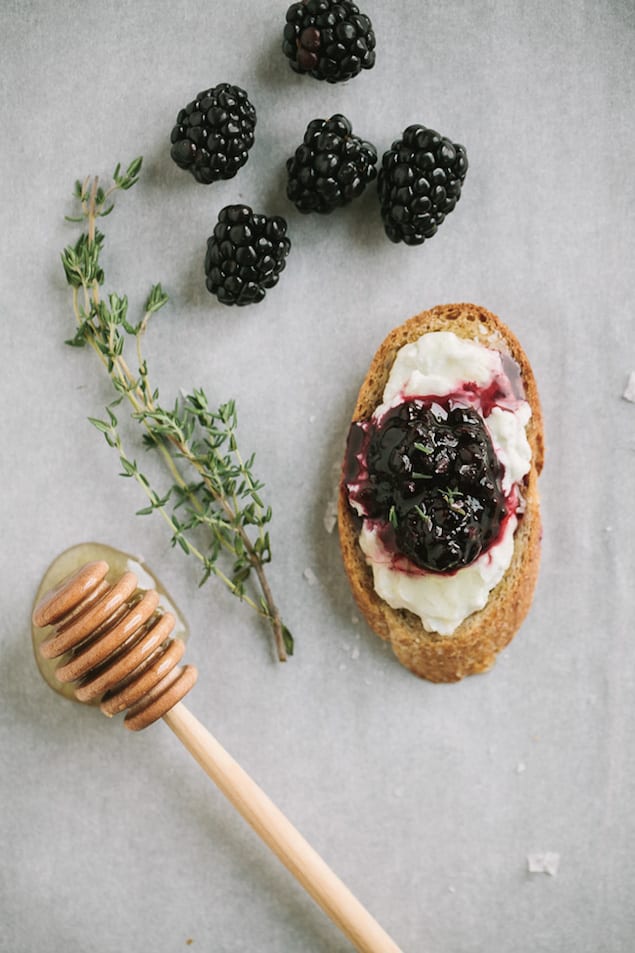 Here we are already in the middle of summer and I have no idea how we ended up here so quickly. It's felt so good to slow down though, to linger at the breakfast table a little longer, to savor juicy peach crumbles, to watch birds from the window bench, to spontaneously go on family ice cream outings, and to take peaceful walks around the neighborhood.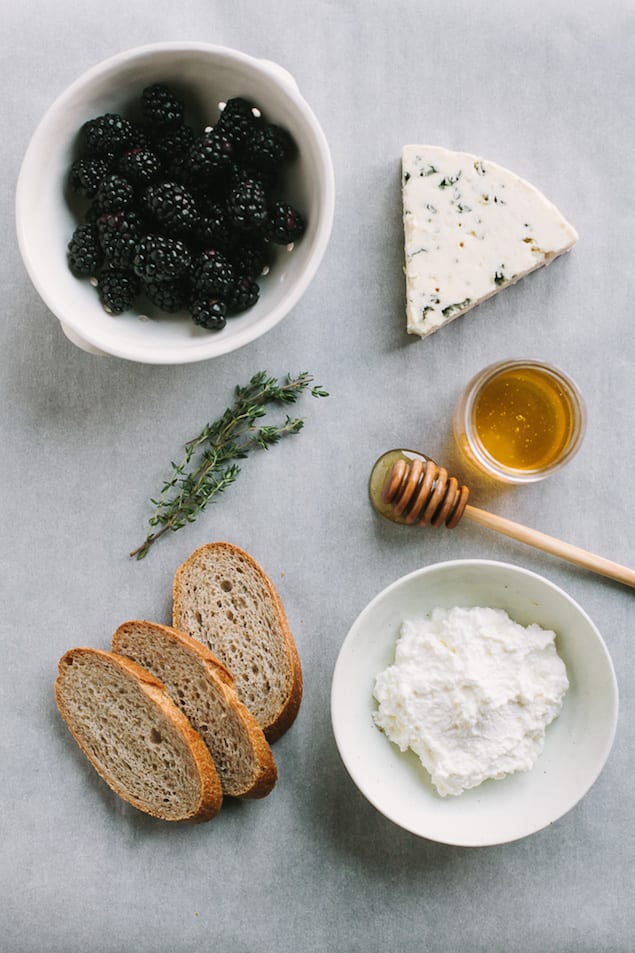 Cooking with blackberries is truly one of summer's great pleasures. Fortunately, the blackberries we've been getting from the store have also been quite delicious and work just as well. The blackberries turn intensely sweet when boiled down, and a sprig or two of fresh thyme gives it just a hint of savory. Layered beneath the blackberry thyme compote is creamy blue cheese whipped together with fresh ricotta spread on a slice of toasted baguette. Castello's Extra Creamy Danish Blue Cheese has a soft smooth texture and whips up quite nicely with fresh ricotta.  The slight tang from the blue cheese wonderfully complements the blackberry thyme compote.  A drizzle of honey and a sprinkle of flaked sea salt adds a finishing touch.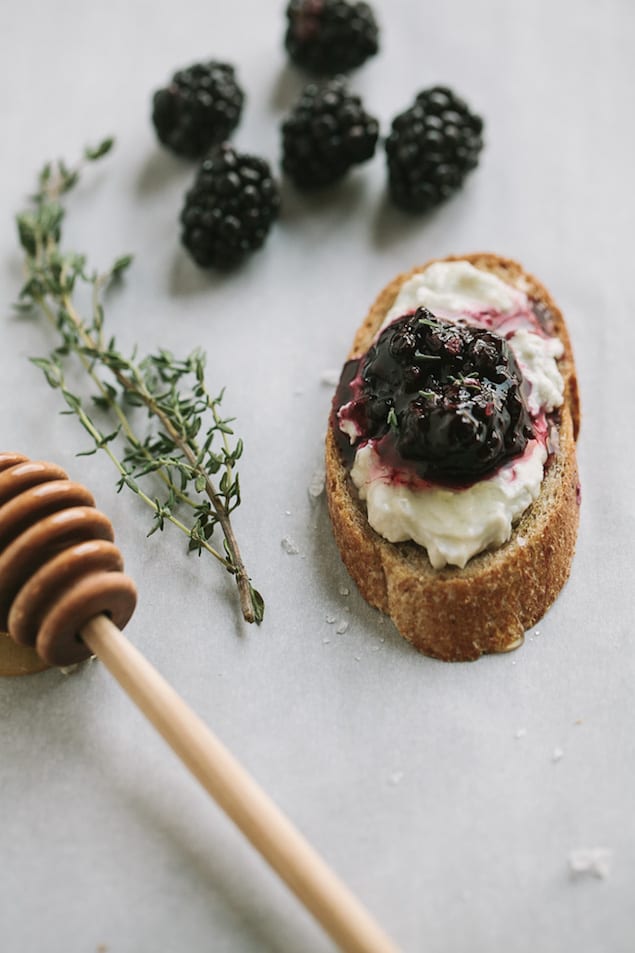 This sweet savory appetizer would be a perfect starter for any summer gathering and would also make a beautifully simple lunch when paired with a green salad.
Castello Summer of Blue — Blackberry and Thyme Creamy Blue Cheese Crostini
Drizzled with honey and a pinch of salt, this crostini is loaded with a ricotta and blue cheese spread and topped with a sweet-savory blackberry compote.
Ingredients
Blackberry Thyme Compote
2 half pints fresh blackberries (or 10 ounces frozen)
1 tablespoon fresh lemon juice
¼ cup natural cane sugar
1-2 sprigs fresh thyme
2 teaspoons balsamic vinegar
Crostini
4.4 ounce wedge Castello Creamy Blue Cheese
½ cup fresh whole milk ricotta cheese
1 baguette, sliced on the diagonal into ¼-inch slices
1 tablespoon extra virgin olive oil
honey for drizzling
flaked sea salt
fresh thyme leaves for garnish
Instructions
In a wide saucepan, combine the blackberries, lemon juice, sugar, and thyme. (A wide saucepan allows the liquid to evaporate more quickly.) Cook over low heat until the sugar melts and then bring to a boil over high heat. Boil for 10-15 minutes, stirring frequently, until blackberries become thick and syrupy. Stir in the vinegar and simmer for an additional minute. Transfer to a storage jar and set aside to cool to room temperature. Refrigerate for at least 2 hours. Compote will continue to set and thicken as it cools.
Preheat oven to 375. Slice baguette on the diagonal into ¼-inch slices. Lightly brush both sides with olive oil and arrange on a baking sheet. Bake until lightly toasted and golden, about 10-12 minutes.
Roughly chop the blue cheese into large chunks. In the bowl of a stand mixer with the whisk attachment, combine the blue cheese and ricotta. Whisk together the cheeses until light and creamy, starting on low speed and gradually increasing to medium-high, about 2 minutes.
To assemble, spread about a tablespoon of the whipped blue cheese and ricotta on a slice of toasted baguette. Spoon a couple teaspoons of blackberry thyme compote on top. Drizzle with honey, sprinkle with flaked sea salt, and garnish with a few fresh thyme leaves. Serve immediately.
Emily Nelson
Emily is a self-taught cook and photographer with a passion for creating beautiful and wholesome food for the family. Her focus is mostly on whole grains, fresh and seasonal produce, and naturally raised meats. When she's not in the kitchen, she loves playing music and spending time with her husband and two children.