This buttery brioche loaf is perfect when you want a relaxing day in the kitchen. It's twisted with a cardamom filling and glazed before slicing.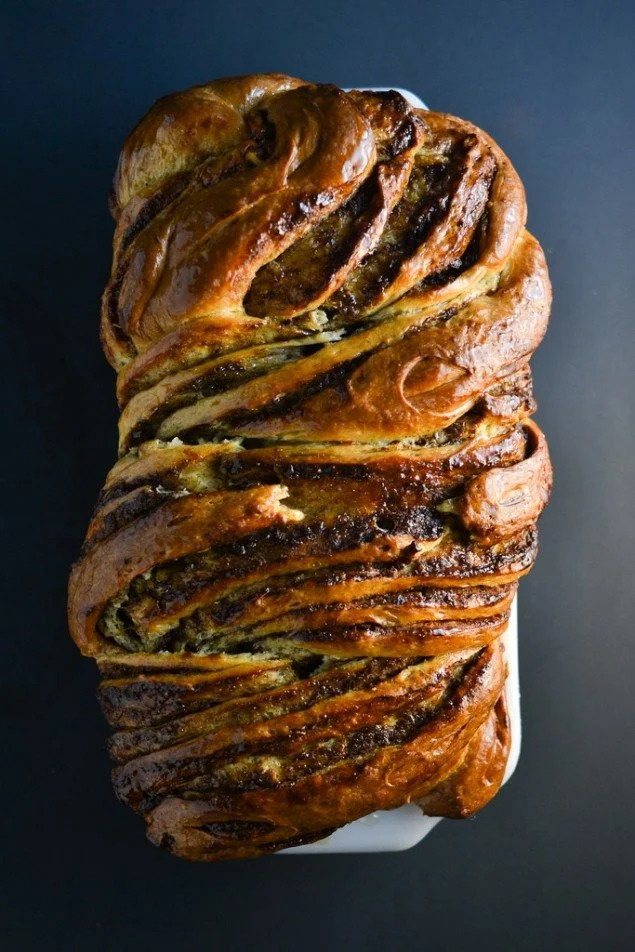 Between travel, being sick, a new job (same company), and just generally feeling a bit chaotic, nothing seems to have worked in the kitchen. This weekend though, with Jason and Theo up at our cabin for opening fishing weekend, I decided to focus and take on a baking project.
I wanted something of a challenge to snap me out of this rut. This cardamon bread idea is one I've been toying around with in my head for a while. Its inspired by the cardamon bun at Field Table, which is basically my go-to farmer's market breakfast, and I knew it would be something that would require me to take time—like real time—to focus. Butter and flour tend to do that to me.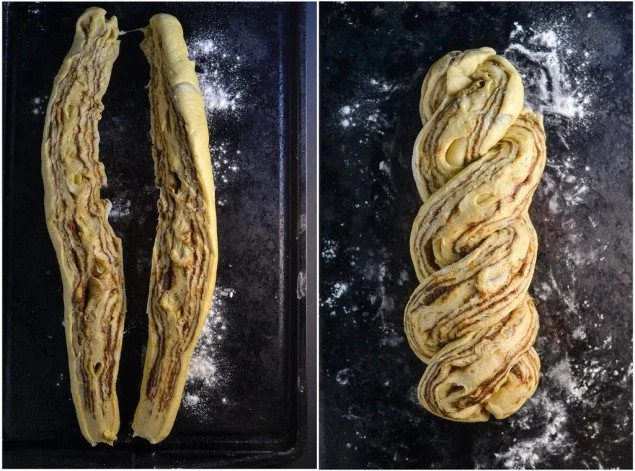 I've never made brioche before, so first up was just researching the best techniques and methods. I contemplated making little buns like they have at Field Table, but decided that it'd be more interesting to make a big loaf and have the cardamon filling swirled throughout.
That's how I ended up here, with this braided bread that sort of pours over the top of the loaf pan and comes out this beautiful, golden brown color. The cardamon flavor is strong but not overwhelming, and the brioche has just the right amount of sweetness. It's dense without being heavy, if that makes any sense. Honestly, it's one of the best and most beautiful things I've made in a while.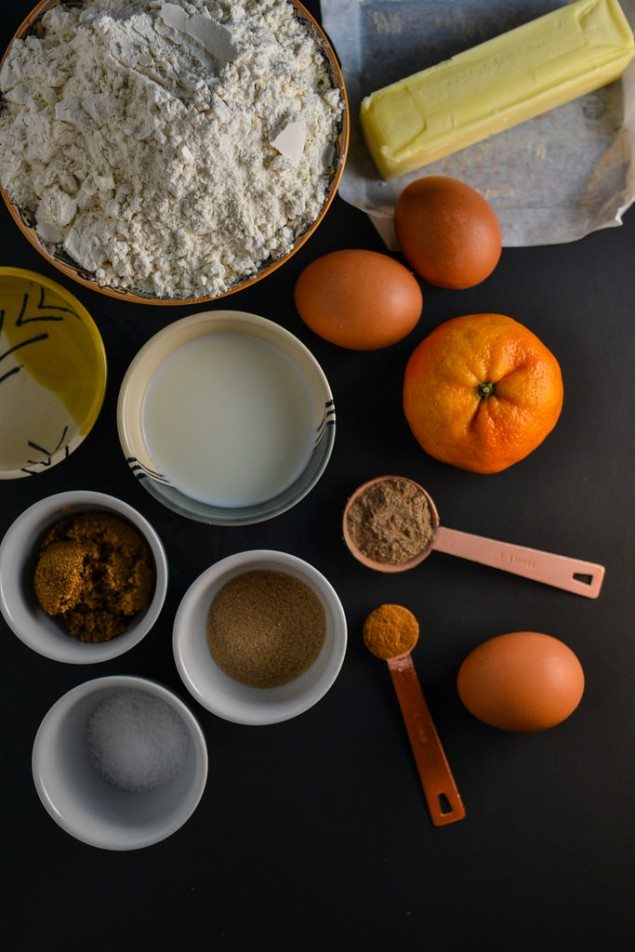 See Also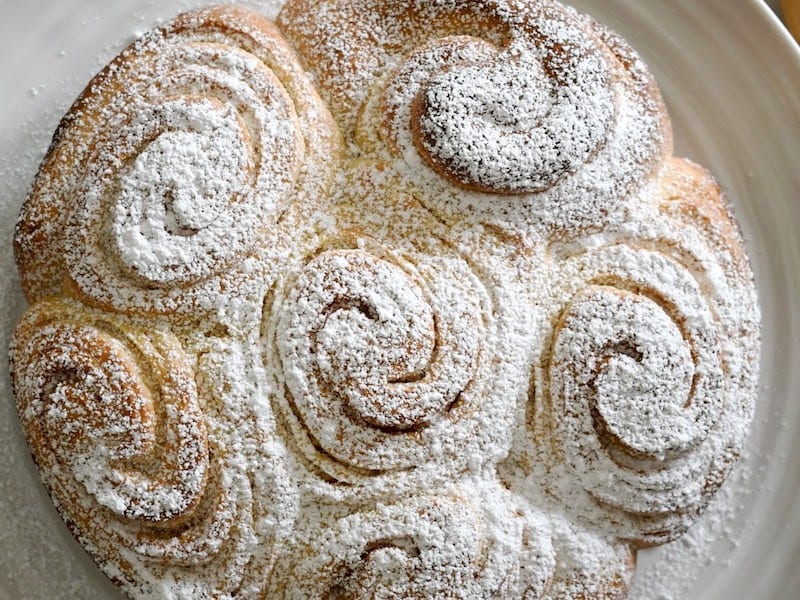 Sometimes you need to make dinner quickly. Sometimes you need to take on a project. Make sure you get a little bit of both in your life.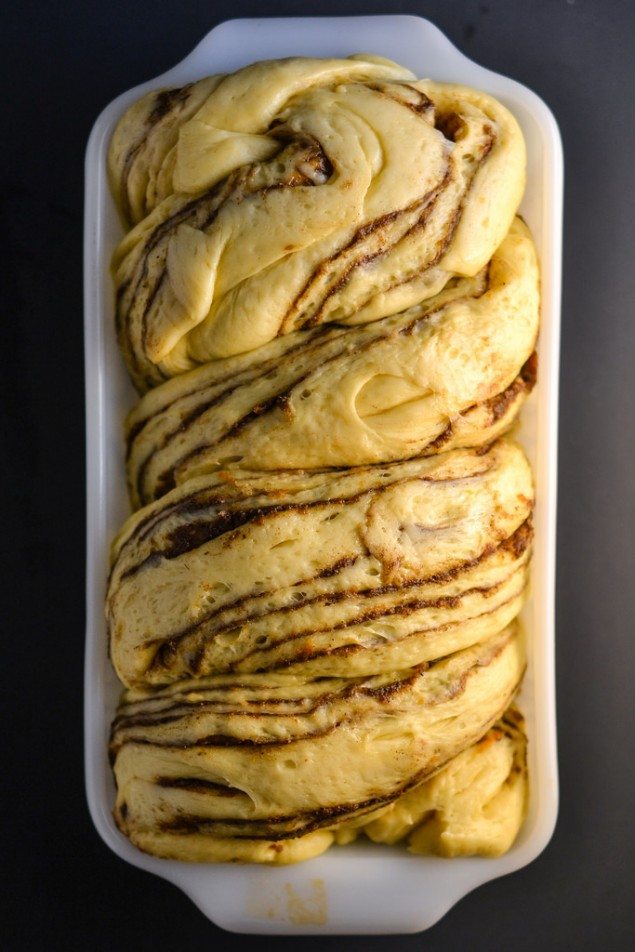 The dough and glaze recipe is below, but click HERE for the filling recipe.
Print
Cardamom Brioche Loaf
This buttery brioche loaf is perfect when you want a relaxing day in the kitchen. It's twisted with a cardamom filling and glazed before slicing.
Author:

Vicky Cassidy

Prep Time:

5 hours 30 minutes

Cook Time:

45 minutes

Total Time:

6 hours 15 minutes

Yield:

8

-

12

slices

1

x
Category:

Baking, Bread
For the brioche dough:
¼ cup

warm water (

110

–

115

degrees F)

¼ cup

warm whole milk (

110

–

115

degrees F)

½ ounce

active dry yeast (

2

envelopes)

2 3/4 cup

all purpose flour

1½ teaspoon

Kosher salt

3

large eggs (brought to room temperature)

3 tablespoons

sugar

12 tablespoons

unsalted butter (brought to room temperature)
For the filling:
Click the link above for the recipe
For the glaze:
1/3 cup

sugar

¼ cup

water
Instructions
To make the dough:
In a large stand mixer, combine warm water, warm milk, and yeast. Let sit for about 8 minutes, stirring occasionally, until yeast is completely dissolved.
Add flour and salt to the bowl. Beat using a paddle attachment on medium-low speed until a shaggy dough starts to form, scraping down the sides when needed, about 1-2 minutes. With mixer running, add eggs, one at a time, until dough loosens. Beat in sugar, scraping down the sides when needed.
Increase speed to medium and beat until the dough becomes smooth, about 2-3 minutes.
Change mixer speed to low. Add in butter, 1 tablespoon at a time, until mostly incorporated. Continue to do this until all butter has been used and dough is soft, about 4 minutes. Turn speed to medium-high and beat until dough starts to form a ball, about 6-8 minutes.
Butter the sides of a large bowl. Transfer dough to bowl and cover with plastic wrap. Let rise for 1 hour 15 minutes, until about doubled in size.
Gently deflate the dough by lifting the edges from around the bowl and flipping it over. Cover the bowl with plastic wrap, and let sit for 30 more minutes. Repeat the deflate and rise for 30 minute procedure 3 more times (for a total rise time of 3 hour 15 minutes).
To make the filling:
While the dough is rising, make the filling. Using a stand mixer, beat together 4 tablespoons butter, brown sugar, cardamon, cinnamon, nutmeg, orange zest, and almond extract until creamy and smooth, about 3 minutes. If mixture feels too clumpy, add additional tablespoon of butter. Set aside until dough is ready.
To assemble:
On a lightly floured surface, roll out dough into a large rectangle, about ¼ inch thick. Spread cardamon mixture evenly across dough, staying about ½ an inch from the edges.
Starting with the longer side, roll dough into a log. Trim about 1 inch off each end of the dough and toss the scraps.
Using a sharp knife, gently cut the dough in half lengthwise to expose the filling. Place cut sides facing up and pinch together one end of the two strands to start the braid. Lift the right strand over the left strand, and repeat until you get to the end. Pinch ends together.
Gently transfer dough to an 9 by 5 bread pan. Cover with plastic and let rise for 1 hour.
While dough is on its final rise, preheat oven to 350.
Remove plastic and bake bread for 35-45 minutes, until a toothpick inserted into the center comes out clean. Let cool slightly.
While loaf is cooling, mix together sugar and water for the glaze in a small saucepan. Bring to a boil, stirring occasionally, until sugar is dissolved. Using a pasty brush, brush glaze all over the top of the loaf. Serve warm or let cool completely.
Vicky Cassidy
Vicky Cassidy can usually be found in her Madison, WI kitchen with cumin or paprika in her hair and olive oil smudges on her camera. She is a self-taught cook and the occasional baker, and she loves oversharing stories about her kitchen and life on Things I Made Today.