Caramelized citrus slices, like Meyer lemons, add intrigue to a simple green salad with a honey dressing.
By Julia Sherman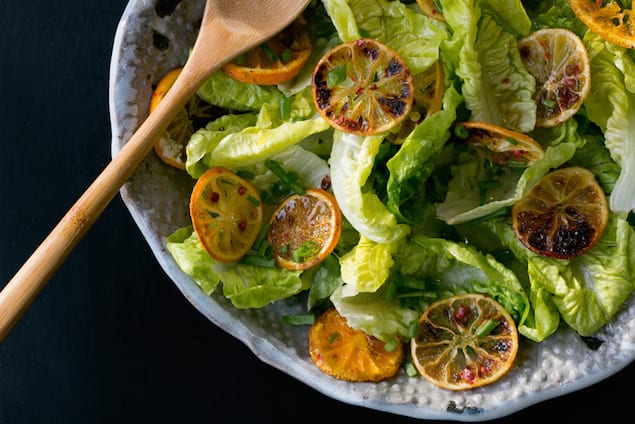 These citrus slices add intrigue to a simple green salad. If you can'd find meyer lemons, just use another regular lemon for the dressing, and only candy your tangerines. If you have a blowtorch, use that to caramelize the sugar instead of the broiler.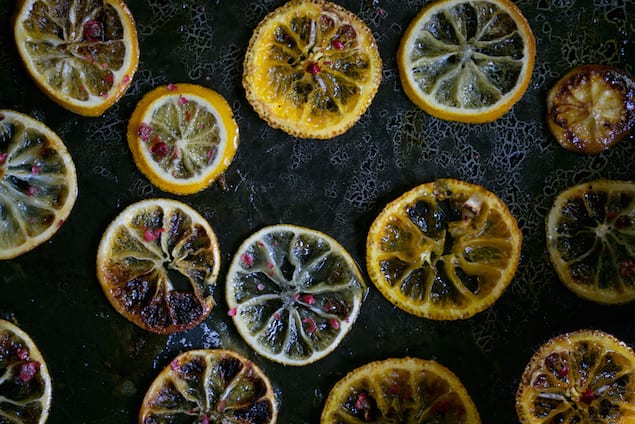 Los Angeles based Lydia Gelnn-Murray designed this salad. She is particularly chill for someone with three jobs — she is a Gallery Assistant at Night Gallery (artist run space turned commercial gallery in L.A.'s Arts' District), she is the Manager of art book shop Family Store, and in her free time, she runs her own independent art space called Chin's Push In Highland Park.

Candied Citrus Salad
Caramelized citrus slices, like Meyer lemons, add intrigue to a simple green salad with a honey dressing.
Author:
Lydia Glenn-Murray and Julia Sherman
Ingredients
3 HEADS of BABY LITTLE GEM LETTUCE
1 MEYER LEMON, SLICED PAPER THIN
2 TANGERINES, SLICED PAPER THIN
1 TBS WHITE SUGAR
1 TSP PINK PEPPERCORN
1 TBS CHIVES
Dressing
½ MEYER LEMON JUICED
1 TSP RAW HONEY
3-4 TBS OLIVE OIL
SALT AND PEPPER TO TASTE
Instructions
Slice your citrus as thinly as possible and arrange in a single layer on a tin-foil lined cookie sheet. Crush your pink peppercorn using a mortar and pestle. Add your tbs of sugar to the peppercorn, and grind the two ingredients together. Sprinkle over your citrus and place under the broiler, keeping an eye on it to make sure they don't burn. Broil for two minutes, then rotate the pan 180 degrees and continue to broil until they are light brown and the sugar is bubbling. Remove from the oven and use a spatula to transfer the citrus to a cutting board before they cool. This prevents them from sticking to the foil. Once they cool, they should go from gooey and soft to chewy and almost crunchy.
Separate leaves of the lettuce and arrange in a bowl with your chopped chives. Combine all ingredients for the dressing, whisking to emulsify the oil and drizzle on top of the lettuce, season with sea salt and pepper, and top with candied citrus.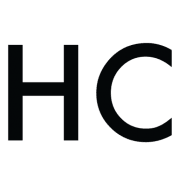 Julia Sherman
I am an artist and a photographer, but when I am not making art in my studio, I am growing my own vegetables, eating salad, and feeding salad to my creative friends. I find people whose work I admire, I cook with them, share a meal, and take their photo. Like me, all of these influencers in their respective fields use their kitchen as a creative sanctuary, a place where they can "make something" that is easily shared with others.