A perfect project for a cold day, these yeast-raised brioche buns are rolled with plump, boozy raisins and rich chocolate.
By Hein van Tonder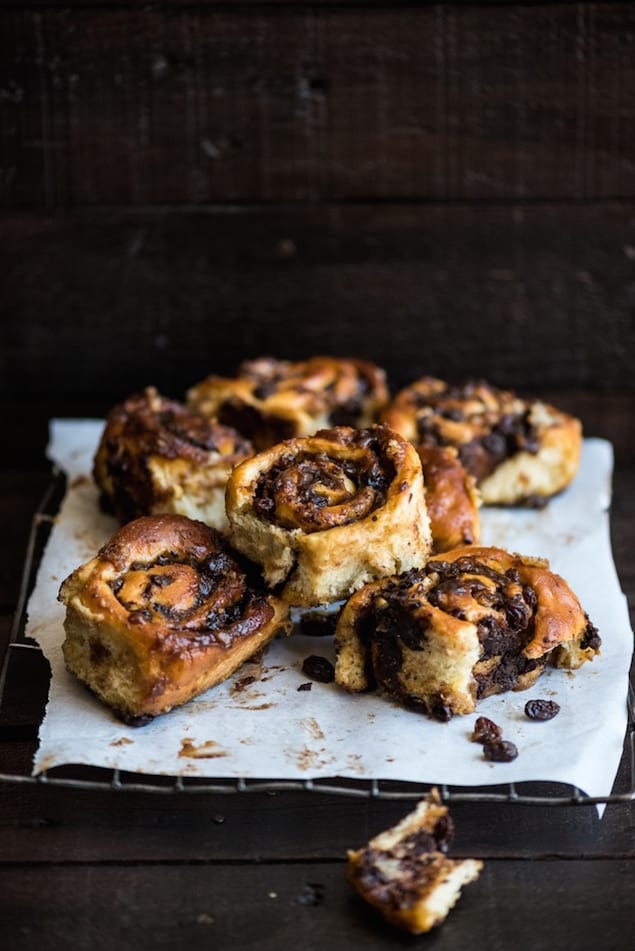 It does have a nice ring to it doesn't it? The softest buttery brioche, plump boozy raisins and lashings of brandied caramel with hits of slightly bitter dark chocolate. It all makes these sticky buns fantastic for a winter morning treat and very hard to resist.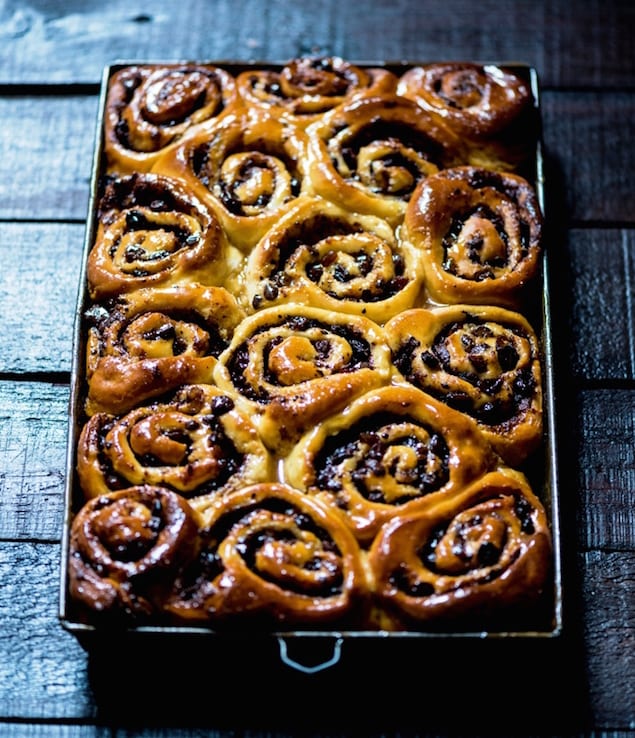 There is something so satisfying about baking with yeast. You cannot hurry the process and it is such a tactile, almost ritualistic experience. Getting your hands into slightly warm dough, kneading it to a silky smooth texture, diving in with both hands into the stringy dough after the first rise, punching out the air and preparing it for the next phase.
I came across Drizzle and Dip's recipe for Hot Cross Cinnamon Sticky Buns with its distinct Easter feel in April this year and used that as a reference for my bun that are flavored for cold weather.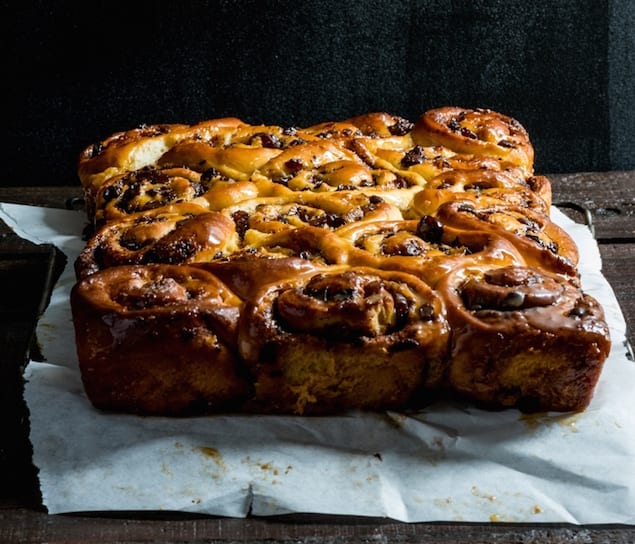 See Also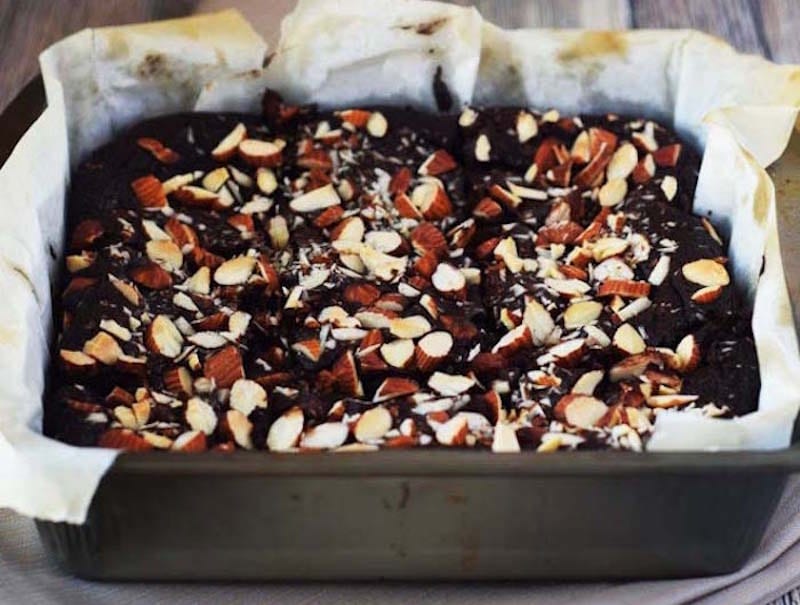 Don't be too intimidated by all the steps as it is pretty straight forward. Make the dough, rise, roll out, add filling, roll up, make sauce, cut into rolls, rise, bake and eat. You can't rush this, so having breaks to make some tea, see what's happening on Twitter and begging for attention from the cat, makes for a relaxed morning of making something really good. I made it in one morning; it was a bit cool so I helped the rising process along by wrapping the dough in a duvet to create a warm bubble.
Make sure the chocolate is not too finely chopped into a powder as you want small chunks that will melt in spots through the sticky buns. And my only insistence would be not to use milk chocolate but stick to a 70% dark chocolate, otherwise it will be just too sweet. These sticky buns are decadent enough as is and I don't think they require the traditional cream cheese icing at all. Best eaten still warm fresh from the oven, the buns freeze well. I would take them out of the freezer for about an hour until defrosted and blitzed them in the microwave for 10 seconds or so to gently heat through.
Print
Buttery Chocolate Sticky Buns with Brandy
---
Author:

Hein van Tonder

Yield:

16

buns

1

x
Description
A perfect project for a cold day, these yeast-raised brioche buns are rolled with plump, boozy raisins and rich chocolate. Adapted from Drizzle and Dip
---
Dough
¼ cup

warm water

10g

(.

35 ounces

) instant dry yeast

1tsp

sugar

1/3 cup

white sugar

¾ cup

milk

50g

(

1.7 ounces

) butter, plus extra for greasing

3

large eggs

1

heaped tbsp finely grated orange zest

1tsp

salt

4 cups

flour (and extra for dusting)
Plumping the raisins
1/3 cup

boiling water

1/3 cup

brandy
Filling
½ cup

muscavado sugar

¼ cup

light brown or caramel sugar

1tbsp

+

1tsp

ground cinnamon

1tsp

mixed spice

2

heaped tbsp candied citrus peel, finely diced

100g

(

3.5 ounces

) 70% dark chocolate, chopped into small chunks or blitzed in the food processor (not too fine)

1 cup

raisins

40g

(

1.4 ounces

) butter, at room temperature
Topping
115g

(

4 ounces

) butter

¾ cup

muscovado sugar

¾ cup

cream

1tbsp

liquid glucose

¼ cup

golden syrup

2 tbsp

brandy

1 tsp

vanilla extract

1 tsp

chocolate extract

½ cup

raisins
---
Instructions
Make the Dough
Combine the water, yeast and 1 teaspoon of sugar in the bowl of a stand mixer.
Set aside for 5 minutes to dissolve and become frothy.
Add the rest of the ingredients to the bowl with only 3 of the 4 cups of flour.
Fit a paddle attachment and mix on a low speed until just combined.
Change to a dough hook attachment and mix. While mixing, slowly add the remaining 1 cup of flour, and continue to mix for about 5 minutes until you have a smooth dough.
Grease a mixing bowl with butter and place the dough in the bowl. Cover the top with some more butter, cover with plastic cling wrap and set aside in a warm area to rise until doubled in size. (this can take about 1 – 2 hours)
Plump all the raisins
Place the raisins for the filling and topping in a bowl.
Cover with the boiling water and brandy and let it steep for about 30 minutes.
Strain into colander and let it drain.
Divide into the quantity needed for the filling and sauce.
Make the filling
Combine all the ingredients except the butter and plumped raisins and mix. Set aside
Assemble the buns
Punch the risen dough down and tip onto a floured surface, sprinkle with more flour so the rolling pin does not stick and roll into a rectangular shape about 45cm long and 30cm wide.
Dust off any excess flour and spread the softened butter for the filling over the entire surface.
Sprinkle the sugar and chocolate filling evenly over this.
Scatter 1 cup of raisins over the sugar mixture and gently press the filling down.
Starting from the longest edge, roll the dough and filling up until you have a long log. Brush off any excess flour as you roll and keep the join seam underneath.
Let the log rest where it is while making the topping
Caramel Sauce
Melt the butter in a small pot over medium heat, and then add all the other ingredients except raisins.
Bring the mixture to the boil, reduce the heat and simmer until the sauce has come together and is golden brown with a nice sheen (about 3–4 minutes).
Pour ¾ of the glaze into baking pan (about 22cm x 32 cm), swirl this around to evenly coat the bottom. Set the rest of the sauce aside.
Sprinkle the raisins over the sauce evenly.
Trim the edges of the log and then cut it into 16 even pieces.
Place the 16 cut slices of log on top of the caramel and raisins, allowing some space in between for proving.
Cover with a tea towel and let it prove in a warm spot for about an hour.
Baking
Pre heat the oven to 180 degrees C and bake the buns for 35 minutes until golden brown.
Check the buns halfway through. If they are browning too fast, cover loosely with tin foil to prevent over browning.
Remove from the oven and spread the remaining glaze over the buns.
Allow to cool in the pan on a cooling rack.
Tip out onto a large serving platter and serve warm or at room temperature.
Category:

Breakfast, Baking
Hein van Tonder
Hein is a Gourmet Hunter and Food Writer and Photographer in the beautiful city of Cape Town, South Africa. He has always loved food and photography is a relative new hobby. He uses his blog heinstirred.com to combine his love for photography with his other love, eating. He has fully embraced the food media world with his styling, photography and words being seen on various digital and traditional platforms.