The plan is a beehive in each and every suburb of Melbourne. The city is abuzz with the workings of the duo behind Melbourne City Rooftop Honey, Vanessa Kwiatkowski and Mat Lumalasi, who are set to conquer Melbourne with their bees.
By Emiko Davies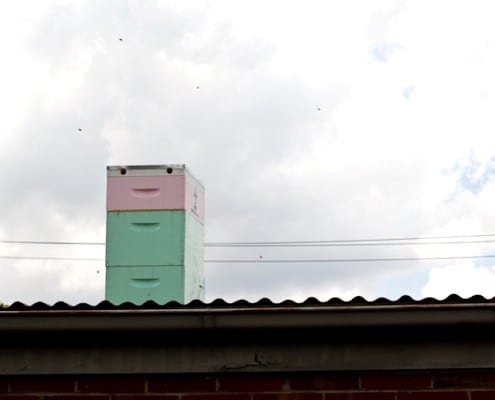 What initially started as a hobby – collecting vulnerable swarms of bees and rehousing them in hives – has turned into a blossoming and busy business.  The hives are hosted by people who share their ideas of sustainability and have offered up a garden or unused rooftop. "The concept exploded," say Kwaitkowski and Lumalasi, "we now have over 270 people on a waiting list wanting to either adopt or sponsor hives."
In many cases, it's on restaurant and café rooftops where hives appear – they have the bonus of getting to keep and use their own zero mile, raw, unprocessed honey. With 42 hives already placed around the city and a recently awarded grant from the City of Melbourne to double that number this year, the pair has a lot of work to do.
A concern with knowing exactly where their food comes from was one of the reasons the duo started up with urban beekeeping, which already has a strong following in Europe and the US. They also realised that local bees – so important to Australia's agricultural production – need to be protected.
Many people are probably quite unaware of the plight of humble honey bees, but they are up against the dangers of extermination, pesticides, disease, harsh weather and a loss of their ideal environment in an increasing urban landscape.
A decline in the bee population across the entire Northern Hemisphere, where bees are affected by a parasite that has yet to arrive in Australia, is causing alarm for the future of food crops world-wide. The United Nations Environment Programme's Achim Steiner puts the bee's importance into perspective: "Of the 100 crop species that provide 90 percent of the world's food, over 70 are pollinated by bees."
Kwaitkowski and Lumalasi are doing their part to rescue and rehouse bees in their adopted hives, teaching people along the way about beekeeping and getting them involved in their community. How can you help? It could be as easy as keeping a bee's favourite plants in your garden or window sill. See Melbourne City Rooftop Honey's other suggestions here.
With the idea that beehives in each suburb of Melbourne would produce a distinctive neighbourhood honey based on the plants and trees in the area, I made a trip to my neighbourhood coffee shop, The Red Door Corner Store Café in Northcote. Café owner Shannon has always had an interest in beekeeping and was quick to offer the café rooftop for a beehive that Kwaitkowski and Lumalasi tend to twice a month or so.
The zero food mile, chamomile-coloured honey features on their menu in their coconut crumpets with creamed rooftop honey and Myrtleford butter, and is also sold in jars to take home. Inspired by my glistening jar of neighbourhood honey, I made a moist banana cake with yogurt and honey. See the recipe below.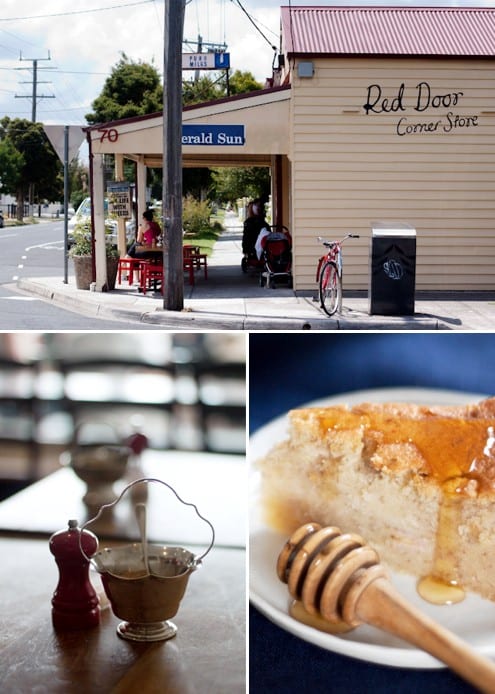 Banana Cake with Rooftop Honey
This recipe for a moist, dense, pudding-like cake, has been adapted from the recipe of Sydney's delectable Bourke Street. Anyone who has ever stood in line here for a croissant or a baguette knows that it's all worth it and even more so for their pastries or sweets. The cake is beautiful just as it is (Bourke Street Bakery serve it with a decadent caramel sauce) but it's also lovely with a generous drizzle of your neighbourhood honey.
Author:
Emiko Davies, adapted from Bourke Street Bakery
Ingredients
180 grams/6 oz of butter
225 grams/8 oz of sugar
4 eggs
200 grams/7 oz of yogurt
250 grams/9 oz of flour
2 teaspoons of baking powder
1 tiny pinch of salt
3-4 ripe bananas
2 tablespoons of rooftop honey
Instructions
Preheat the oven to 200°C or 390°F.
Combine the sifted flour with baking powder and salt.
Cream the butter and sugar together, then add the eggs one at a time. Add the yogurt, bit by bit, alternating with the flour to get a smooth mixture then add the bananas, mashed, and honey and combine.
Pour into a greased and lightly floured 28cm (11 inch) round cake tin and bake for 1 hour or until the cake is lightly browned on top and the centre is risen and slightly springy.
Let it cool a little before removing it from the cake tin. You can serve it as is, but it's beautiful with a good spoonful of good honey drizzled over it.
Emiko Davies
Emiko Davies is a food writer, photographer and illustrator who Amanda Hesser calls the "Renaissance Woman for the Internet Era". She lived in Florence, Italy, for seven years where she nurtured her love of regional Italian cuisine and now calls Australia's food capital, Melbourne, her home.