Aaron Meneghelli derives inspiration from the beauty and bounty of the wine country of the Napa Valley. This delicious dessert is a prime example of a versatile dessert that can be made to include the flavors of the season.
By Michelle M. Winner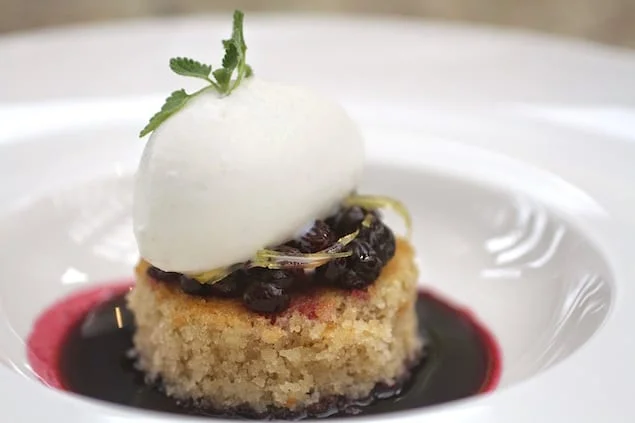 Executive Chef Aaron Meneghelli derives inspiration from the beauty and bounty of the wine country of the Napa Valley. He raises chickens for eggs, keeps thousands of bees, plants a garden to supply herbs and much of the produce  at his signature restaurant The Lakehouse at Calistoga Ranch an Auberge  property.
Meeting Chef Meneghelli
Kitchen Deconstructed visited Napa Valley recently; part wine exploration, part hotel stay, part superb dining. We found one gem that offered everything Napa is known for all in one place. There at Calistoga Ranch , one of the Auberge resorts, we met executive chef Aaron Meneghelli.
Chef Meneghelli  commands  one of the most exclusive kitchens in the world. You can't dine here at The Lakehouse unless you are a guest staying at the Calistoga Ranch or you own one of the homes here. Favored by royalty, celebs, Silicon Valley types, corporate big wigs and the wealthy who wish to relax away from the limelight, Calistoga Ranch offers 50 guest lodges and 22 owner lodges in a very private setting tucked into a secluded valley.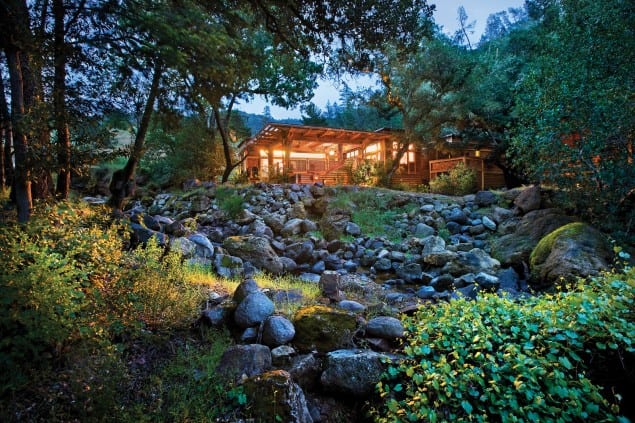 The integration of nature
What's  refreshing about this resort is the layout of the lodges. The concept of arranging the components of each lodge takes utmost advantage of the natural world and topography . Ancient oak trees, redwoods, pines and the seasonal creek can figure in to the layout of the cedar-shingled free-standing rooms connected by decks, and walkways creating an integration of nature to the living space. The experience feels like the simpler days of childhood camping but in a sophisticated, curated, simple, luxurious venue. Waking up here and hearing the birds outside is pure magic.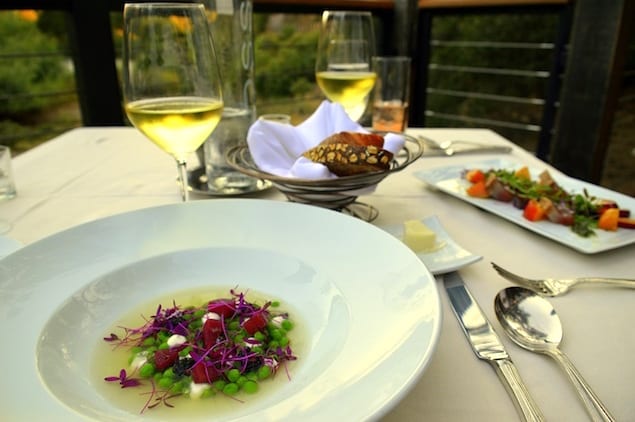 Chef's Garden
Chef Meneghelli uses much of the herbs and produce he grows on property in his seasonal menus. He and his head gardener are now thinking about which heirloom seed to plant for spring and are laying in a cover crop for the winter to enrich the soil. There is a fantastic chicken house adjacent to his garden replete with a chicken-sized chandelier. A beautiful assortment of hens provide fresh eggs in a multitude of colors. Visits to the chicken coop are a favorite of the guests. In 2013 a  "Bee-Well" program to nurture, increase and protect the bee population in Napa was started. The five hives of about 30 thousand bees each produce a delicious honey of wild flowers, roses, lavender, rosemary and orange blossom. Something else that is interesting: this is the only resort property in Napa that has its own vineyard. Sotero Vineyard planted in Merlot and Cabernet Sauvignon produces luscious vintages. An excellent Chardonnay under their Calistoga label, is so exclusive that you may only enjoy the wine or buy it on property.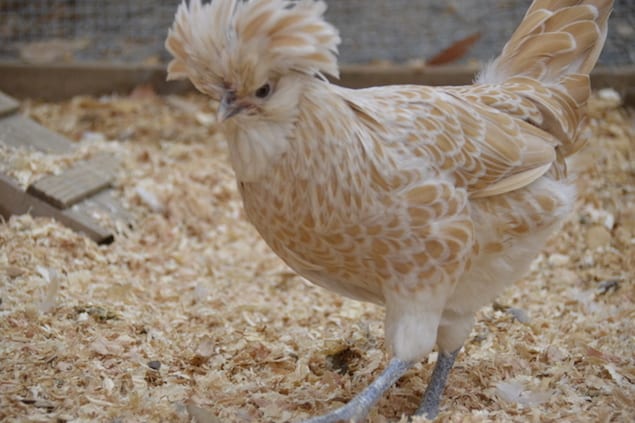 Image Kurt Winner
Feel relaxed
The moment you drive onto the property they take your luggage out of your car, put it in a golf cart and take your car away.  Calistoga Ranch cossets you in serenity from the distractions of the noisy world outside.
Couples favor Calistoga Ranch because the one bedroom lodges are perfect for two and afford great privacy. Each lodge has a jetted whirlpool hot tub outside and they thoughtfully provide you with a bottle of that wonderful private label wine to set the mood. Calistoga Ranch is a fantastic place to propose or get married too with hiking trails, viewpoints, a wine cave and a 1000 acre nature reserve adjacent.
You won't want to leave the property during your stay, and you don't have to.  Executive Chef Aaron Meneghelli will provide the most wonderful, beautiful cuisine and because you are in Napa Valley you'll have access to an incredible wine cellar. The staff, under the watchful eye of General Manager Ms. Coni Thornburg, has your needs anticipated and will accommodate your  wishes.  Relax. Eat. Rest. Sounds like the perfect recipe for 2015 doesn't it?

Brown Butter Financier from Executive Chef Aaron Meneghelli
This dessert takes some work but is worth it. Measurements are weighed as all fine pastry chefs do.
Author:
Chef Aaron Meneghelli
Ingredients
Brown Butter Financier
(Yields 6)
1 Butter for brown butter: Melt butter over medium heat and cook until liquid starts to turn brown and smell of nuts. Remove from heat and strain through fine mesh strainer
1 mold 6"x5" or financier molds
150g (5.3 ounces) Confectioner Sugar
75g (2.6 ounces) Almond Flour
60g (2.1 ounces) All Purpose Flour
120g (4.2 ounces) Egg Whites
150g (5.3 ounces) Brown Butter - Liquid but not hot
Huckleberry Compote and Sauce
5 Piece Star Anise
1 Cup White Wine
1 Cup White Port
1 Cup Simple Syrup
½ Lemon Zest - Peeled
3 Cups Huckleberry
Vanilla Sorbet
750ml (25.3 ounces) Milk
250ml (8.4 ounces) Cream
150g (5.3 ounces) Trimoline
50g (1.7 ounces) Sugar
2 Vanilla Beans
Lemon Confit
1 Lemon, Zested
1 Cup Simple Syrup
Instructions
Brown Butter Financier
Grease molds, set oven at 425 degrees
Mix all dry ingredients in kitchen aid with paddle attachment
Add egg white and mix at slow speed until incorporated, scrape down and add butter - again mix until incorporated without incorporating too much air
Pour into mold and bake at 425 degrees for 7 minutes, then bake again at 350 degrees for a further 7 minutes
Allow to cool before unmolding. (Note: if it sticks slightly, just warm a little in the oven)
Huckleberry Sauce
Bring wine, port, and syrup to a boil, add huckleberries and cook on low/medium heat for 10 - 15 minutes - Berries should remain intact and plump
Add zest and steep for 15 minutes more
Remove zest and strain out most of the liquid
Bring this liquid to a boil and add 5 piece star anise and cook for 30 minute on medium heat
Strain and reserve warm for plating
Vanilla Ice Cream
Bring milk, cream and vanilla to scalding, add sugar and Trimoline – mix until all is dissolved and steep for 30 minutes
Strain and chill
Process in ice cream machine per directions (approximately 7 minutes) (Note: Do not over mix as it will turn grainy)
Lemon Confit
Peel and chiffonade lemon zest
Blanch in boiling water twice to remove bitterness
Cook for 15 minutes in simple syrup and reserve for plating
Michelle M. Winner
Michelle was born with a fork in her hand. As a culinary travel writer and confirmed foodophile she delights in the world-wide discovery of new flavor profiles, spices, salts and herbs. Based in one of the world's foodie meccas; Portland, Oregon, not far from "Pinot Noir Heaven" Michelle shares culinary travel and chef's recipes. Her photography has appeared in Saveur Magazine and she has contributed culinary travel articles to Forbes online, WSJ online, Business Insider, Condé Nast Digital Media, Islands magazine and many others. A confirmed globetrotter, she still keeps her bags packed and fork in hand (well . . . except through airport security.)