Blackberry Yogurt Popsicles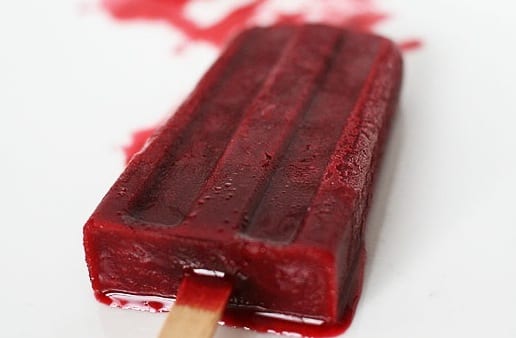 The tartness of the blackberries pairs well with the sweet vanilla yogurt and honey definitely adds a unique taste to the recipe.
By Mansi Desai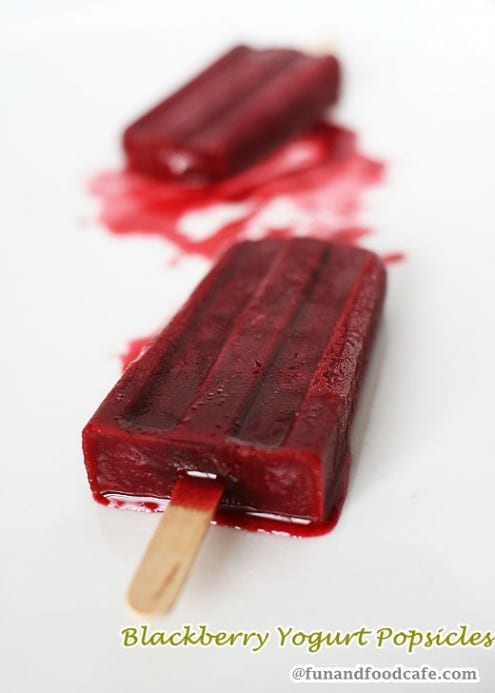 I am really sad that Northern California did not have a good cherry season this year – cherry picking didn't even last for one full weekend, and bags of cherries were gone even from the supermarkets before I could grab a few to relish, forget freezing them for the rest of the year! Nevertheless, I am happy that berries are still available, and are a great substitute for cherries in making baked desserts and frozen treats. Last week, I came across a lovely popsicle recipe on the BetterBee foundation's website. They promote use of local honey, and how it can replace sugar in almost any recipe. Anyways, my daughter loves Popsicles – which 4 year old does not? and Summer is the best season to enjoy this frozen treat. So I was happy to come across a healthy popsicle recipe that combined berries, yogurt and honey.
I have made Strawberry Yogurt popsicles before, so this time, I opted to go for Blackberries – I love the deep purple color it renders to the final dish. As you can see, the popsicles look lovely, and are hard to resist! The good thing is you don't need to resist them, because they are creamy, delicious and super healthy, and though I could have omitted the sugar and used all honey in the recipe, I felt that would not be sweet enough for the kids, so I used half honey, half sugar. I also swapped the plain yogurt with the vanilla flavor which gives it an ice-cream-like taste. Of course, you could use any other berries that you like, or even mix-and-match a few together. For a more creamier texture, try using Greek yogurt instead of non-fat yogurt, if you like the taste of Greek yogurt.
This is a very easy and fulfilling recipe. The tartness of the blackberries pairs well with the sweet vanilla yogurt and honey definitely adds a unique taste to the recipe. Next time, I am tempted to try this with some orange zest and maybe add some white chocolate chips too – yes, it will add some calories, but when its a treat to enjoy, who cares!!
Blackberry Yogurt Popsicles
The tartness of the blackberries pairs well with the sweet vanilla yogurt and honey definitely adds a unique taste to the recipe.
Ingredients
⅔ cup water
⅔ cup sugar
3 cups fresh blackberries
1 cup nonfat vanilla yogurt
5 tbsp honey
1 tbsp fresh lemon juice
Instructions
Bring ? cup water and sugar to boil in small saucepan over medium-high heat, stirring until sugar dissolves. Transfer simple syrup to small bowl and chill until cold, about 1 hour.
Place blackberries in processor; puree until smooth.
Pour blackberry puree into strainer set over medium bowl. Using rubber spatula, press on solids to extract as much puree as possible. Discard seeds in strainer.
Measure 2 cups blackberry puree and place in another medium bowl for pops (reserve any remaining puree for another use). Add chilled simple syrup, yogurt, honey, and lemon juice to puree; whisk to blend.
Divide mixture among 10 popsicle molds. Top with mold cover, if available, and insert stick into each.
Freeze pops until firm, at least 8 hours or overnight.
Dip bottom of mold into hot water 10 to 15 seconds to loosen pops. Remove pops from molds and serve
Mansi Desai
A part-time recipe developer and food blogger, Mansi loves to experiment with vegetarian food, taking each recipe and giving it a fusion gourmet mark, a glimpse of which you can see on her blog called Fun and Food Cafe. As a mom of a toddler, she also looks for ways to keep her food healthy and flavorful, so even kids can enjoy it.