The ale brings this big sweet malty kick with an interesting touch of spice that melds well with the heat from the sriracha and other spices.
By Maggie Cubbler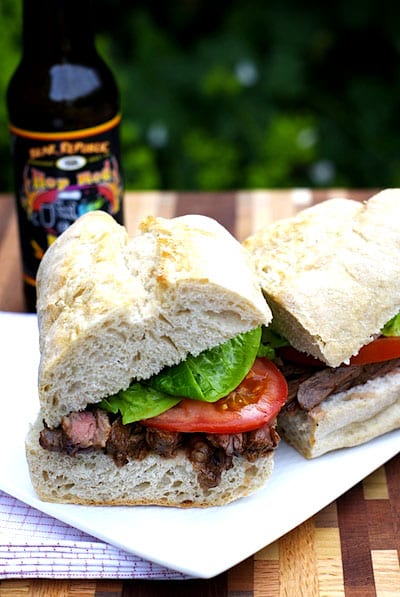 IPA & Sriracha Marinated Grilled Steak Sandwich
The ale brings this big sweet malty kick with an interesting touch of spice that melds well with the heat from the sriracha and other spices.
Ingredients
3 cloves of garlic, minced
½ cup (120ml) beer
juice of 2 limes
2TB sriracha (or other hot sauce)
2TB dark brown sugar (or dark muscovado sugar)
2TB olive oil
2tsp ground cumin
2tsp ground chipotle powder
2tsp paprika
2tsp salt + 1tsp ground black pepper
2 pounds (900g) skirt or flank steak
Instructions
Combine all of the marinade ingredients in a bowl.
Place the steak in a large plastic bag or bowl and cover with the marinade. Refrigerate overnight.
While preheating the grill to high heat, remove the steak from the marinade and allow to warm up in room temperature for about 20-30 minutes. Discard the used marinade.
Grill the steak for about 5-6 minutes each side for medium-rare. When finished, allow to rest for about 10 minutes.
Slice as thinly as you care to AGAINST THE GRAIN. This is important, or you'll have tough, stringy beef on your sandwich.
Place on toasted ciabatta and then top with lettuce, tomato, and your choice of sauce. I prefer a nice, fresh chimichurri.
Maggie Cubbler
Maggie Cubbler is a beer-and-food-loving Yankee living in North Yorkshire, England. When she's not pulling pints at a traditional Yorkshire pub, she devotes her time to her Labrador, husband, and working on her blog: Loaded Kitchen. She loves to pair beer with food, cook with beer, and drink a (half) pint or two with the natives. Besides blogging and drinking, Maggie is currently studying to become a certified Cicerone while trying to figure out why Yorkshire men like lime cordial syrup in their lagers. Take a swing by her blog and check out the party in her pans.