Win the beautiful new cookbook on fermented drinks from Honest Cooking contributor, Julia Mueller and enjoy a recipe for a delicious kombucha drink from the book.
By Julia Mueller
WIN THE DELICIOUS PROBIOTIC DRINKS COOKBOOK! ENTER THE SWEEPSTAKES HERE!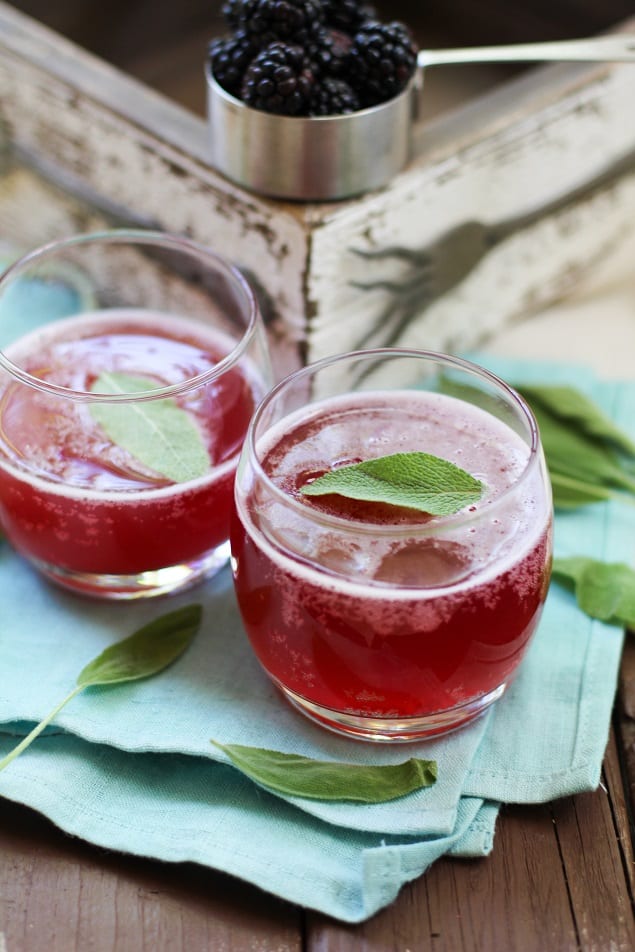 The tart and sweet blackberries give a great deal of life to the kombucha, as berries tend to make for a bubblier beverage and infuse very noticeable flavor. The sage gives the beverage a soft earthiness. Blackberries are rich in antioxidants and fiber. They aid in digestion, promote cardiovascular health, protect against cancer cells and neurological diseases, and more. Sage is an herb related to mint and is full of health benefits and medicinal uses. It is an anti-inflammatory, improves memory, can be used as an antiseptic, helps with allergic reactions and mosquito bites, and is packed with antioxidants!
Print

Blackberry Sage Kombucha and a Giveaway
---
Description
Healthy and packed with flavor, this Blackberry Sage Kombucha will have your body roaring to get moving.
---
2 Cups

Ripe blackberries
.65 Ounces Sage leaves, chopped (about 15-20 large sage leaves)

1/3 Cup

Cane sugar

3/4 Gallon

Kombucha
---
Instructions
Heat blackberries in a saucepan, covered, over medium heat. As the blackberries heat up and begin to bubble and soften, mash them with a fork.
Once a pulpy juice forms add the sugar and sage and bring to a gentle boil.
Reduce heat to medium-low, cover the saucepan, and allow the flavors to cook together, about 15 to 20 minutes. Do not allow mixture to boil or cook for too long, or else it will become very thick.
Leave bottles in a warm, dark place for two to four days to allow kombucha to go through secondary fermentation.
In a large pot or pitcher, combine the kombucha and blackberry sage mixture. Mix together well and then pour the blackberry sage kombucha into sealable bottles, including the sage leaves and blackberry pulp. Seal the bottles. Allow the kombucha to go through its secondary fermentation by allowing it to sit in a warm, dark place for two to three days. Note that the longer the kombucha sits, the more sugar will be eaten by the probiotics, which will result in a less sweet and more fizzy beverage.
Refrigerate for twenty-four hours after the secondary fermentation is complete. This slows the secondary fermentation, but the kombucha will continue to ferment and get fizzier the longer it sits in the refrigerator.
When you're ready to drink the kombucha, use a small fine strainer to strain out the sage leaves, blackberry pulp, and whatever small SCOBY (Symbiotic Culture of Bacteria and Yeast) has formed during the secondary fermentation. Discard all of the pulp and enjoy.
Julia Mueller
As a fitness and nutrition enthusiast, Julia writes a food blog called The Roasted Root, where she share recipes that are mostly vegetable and meat based along with stories of her travels and day-to-day activities. Julia loves enjoying fresh home cooked meals with her friends and family, and the process of developing recipes, photographing, and sharing them.