Soft vanilla honey cake is filled with blackberry jam frosting and topped with sweet honeycomb pieces.
By Alyssa Ponticello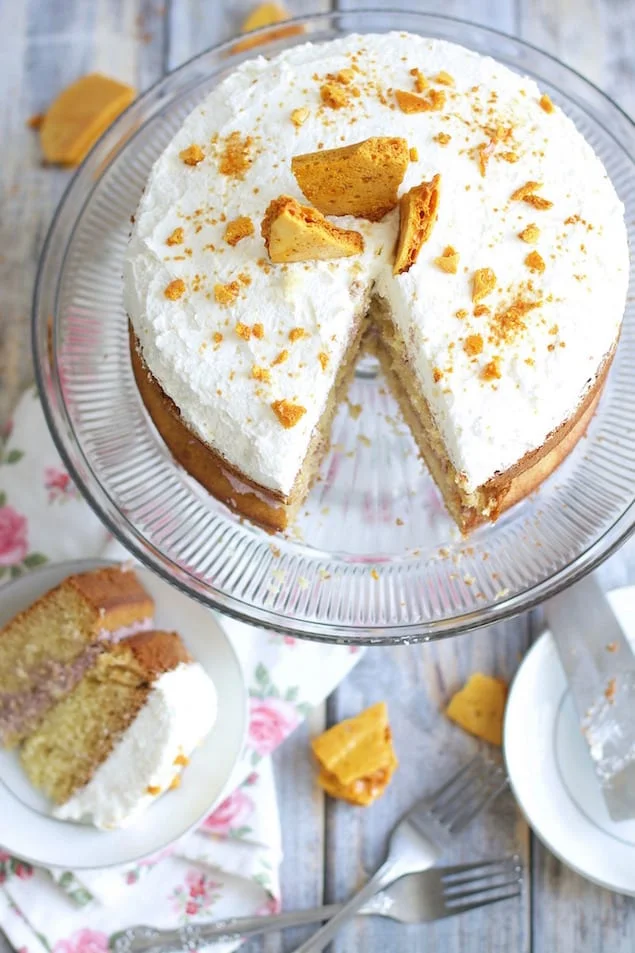 I tried (and became obsessed with) the "Sweet as Honey" ice-cream at Ample Hills last summer. Not only was I having dreams about that ice-cream, but it was also the catalyst for me to want to make honeycomb everything- salad (added crunch, or something, right?!), truffles, cookies, bacon, smoothies (sweetener, maybe?!), cake. You name it, I'll want to honeycomb it. And that's exactly what I did for this cake. I made a yellow cake, sweetened to golden perfection with honey, and infused with the essence of orange. Then I whipped up a fluffy cloud of heavenly mascarpone frosting with the faintest hint of springtime (aka elderflower liquor). Half of the frosting got mixed with a little blackberry jam. And then, to finish it off, I sprinkled that entire cake with as much honeycomb as was humanely possible.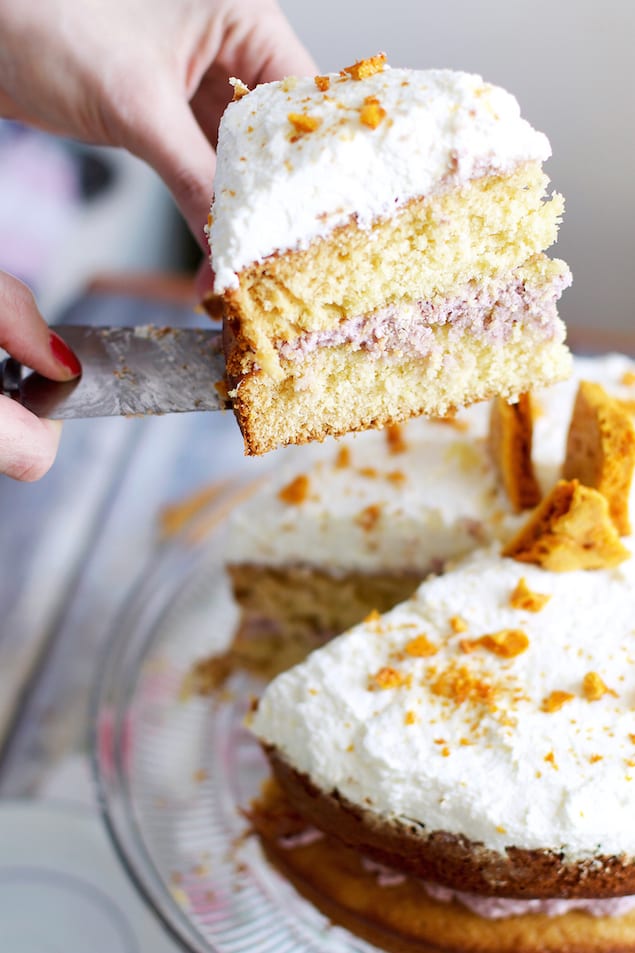 Is your sweet tooth looking for more? Then next you should make these filled funfetti donuts.
See Also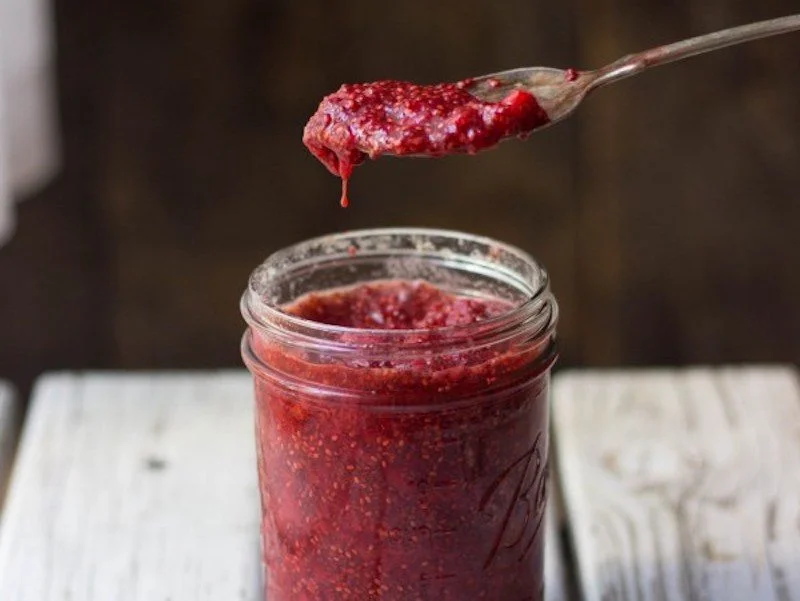 This is the recipe I used for the Honeycomb.
Print
Blackberry and Honeycomb Cake
---
Author:

Alyssa Ponticello

Yield:

10

servings

1

x
Description
Soft vanilla honey cake is filled with blackberry jam frosting and topped with sweet honeycomb pieces.
---
1 cup

(

2

sticks) unsalted butter, softened to room temperature

1 cup

honey

2 teaspoons

vanilla

3

eggs, room temperature

2

egg yolks, room temperature

1 1/2 teaspoons

baking powder

3/4 teaspoons

baking soda

1/2 teaspoon

salt

2 1/4 cups

cake flour (or 1 3/4 c. +

2 tbsp

. all-purpose flour sifted with 1/4 c. +

2 tbsp

. cornstarch)

1/4 cup

milk (2% or higher)

1/2 cup

Greek yogurt (plain or vanilla)
Zest of

1

small orange
FROSTING + FILLING
1 1/2 cups

heavy whipping cream

8 ounces

mascarpone

2 tablespoons

elderflower liquor (I like to use St. Germain; you can also use vanilla extract instead)

3 tablespoons

blackberry jam
TOPPING
Honeycomb (link to recipe above)
---
Instructions
Preheat the oven to 325 degrees. Grease and flour two 8-inch cake pans and set aside.
In a small bowl, whisk together the milk and yogurt and set it to the side.
In the bowl of a stand mixer, or using a handheld mixer, cream the butter until it is silky and smooth, about 4-5 minutes. Add the honey and beat for another 1-2 minutes, or until the mixture looks like golden fluffy clouds. Add the vanilla and orange zest and beat just until combined, no more than 30 seconds.
Scrape down the sides of the bowl then begin adding the eggs and yolks, one at a time. Make sure to fully incorporate one egg before adding the next, stopping to scrape down the sides of the bowl after each addition.
In a separate bowl, sift together the dry ingredients.
Remove the bowl from the stand mixer, then alternately, in thirds, begin adding the milk and flour mixtures to the butter mixture, use a spatula to fold the ingredients together. Once everything has been added, fold the mixture a few more times, but do not overmix it.
Divide the batter between the 2 cake pans. Gently run a knife through the batter, than drop the pans from about 3 inches off the counter a few times to help eliminate air bubbles.
Bake for 20-25 minutes, or until a toothpick inserted in the middle comes out clean. Whatever you do, do not overbake the cakes or they will dry out. You will also have to watch them closely at the end as the honey can cause the cakes to brown/burn faster. It should also be noted that one of my cake halves took about 2 minutes less to bake than the other one did. A final note, do not open the oven door until you are ready to check the cakes…opening the door will cause the cakes to fall flat.
Let the cakes rest in the pan for 5-10 minutes, before running a knife gently around the edge of the pan and flipping the cakes out on a wire wrack to cool completely.
While the cakes are cooling, make the frosting.
In the bowl of a stand mixer, beat the cream until soft peaks form. Add the liquor and beat for about 30 seconds more. Remove to cream to another bowl and set aside.
Add the mascarpone to the mixing bowl and beat it until it is soft and fluffy, about 2 minutes. Add the whipping cream and beat for another minute, then turn off the mixer and continue to fold the cream and mascarpone together by hand.
Take about 1 ½ cups of the cream mixture and place it in a small bowl. Gently fold in the blackberry jam and set aside.
When you are ready to assemble your cake, place one half on a serving tray or cake stand. Spread the blackberry mixture on top, make sure to leave about ½ inch between the filling and the edge of the cake (so that the filling doesn't ooze out when you put the top on). Place the second half of the cake on the filling and finish by spreading the mascarpone frosting evenly on top.
Sprinkle with crushed up honeycomb, and, if you wish, decorate the center with a few large pieces.
Notes
The cake is best served the first day that it is baked, as it will begin to dry out after just a day or two. However, you can keep leftovers, tightly wrapped, in the refrigerator. Just keep in mind that the cake will become more dense and dry from being in the fridge.
Please note that the honeycomb will "melt" so I recommend putting honeycomb on the cake right before serving, or sprinkling it on each individual piece.
For the cake to work properly, it is absolutely crucial that all ingredients listed as being "room temperature" are actually room temperature. Trust me. It makes a difference.
Because the cake itself is sweet, I chose not to add sugar to the frosting. However, feel free to add 2-3 tablespoons if you like your food sweeter.
Category:

Dessert, Cake, Baking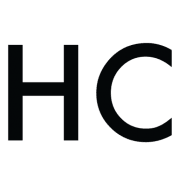 Alyssa Ponticello
Hi! My name is Alyssa and I'm a full-time blogger and creative entrepreneur based in Brooklyn. You can find me on my site, Runway Chef, inspiring people to create beautiful lives by intertwining food, fashion & travel into scrumptious style for everyday life. When I'm not blogging, you'll most likely find me in the kitchen with my husband, aka Mr. Runway Chef, or planning my next getaway.