SPONSORED: We get excited about good food and great ingredients, so we've teamed up with Divine Flavor to bring you delicious recipes made with their mini Tribelli peppers.
This creamy Roasted Sweet Pepper Crab Bisque is made with a base of puréed roasted Tribelli Sweet Peppers and seafood stock and is loaded with crab meat, sweet corn, carrots, celery and onions.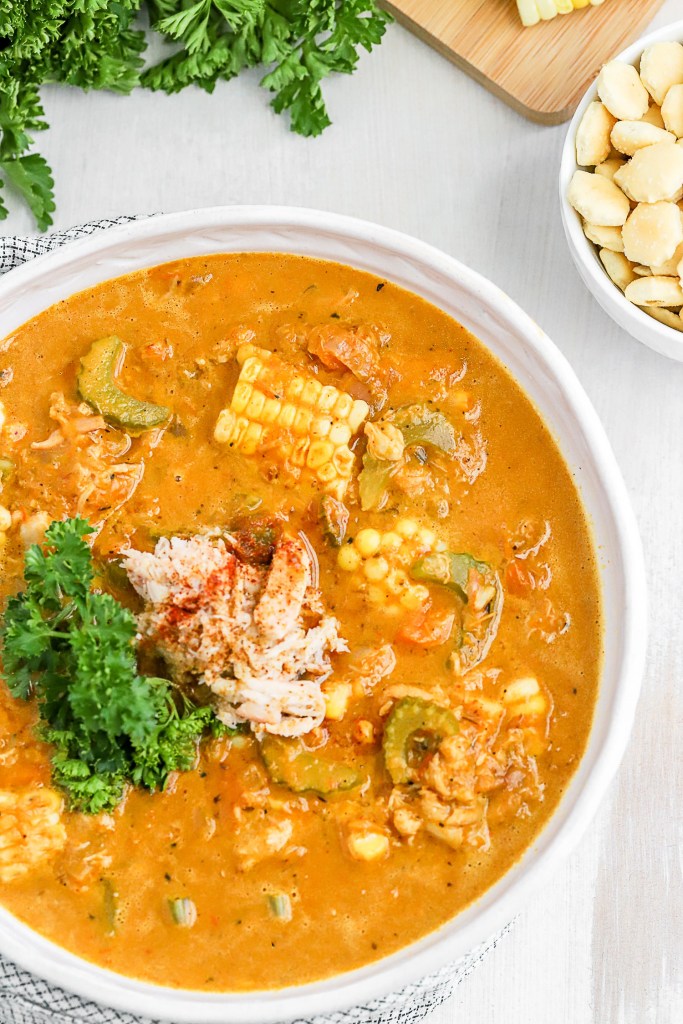 Now that we are into spring I'm thinking about the beach and all those summer flavors! My husband Walter is from Maryland so crabs are kinda a big deal in our house. We love picking crabs in the summer and he will devour anything with crab. He was the official taste tester (as per usual) of this Creamy Roasted Sweet Pepper Crab Bisque and he gave it 5 stars!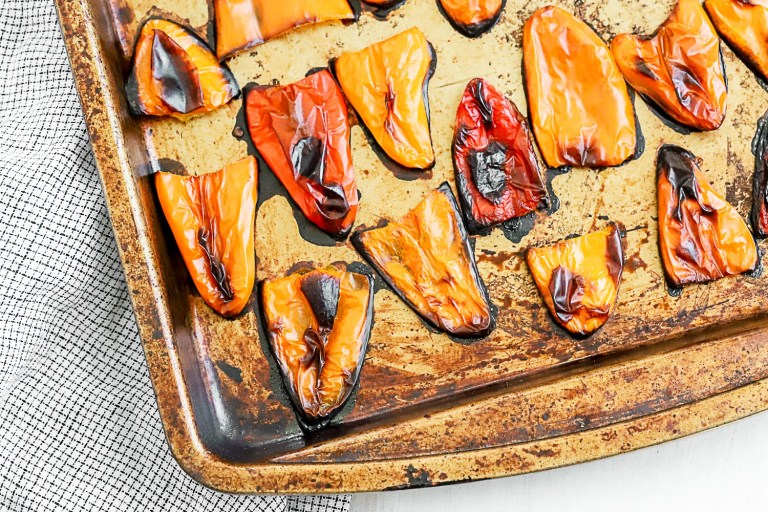 For the base of this Creamy Roasted Sweet Pepper Crab Bisque we will roast Divine Flavor Tribelli Sweet Peppers. Their peppers are crisp, nutritious, colorful and available year-round! We roast them to char the skin so we can remove it and get that delicious, sweet pepper meat!
To roast the peppers, start by slicing off the tops and removing the seeds. Next slice the peppers in half vertically and place the peppers face down on a baking sheet. Bake them at 500°F for 25-3o minutes, the skins will char as the pepper meat roasts. As soon as they are done, remove them from the oven and cover tightly with a sheet of aluminum foil. Let them rest for about 20 minutes, this allows the peppers to cool and the skin will be much easier to separate. After the 20 minutes, carefully remove the skin from each pepper and discard.
At this point we are ready to purée the pepper meat and then add it to the seafood stock. You can purée them in a food processor and then add them to a pot with the seafood stock. Or you can use an immersion blender and purée them in the pot once you add them to the seafood stock, either way works!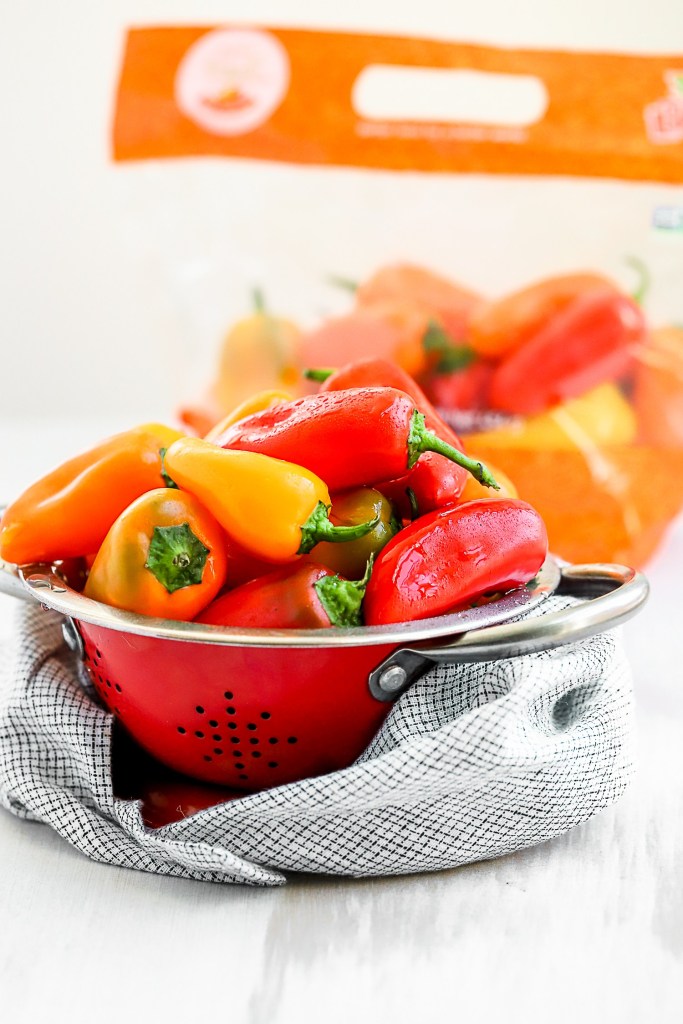 Now that we have roasted and puréed the Tribelli Sweet Peppers and added them to the seafood stock, we have the base for our bisque! We will now season the bisque with some salt, old bay seasoning (made for crab!) and a little smoked paprika.
So what else goes into the bisque?
sautéed onions, carrots and celery
corn sliced straight from the cob
shredded crab leg meat
This makes for a hearty bisque, that really focuses on the flavor of the roasted peppers in the broth and highlights the crab. The last ingredients is heavy cream, just 1/2 cup. You don't have to add it if you want to keep the bisque on the lighter side, but it really helps to give it a little extra creaminess.
You will want to serve the soup immediately upon preparation. I've chosen to garnish it with some fresh parsley and oyster crackers. A fresh loaf of warm bread would also make a great side!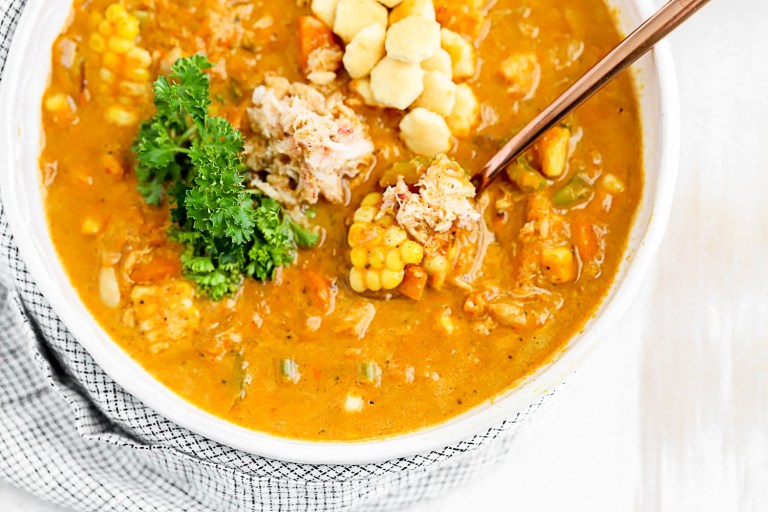 Roasted Sweet Pepper Crab Bisque
Ingredients
2 pounds Divine Flavor Tribelli Mini Sweet Peppers
2 tbsp olive oil
1 cup onions, chopped
½ cup carrots, chopped
1 cup celery, chopped
4 cups seafood stock
1 tsp salt
½ tsp old bay seasoning
pinch of smoked paprika
2 ears boiled corn, sliced off the cob
½ cup heavy cream**
½ pound crab leg meat
handful fresh parsley, for garnish
½ cup oyster crackers for serving
Instructions
Preheat oven to 500°F
Wash and dry peppers
Slice the top of each pepper and remove the seeds
Slice each pepper in half the long way
Place the peppers inside side down on a baking sheet, make sure they are not overlapping, you will need 2 large baking sheets to fit all the peppers
Bake the peppers on the middle rack of the oven 1 sheet at a time for 25-30 minutes until the peppers are tender and skin is charred
Remove from oven and immediately cover tightly with a sheet of aluminum foil
Repeat with other sheet of peppers
Meanwhile, In a large stock pot, heat the olive oil over medium heat
Add the onions, carrots and celery, sauté for 6-8 minutes until the vegetables soften and start to brown a little, transfer to a bowl and set aside
After about 20 minutes, remove the aluminum foil from the pans of peppers and carefully remove the charred skin of each pepper, it should come off easily
Discard the pepper skins and put the roasted pepper meat into the bowl of your food processor*, process on high until completely smooth
Transfer the puréed pepper to a large stock pot
Add the seafood stock, salt, old bay and paprika, mix and bring to a low boil over medium heat
Add the sautéd vegetables back into the pot and add the corn
After about 2 minutes, reduce the heat to simmer and add the heavy cream**, stir
Add in the crab meat, mix
Ladle into bowls, garnish with fresh parsley and oyster crackers if desired
Notes
*If you would rather use an immersion blender you can, use it in the large pot once you have added the seafood stock

**This makes it creamier, you may omit if you like