Black pudding is a blood sausage traditionally eaten for breakfast in Ireland.
By Jess Lacey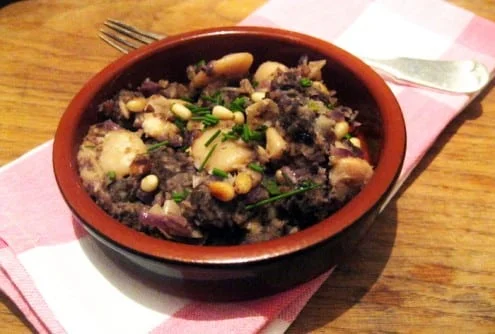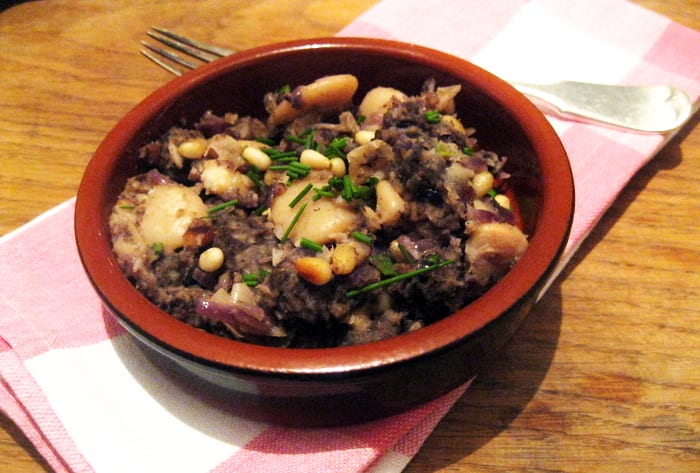 Black Pudding and Butter Beans Hash
Black pudding is a blood sausage traditionally eaten for breakfast in Ireland.
Ingredients
1x 400g tin of butter beans, drained
100g of black pudding, chopped into smallish cubes
1 red onion, finely chopped
3 cloves of garlic, crushed
1 tbs toasted pine nuts
2 tbs sultanas
1 tablespoon chopped parsley
1 tablespoon snipped chives
Cider, white wine or sherry vinegar, to taste (lemon juice would work too)
Olive oil
Instructions
Heat the oil in a large pan over a medium heat.
Saute the onion for 3-4 minutes until softened.
Add the garlic for an extra 2 minutes.
Toss in the beans, black pudding, and sultanas and cook for another 2-3 minutes.
Remove from the heat, toss in the pinenuts and herbs.
Dress with a bit of vinegar to sharped according to your taste.
Drizzle with a bit more olive oil if you like.
Season and serve warm.