Made with bittersweet chocolate and the untraditional teff flour, these soft brownies are rich in flavor, but light in texture. With hints of cocoa in its earthy flavor, teff is a natural addition to a classic brownie.
By Serge Lescouarnec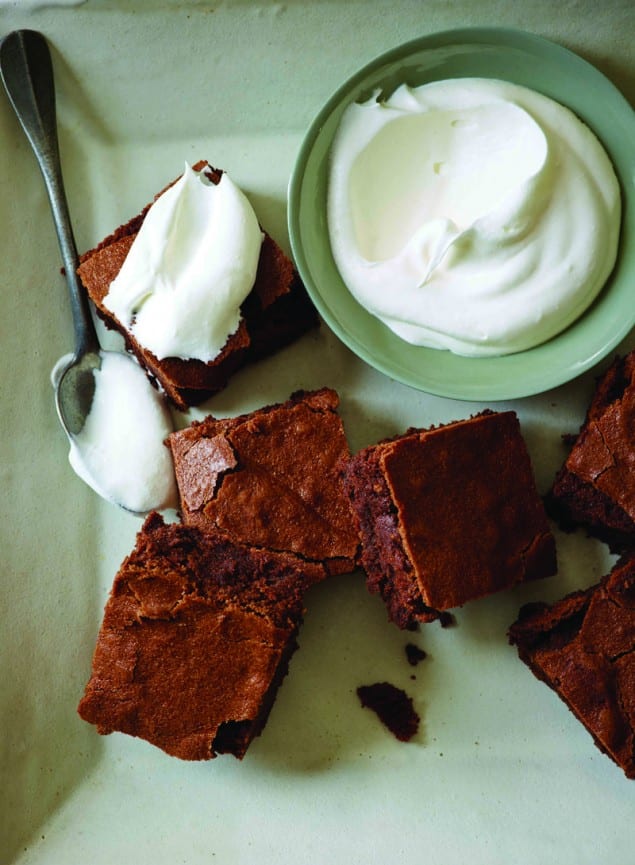 Photograph by Leigh BeischI did not know a thing about Teff before I opened the pages of Flavor Flours (Artisan Books, October 2014) by Alice Medrich.
According to the Wikipedia entry on Teff, this grain cooks similar to quinoa yet uses less energy to cook because it is smaller in size.
These considerations need not apply I guess when we talk about Teff flour as an ingredient in a decadent baking recipe.

Cocoa brownies have a softer texture than chocolate brownies. For softer brownies, substitute ¾ cup (65 grams) unsweetened cocoa powder for the chocolate. Increase the butter to 13 tablespoons (185 grams), and increase the sugar to 1 cup plus 3 tablespoons (235 grams).
(* Excerpted from Flavor Flours by Alice Medrich (Artisan Books). Copyright © 2014. Photographs by Leigh Beisch.)
Bittersweet Chocolate Brownies with Teff Flour
These moist and deeply chocolate brownies have a light, rather elegant melt-in-your-mouth texture. Teff flour has a nuance of cocoa flavor to start with, so it is a natural choice for brownies. If you need something dressier than brownies, bake the batter in a 9-inch round pan and serve wedges with whipped cream—and perhaps a scattering of seasonal berries—and call it dessert. Either way, the recipe comes together quickly and the results remain deliciously moist for a few days.
Recipe Type:
Dessert, Chocolate
Serves:
16, 2 inch brownies
Ingredients
10 tablespoons (1¼ sticks/140 grams) unsalted butter, cut into chunks
6 ounces (170 grams) 70% chocolate, coarsely chopped
1 scant cup (185 grams) sugar
¾ cup (100 grams) teff flour
¼ teaspoon salt
1 teaspoon pure vanilla extract (optional)
3 large eggs, cold
1 cup (100 grams) walnut or pecan pieces (optional)
equipment
Handheld electric mixer
8-inch square pan, bottom and all four sides lined with foil
Instructions
Position a rack in the lower third of the oven and preheat the oven to 350°F.
Melt the butter with the chocolate in a medium heatproof bowl set directly in a wide skillet of barely simmering water. Stir frequently until the mixture is melted and smooth.
Remove the bowl from the water and cool the mixture to lukewarm. Stir in the sugar, teff flour, salt, and vanilla, if using. Add all of the eggs and beat on high speed with the handheld mixer for about 2 minutes. The batter will get thicker and a little lighter in color, like chocolate frosting. Stir in the nuts, if using.
Scrape the batter into the pan and spread it evenly. Bake for 30 to 35 minutes, until a toothpick inserted in the center comes out fairly dry and clean (don't worry; the brownies will be moist even if the toothpick is not).
Cool on a rack. Lift the foil ends to transfer the brownies to a cutting board. Cut into 16 squares. The brownies may be kept in an airtight container for 2 to 3 days.
#mc_embed_signup{background:#fff; border: 3px double black; clear:left; font:14px Georgia,serif;  width:635px;}
/* Add your own MailChimp form style overrides in your site stylesheet or in this style block.
  We recommend moving this block and the preceding CSS link to the HEAD of your HTML file. */