Beet Soup, Spring Greens, and Cornbread Croutons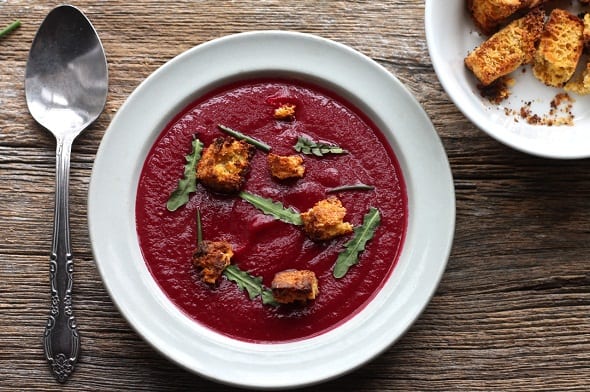 If you don't have the time to bake cornbread, you can top the soup with a dollop of cream or yogurt.
By Bryan Pickard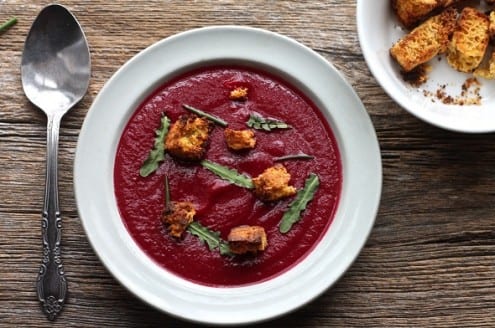 Beet Soup, Spring Greens, and Cornbread Croutons
If you don't have the time to bake cornbread, you can top the soup with a dollop of cream or yogurt.
Ingredients
• 4 cups pickled beets, drained
• 3 cups water
• 2 onions, chopped
• 2 cloves garlic, chopped
• 3 tablespoons butter
• 4 tablespoons maple syrup
• 1 bay leaf
• 4 tablespoons heavy cream
• small handful of fresh greens
• a few handfuls of torn cornbread, toasted in the oven until golden brown
Instructions
In a medium pot, melt the butter and cook the onions and garlic for about 10 minutes.
Add the beets and maple syrup, stir, and cook for a few more minutes.
Add the water and bay leaf. Simmer 30 minutes.
Remove bay leaf and blend with a blender or hand mixer.
Add the cream and season to taste with salt and pepper.
Serve with greens and cornbread croutons.
Bryan Picard
Bryan Picard is a wild and homegrown food enthusiast. He lives in the Maritimes in Canada and has worked the kitchens as a cook and chef for the past ten years. He writes on his blog The Bite House.