These beef and ginger dumplings can be time consuming to make. But with this recipe, they're oh so worth it.
By Jess Lacey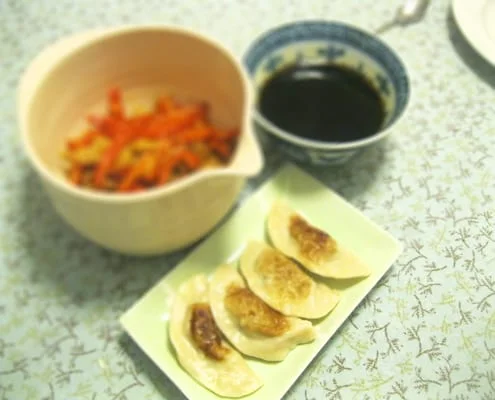 Print
Beef and Ginger Jiaozi Dumplings
A delicious beef and ginger dumpling recipe with a japanese twist.
Author:

Jess Lacey

Prep Time:

1 hour

Cook Time:

20 mins

Total Time:

1 hour 20 minutes

Yield:

2

1

x
Jiaozi dumplings:
30

round dumpling wrappers

250g

minced beef

1

shallot, finely chopped

1

clove garlic, finely chopped

2 teaspoons

finely chopped fresh ginger

1 tablespoon

freshly chopped coriander

1 tablespoon

soy sauce

1 tablespoon

sesame oil

1 tablespoon

rice wine
Dipping sauce:
25g

sugar

1

oo ml vinegar

25

ml soy sauce

2

peeled slices of ginger

1

clove garlic, sliced

2

slices of fresh red chili
Instructions
Jiaozi dumplings:
Mix all the ingredients (except the wrappers obviously) in a large bowl together and season well.
Leave to sit for a few minutes to allow the flavours to mingle, or refrigerate if not using soon.
To assemble spoon a small amount of mixture onto one side of the dumpling wrapping circle.
Dip your finger in water and run it around the edge of the wrapper.
Fold the other side of the wrapper that does not have filling over the side that does, to create a semi-circular package.
To cook, heat oil in a large skillet or frying pan with a lid over a medium-high heat.
Add as many dumplings as you can without it becoming too crowded.
After 1-2 minutes when the side facing down is golden brown, add about 50-100 ml of water to the pan, keeping the dumplings crispy browned side down.
BE CAREFUL, the oil will spit at you like an angry cat.
Put the lid on quickly, and leave the dumplings to steam for about 7-8 minutes.
Remove from the pan and keep warm while you start on the next batch.
Dipping sauce:
Melt the sugar until liquid in a saucepan over a medium heat until it is lightly golden and caramelised.
Add the ginger, garlic, soy and chili and stir.
Add the vinegar and bring to the boil.
Reduce by half.
Strain out the ginger, chilli and garlic and leave to cool completely before serving.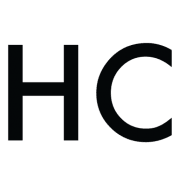 Jess Lacey
Jess Lacey is an Irish food blogger and soon to be lawyer. She has found a home in London, Dublin, Leiden, Melbourne and Aarhus. After a brief foray into the world of Michelin starred cooking, she decided to keep cooking and food as relationships based purely on passion rather than income. She travels frequently, and justifies this by writing about it. More of her musings and recipes are available on her blog, Canal Cook.