These healthy, stuffed tomatoes are perfect for lunch on a hot summer afternoon. The barley adds a wonderful sweet, nutty flavor.
By Paola Westbeek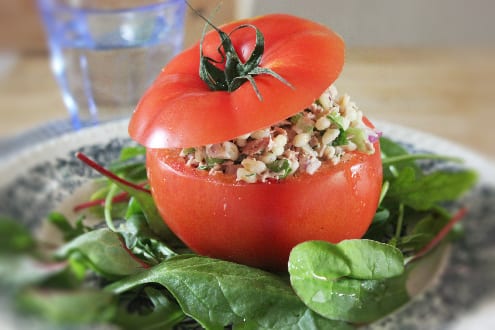 Barley and Tuna Stuffed Tomatoes
These healthy, stuffed tomatoes are perfect for lunch on a hot summer afternoon. The barley adds a wonderful sweet, nutty flavor.
Ingredients
2 large tomatoes
60g uncooked barley
¼ finely chopped red onion
1 can of tuna (drained)
2 tsps capers
1 stalk of celery, chopped
a small handful of parsley and dille, chopped
1½ tbsp mayonnaise
1 tsp dijon mustard
salt and pepper, to taste
Instructions
Cut the tops off the tomatoes and hollow them out.
Salt the insides and place the tomatoes upside down on a piece of kitchen paper.
Bring a large pan of water to the boil, add the barley, lower the heat and cook it for 12 minutes.
Put the onions, tuna, capers, celery, herbs, mayonnaise, mustard and salt and pepper in a small bowl.
Drain the barley and rinse briefly with cold water.
Add the barley to the bowl and toss carefully.
Taste and adjust the seasoning.
Fill the tomatoes.
Serve on a bed of greens and drizzle with good extra virgin olive oil.