Barley Salad with Radishes and Garlic Scapes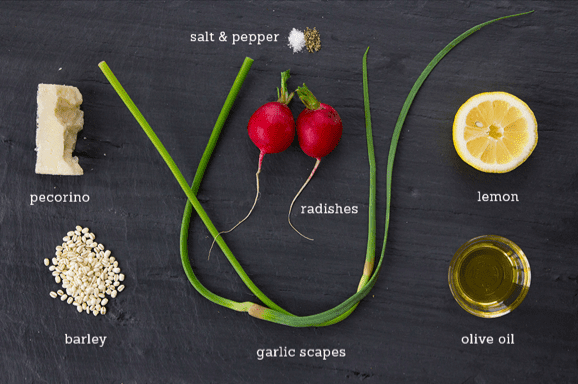 Garlic scapes are the flower stalks of garlic plants, and are one of those lovely surprises at the spring market. When cut into pieces and sauteed, they act like a vegetable – crunchy and mildly garlicky.
By Rachel Crawford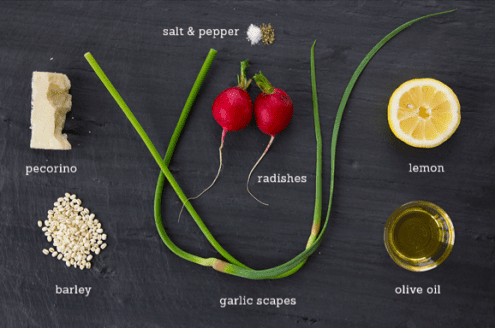 If you can't find garlic scapes, this salad would be delicious with pieces of asparagus or green onions instead.
Barley Salad with Radishes and Garlic Scapes
Garlic scapes are the flower stalks of garlic plants, and are one of those lovely surprises at the spring market. When cut into pieces and sauteed, they act like a vegetable - crunchy and mildly garlicky.
Ingredients
Pecorino
Barley
Garlic scapes
Lemon
Radishes
Olive oil
Salt and pepper
Instructions
Cook barley in water or stock. Drain.
Trim radishes and cut into quarters. Cut garlic scapes into 1" pieces.
Saute garlic scapes and radishes in olive oil over high heat until beginning to brown at the edges.
Toss with barley, season with lemon, salt, and pepper.
Drizzle with olive oil and top with chunks of pecorino.
Eat.
Rachel Crawford
Rachel is a lover of vegetables and an avid home cook. She has catered parties, participated in cook-offs, hosted elaborate supper clubs, and volunteered with Slow Food teaching elementary school kids about seasonal food and how to cook. Recently, she left her full-time job as a branding consultant to spend more time in the kitchen. Her personal blog, madeweekly.tumblr.com, focuses on one seasonal ingredient every week, with a new recipe each day. She can also be found on kitchensurfing.com, a new site that allows anyone to search for and hire personal chefs online. Rachel studied acting at NYU's Tisch School of the Arts, and has lived in New York, NY for almost 12 years, which means she can officially call herself a New Yorker.