Amrita Rawat makes a case for chiffon cakes, and offers a banana variation that sells us on the concept.
By Amrita Rawat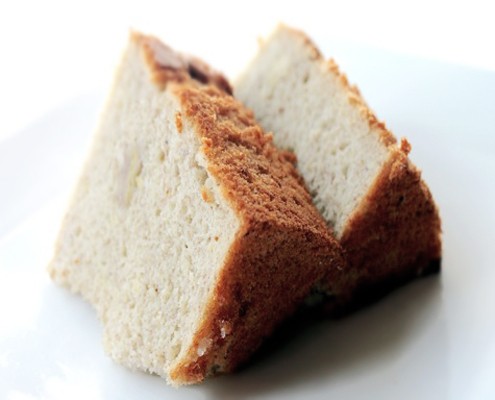 I have a growing fondness for chiffon cakes. I often associate them with Asian flavors since I've mostly had them in green tea or pandan variations. So I was surprised to find that chiffon cakes were actually developed in California in the 1920s by an insurance salesman turned caterer!
Wherever these cakes came from, I really do love them. They're just so light and fluffy, much lighter than their buttery counterparts. I even love the word… chiffon. They're moist, not too sweet, and include egg yolks (unlike Angel food cake) which keeps them sturdier and moister.
Chiffon cakes are made with vegetable oil instead of butter and all the fluffiness comes from beating the egg whites till they're stiff and then folding it into the rest of the ingredients. You can make many variations of this cake and I plan on trying many of them…
Pillowy soft, they're perfect when paired with fruits or light creams–a perfect spring dessert.
So… have I sold you on chiffon cakes yet?

I experimented with a banana chiffon cake since I had overripe bananas at home… and it turned out just as I had hoped. I put in some cinnamon and added some caramelized bananas with a slice, (although I must admit the caramelized bananas were just an excuse to experiment with my new blowtorch and are totally optional). I also tried it with chocolate sauce but it didn't add very much to the flavor. Honestly, a slice of this cake can hold its own and needs no other accompaniment–and that's just how we ended up eating it in this household.
*Note: this cake works best in an ungreased cake tin, something not non-stick.
Recipe
(Adapted from Christine's Recipes)
Makes 1 8in cake
80 grams (2.8 oz) cake flour
3 egg yolks
14 grams (0.5oz) sugar
35 grams (1.2oz) vegetable/canola oil
45 grams (1.5oz) milk
pinch of salt
1/4 tsp (0.6 g) cinnamon
2 ripe bananas, about 210 grams (7.5oz)
4 egg whites
40 grams (1.5oz) castor sugar
1/2 tsp (1.5 g)cream of tartar
1. Preheat the oven to 330 degrees F or 165 degrees C.
2. Process the bananas in a blender or food processor and make it into a paste.
3. Mix the egg yolks with the sugar, oil and milk and stir until smooth. Add in the salt, cinnamon, and cake flour.
4. Use an electric mixer and beat the egg whites, adding in the cream of tartar and the sugar. Beat until stiff peaks.
5. Fold the egg whites into the yolk batter, using a spatula and scraping around the side of the bowl and pushing the batter to the middle. Do this until it's fully incorporated but try not to over mix.
6. Pour the batter into your cake pan and bake for 50 – 55 minutes until a tester comes out clean.
7. When you remove it from the oven, turn the cake mold upside down immediately and let it cool completely before you attempt to take it out.
I caramelized bananas by simply pouring some sugar on some slices and torching them with my blowtorch, but this cake really didn't need it. The banana provides plenty of flavor, although next time I may increase the amount of cinnamon.
Enjoy and happy baking!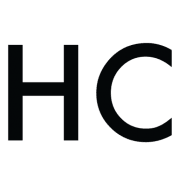 Amrita Song
Amrita Rawat is the author of the blog Chai and Dumplings. Born in India and a lifelong resident of Atlanta, she recently moved to Saint Louis. Her love for food stems in part from its ability to bring cultures together and in part from how darn good it feels to eat a delicious meal. She loves traveling and has eaten her way through cities like Hong Kong, Paris, Budapest, Mumbai, and Shangri-la. Amrita is also a contributor to Sauce Magazine in St Louis.