This is a comfort food type of dessert, a delicious banana cake turned upside down.
By Tamara Novakoviç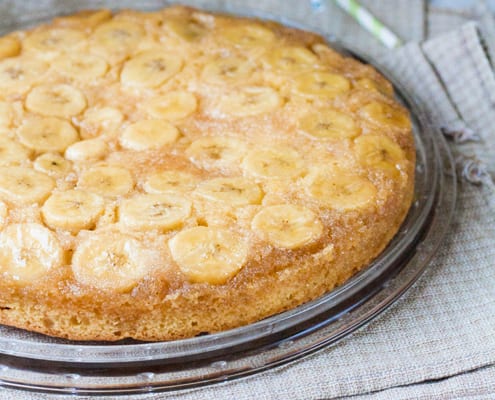 This is a comfort food type of dessert, delicious!
Ingredients
3 bananas
½ tsp baking soda
1 tsp baking powder
pinch of salt
2 eggs
1 tsp vanilla extract
pinch of cinnamon
8 tbsp butter + 2 tbsp for caramel
1 cup (240 ml) sour cream
2 cups (250 g) all-purpose flour
6.3 oz (180 g) sugar
4.2 oz (120 g) brown sugar
Instructions
Preheat oven to 356 F (180 C).
Melt 2 tbsp butter with brown sugar, until smooth.
Line springform pan (10.14 inch or 26 cm) with parchment paper and pour caramel over the bottom. Cut bananas into slices and spread them over the caramel.
Melt 8 tbsp butter over low heat. Whisk sugar, eggs, vanilla, melted butter and sour cream.
Sift flour with cinnamon, baking soda and baking powder. Add to the wet ingredients-don't over mix. Spread the mixture evenly over bananas.
Bake for around 30 minutes. Test with skewer. The caramel might leak during baking, so it's good to put an empty pan on the bottom of your oven.
Turn the cake upside down onto a serving platter. Serve.