Healthy baked spring rolls from Martyna Candrick's new e-cookbook,"My Whole Food Philosophy".
By Martyna Candrick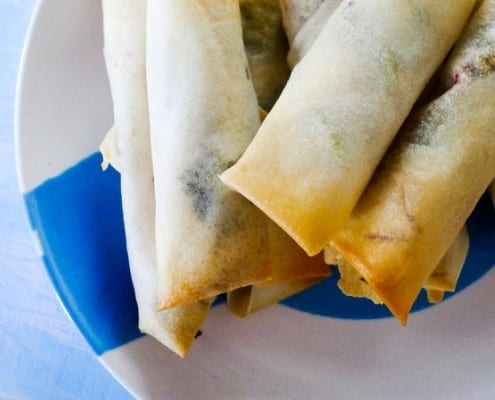 Spring rolls are one of our favourite Chinese take out dishes, but in this version they are made more wholesome with only a vegetable filling and baked until crisp.
Feel free to experiment with your own fillings on top of this vegan suggestion. Capsicum, Asian mushrooms, carrot and zucchini are all great fillings. Make sure to pack the ingredients right in for a more nutritious and satisfying roll. For a non-vegan version you could mix in some shredded chicken or barbecue duck.
Feel free to add different vegetables to the mix, or for a non-vegan version substitute half of the salad mix for shredded roasted chicken or duck.
Recipe Type:
Snack, Appetiser, Chinese
Ingredients
FOR THE SPRING ROLLS:
20 spring roll paper sheets
cooking oil spray
VEGAN FILLING:
500g (1lb) rainbow salad mix ? grated raw carrot, cabbage and beetroot
½ bunch fresh coriander (cilantro)
sesame seeds, to sprinkle
Instructions
PREHEAT OVEN to 200°C (180°C fan?forced, 400°F, gas mark 6). Line a baking tray with baking paper.
TO MAKE THE BAKED (VEGAN) SPRING ROLLS:
Take each spring roll paper sheet and place it in front of you.
Spray with a little cooking spray.
Place 1 heaped tablespoon vegetables in the middle of the sheet, top with 2?3 coriander (cilantro) leaves and sprinkle with sesame seeds.
Fold in the bottom corner over the vegetables, then fold in the left and right corners.
Now roll up and place down on the baking tray, with the last folded pastry corner on the bottom.
Repeat with the remaining rolls. Spray with a little cooking spray.
TO BAKE:
Bake in a preheated oven for 15 minutes or until slightly golden.
TO SERVE:
Serve with some dipping sauce on the side, such as sweet chilli or hoisin sauce, if desired.
Recipe from Martyna's new e-cookbook,
My Whole Food Philosophy
.
Martyna Angell
Martyna is a Polish-born Australian recipe developer and food blogger. Her creativity and passion for good food shines through in many of the delicious and easy to prepare meals which she cooks, styles and photographs for her blog, Wholesome Cook. Fresh cream-filled eclairs are her only weakness.