These no-fry, baked doughnuts will cure a craving for glazed, cake treats. The sour cream addition in the recipe contributes a creamy, acidic element to the sweet round pastry.
By Michelle Keith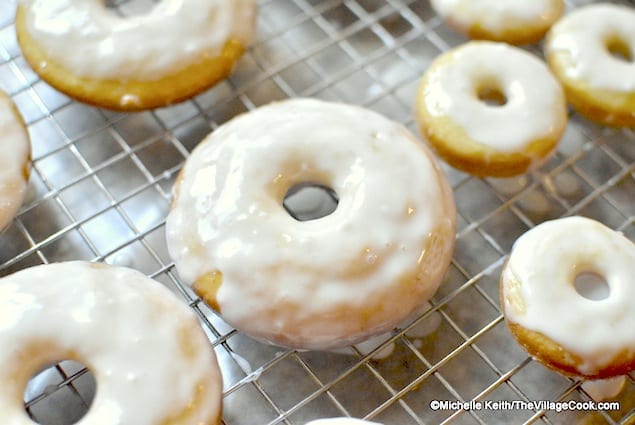 A doughnut is missing it's center. It's been removed and set aside, and reserved for another purpose. It once was whole, but in order for it to become what it is- something had to be removed. It's about being content with the doughnut, despite what's it's lacking.

Baked Sour Cream Doughnuts
Ingredients
1¼ cups flour
½ cup sugar
½ tsp baking soda
1 teaspoon vanilla
1 egg
6 TBS sour cream
¼ cup milk
¼ cup vegetable oil
¼ tsp salt
Glaze
1½ cups powdered sugar
6 TBS cream
½ tsp vanilla extract
Instructions
Preheat oven to 350
In a bowl, combine the flour, salt and baking soda.
Add the milk, sour cream, oil, sugar,vanilla and egg and mix until there are no lumps Pipe into greased doughnut pan and bake for 12-15 minutes
Allow to cool before glazing.
GLAZE: In a saucepan gently heat the powdered sugar, cream and vanilla,. Do not allow it to boil. Gently heat to a simmer.
Dip or pour glaze over each doughnut, allowing excess to drip off. Allow to set and enjoy.
Michelle Keith
Michelle Keith is a South Florida native and the author of "The Village Cook". A self taught chef, her experience cooking and baking spans over 30 years. In addition to her food blog, she has also been featured in numerous websites, and writes recipes for her local community newsletter. She also is the editor of "The Domestic Mama", a blog about motherhood and family life. She currently resides in South Florida.