Sweet, tart and with warm ginger and cinnamon, this baked oatmeal with spring rhubarb is a great breakfast on a cool morning.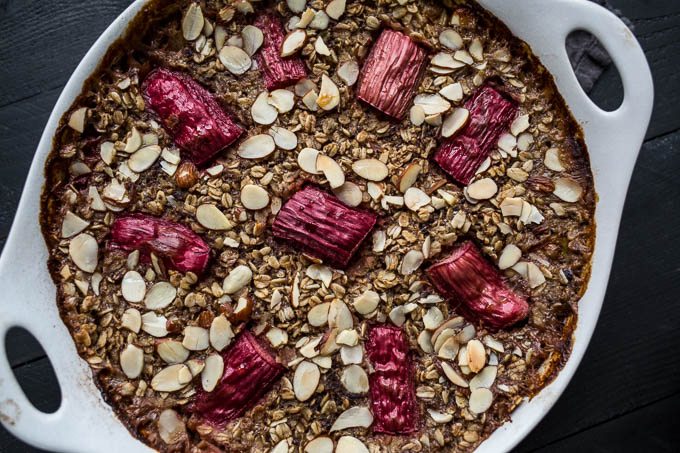 I have always, without question, been a breakfast eater. If I was told that from now on I could only choose one type of meal a day for the rest of forever, I would undoubtedly choose breakfast. Funnily enough, with a love for all things breakfast, my weekly routine is steady and true. My husband often questions how I can eat the same thing for breakfast day in and day out, and all I can really say with a shrug of the shoulders is, "I like it."
If I'm going to (over)analyze this, I would say that there's a comfort in the sameness in the beginning of the day. Just like my morning cup of coffee, it's tried and true, setting the tone for the day that could be anything but. So what's that daily breakfast entail, you ask? Overnight oats. Always overnight oats. Varied with fruit, nuts, and seeds, but always oatmeal.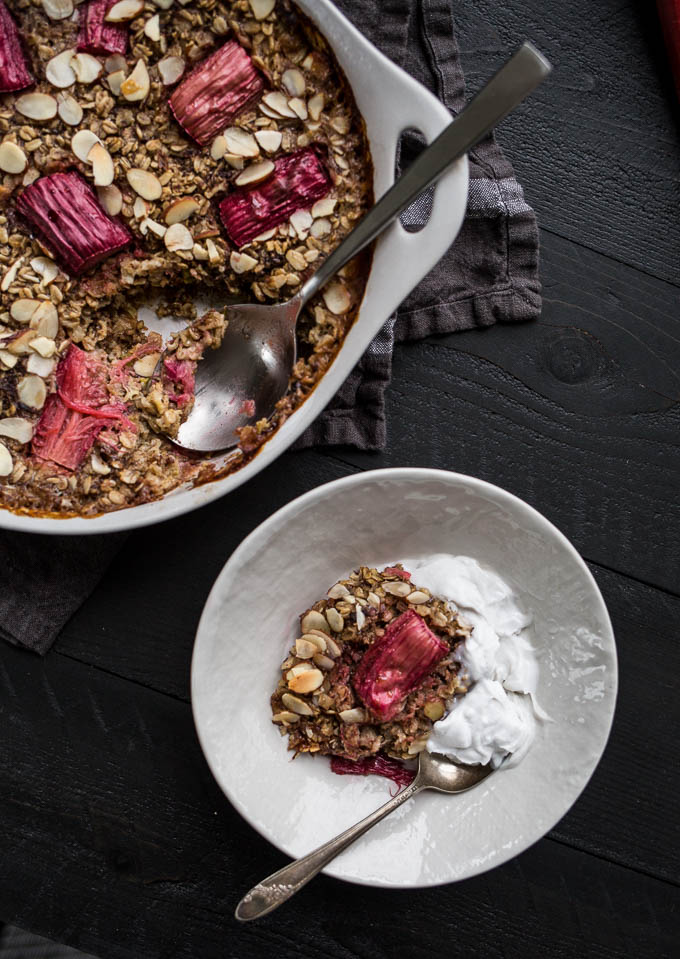 Since spring fruits and veggies started popping up around here, I've been topping my morning oatmeal with honey or maple syrup-roasted rhubarb. And whoa is it good. Creating it on a larger scale seemed like the next best thing.
The ingredients in this rhubarb baked oatmeal are simple. The tartness of the rhubarb pairs well with the sweetness of the maple syrup and small amount of coconut sugar. Ginger and cinnamon enhance the tart and sweet balance while almonds give the oatmeal some crunch. Breakfast is served, y'all.
See Also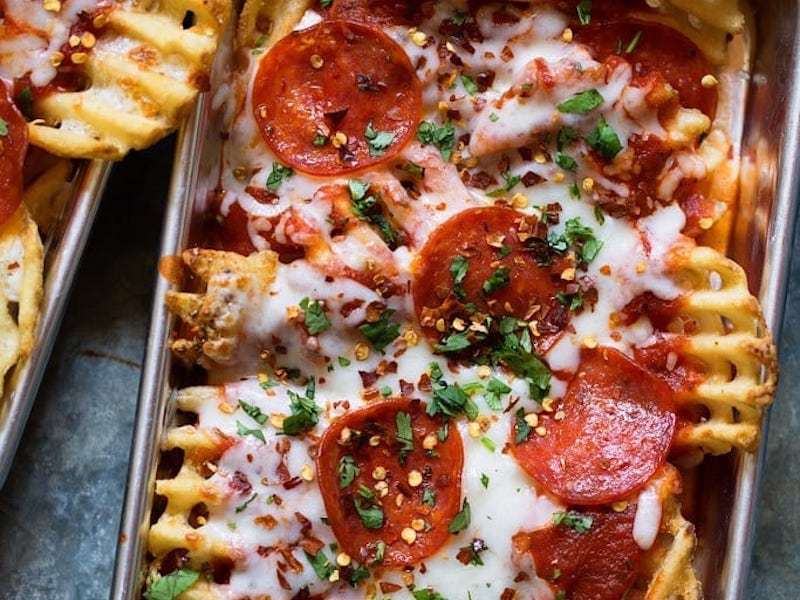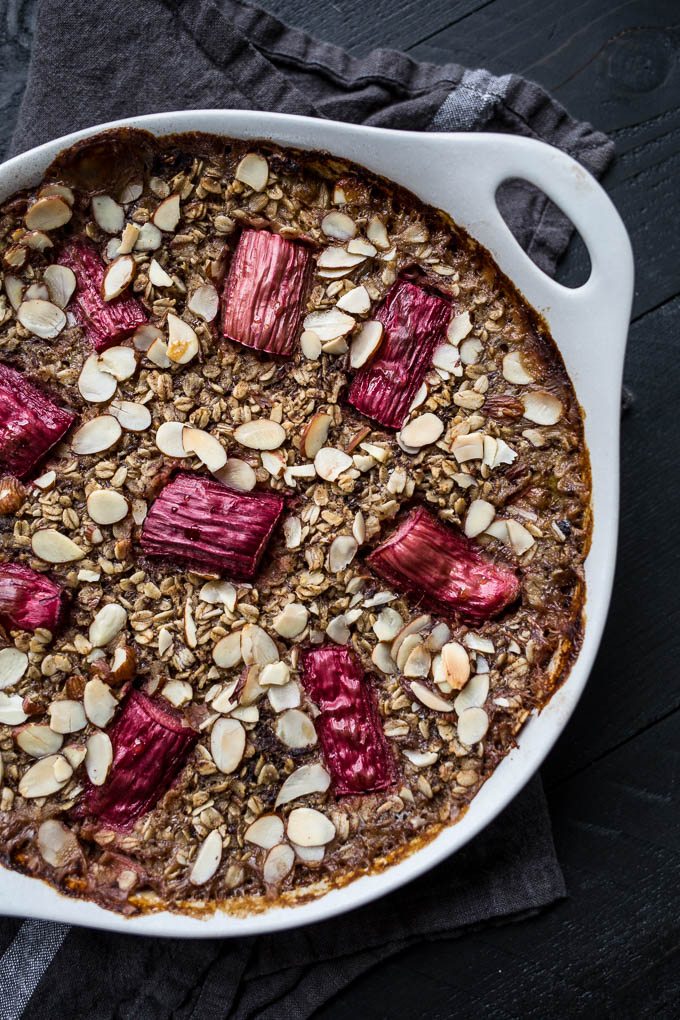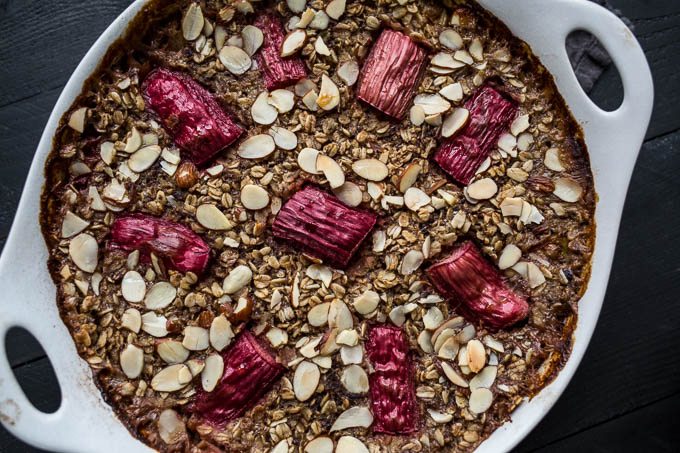 Baked Oatmeal with Spring Rhubarb
Tessa Fisher
Sweet, tart and with warm ginger and cinnamon, this baked oatmeal with spring rhubarb is a great breakfast on a cool morning.
Ingredients
2½

cups

rhubarb

cut into 1-inch pieces

2

flax eggs

2 tablespoons flaxseed meal +6 tablespoons warm water

2

cups

gluten-free oats

1

teaspoon

ground cinnamon

1

teaspoon

ground ginger

½

teaspoon

salt

1

teaspoon

baking powder

1

tablespoon

coconut sugar

1 3/4

cup

unsweetened almond milk

or milk of choice

2

teaspoons

+ 1/3 cup maple syrup

or honey if not vegan

3

tablespoons

melted coconut oil

1

teaspoon

pure vanilla extract

1/3

cup

slivered almonds
Instructions
Preheat the oven to 375 degrees Fahrenheit. Grease a 2-quart (or similar) baking dish. Sprinkle rhubarb pieces in an even layer on bottom of pan, reserving about ½ cup for topping the baked oatmeal. Drizzle 2 teaspoons maple syrup over rhubarb. Prepare flax eggs in a small bowl and set aside.

In a medium bowl, combine oats, cinnamon, ginger, salt, baking powder, and coconut sugar. Transfer mixture to prepared baking dish covering the rhubarb in an even layer.

In a small bowl, whisk flax eggs, almond milk, maple syrup, and vanilla extract. Whisk in coconut oil. Drizzle wet ingredients over the oats in baking dish. Gently wiggle the baking dish to make sure liquids evenly distribute.

Scatter reserved rhubarb and slivered almonds over top. Bake for 40 to 42 minutes or until the top is golden brown and the middle is set. Allow to cool for a few minutes before serving. Serve with coconut whipped cream, yogurt, or a splash or two of almond milk if desired. Best when fresh, but leftovers can be stored in the refrigerator in an airtight container.
Notes
Adapted from Cookie and Kate.
Tessa Fisher
Tessa F., baking enthusiast and school counselor, adopted a gluten-free diet to eliminate severe migraines. Tessa's success has inspired her to share her love of gluten-free baking using natural, seasonal, whole ingredients. Find more of her recipes on the blog Salted Plains.