Valerie Harrison flips through one of her all time favorite cookbooks and decides to gently escort one recipe into the 21'st Century.
Text And Photo By Valerie Harrison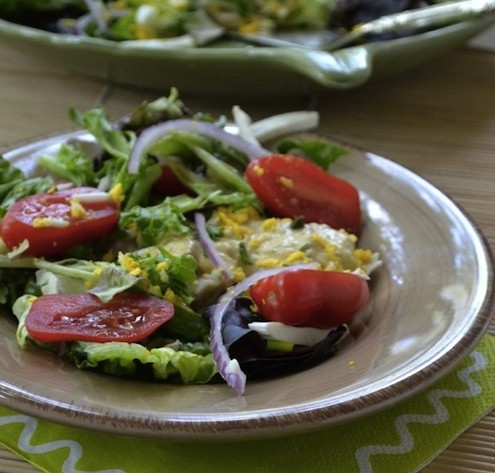 When I first started learning to cook in my home kitchen, one of the initial things I discovered was that the key to outstanding meals was using good quality ingredients. As time passed I realized that this meant either growing or purchasing the best local ingredients available which with today's trends has become easier and easier with a resurgence of farmers markets, specialty food shops and local producers.
What has taken me years to understand is that recipes are merely guidelines and are open to any interpretation. I used to follow recipes to the letter and they always turned out well, but as the years progressed, and I have become confident in the kitchen, I am more open to experimentation and substitution. A good example would be this Layered Chef's Salad with Tuna Mayonnaise Dressing reminiscent of an Italian tonnato sauce that I discovered a lifetime ago from the Silver Palate series of cookbooks. Even as a teenager I collected recipes like hockey cards and had a burgeoning cookbook collection.
Back in 1982, two women who changed the way we thought about home cooking, Julee Rosso and Sheila Lukins, put together a cookbook filled with recipes from their gourmet catering business in New York, City, "The Silver Palate." Back in the day their cookbooks were my culinary bibles with their revolutionary approach and early trendsetting. This was the age of nouvelle cuisine when shallots, button mushrooms and flat-leaf parsley were hard to find. It got people thinking about what they were doing at home with food and how to recreate restaurant quality dishes in our own kitchens.
My original Silver Palate cookbook remains in the kitchen cupboard, splattered with food stains and filled with memories. As I flip through it, I marvel at all the dishes I have prepared and all the recipes that have landed in my prized, best-of-the-best personal collection. When I open it up, it talks to me!!! I can hear laughter and animated conversations from wedding showers, wedding receptions, graduations and L'il Burnt Toast's recitals where many dishes from their pages shone. Recipes like Linguine with Tomatoes and Basil. Chicken Marbella and Butterflied Leg of Lamb are still welcome additions to any get together. The series inspired me to become a better cook and to continue a life long love affair with cookbooks.
Many of you are familiar with tonnato (tuna) sauce which is spooned over thinly sliced chilled veal or chicken breast to make a tasty alfresco meal. Once the warm weather hits this silken, briny, creamy tuna sauce is an addictive addition to our summer repertoire. It is equally adored spooned over thick slices of rare roast beef, or, as in Italy, poached veal. If you have a glut of summer tomatoes, that's perfect, too. "Tonno" is Italian for tuna, and the name of this dish refers to the primary ingredient in the sauce. The tuna is blended with capers, olive oil, and lemon juice to make this a rich, flavourful sauce. This recipe uses a twist on the classic by creating a homemade mayonnaise based sauce perfect for summer salads.
See Also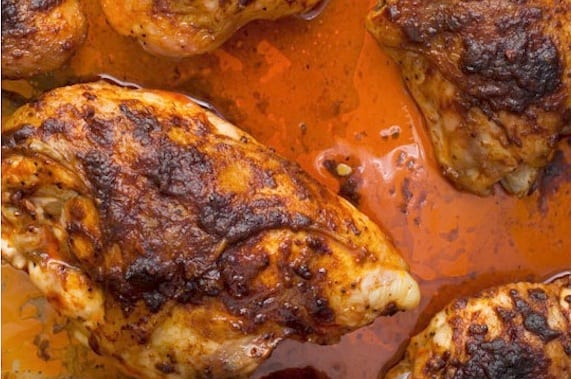 A chef's salad is so often the expected. The recipe mentioned above from the Silver Palate Cookbook is packed with flavour and layers of fresh basil, sun-dried tomatoes, smoked mozzarella, salami, smoked turkey, and arugula served with a delicate tuna mayonnaise. Their salad must be made 6 to 24 hours before serving and should be arranged in a large glass bowl with straight sides to show off all the layers.
Now don't get me wrong, I have enjoyed the Silver Palate version on many occasions but for today's salad, loosely based on the one above, it is all about simplicity and using what I have on hand. Mine is a much quicker version but the original is highly rated! My interpretation uses Spring greens plucked from the garden, farm fresh eggs, fresh mozzarella and local asparagus. My recommendation for any tonnato is to poach the chicken in the cooling breezes of a summer morning. This would also be a good time to whip up the tuna mayonnaise using tuna packed in oil for the best flavour and allowing time for the flavours to marry well.
The mayonnaise recipe is an exact duplicate from the Silver Palate series. It makes 3 cups which is overkill for this particular recipe. You can cut the recipe in half or do as I do and make a delicious pasta salad!!!
Print
Chicken with Tonnato Mayonnaise and Fresh Spring Greens
---
Author:

Valerie Harrison, inspired by The Silver Palate Cookbook

Total Time:

5 hours 10 minutes

Yield:

6

1

x
Description
Once the warm weather hits this silken, briny, creamy tuna sauce is an addictive addition to our summer repertoire.
---
For Poached Chicken
2 cups

fresh chicken broth

1 cup

dry white wine

1

small onion, sliced

1

celery rib, cut into

3

pieces

1

bay leaf

2

slices lemons

8

–

10

black peppercorns

4

chicken breasts (about 1 pound

5 ounces

)
For Salad
3 cups

mixed torn greens (romaine, red leaf lettuce, radicchio, and arugula)

4

scallions, sliced

3 cups

cherry tomatoes

1 cup

fresh basil leaves

12 ounces

smoked or fresh mozzarella cheese, julienned
Freshly ground black pepper to taste

1

medium-size red onion, sliced thinly

1/2 cup

Niçoise olives, pitted and sliced

4

hard-cooked eggs, peeled
Salt and pepper to taste

5 ounces

prosciutto, cut into julienne

1

pound asparagus or broccoli florets, blanched
Capers and chopped parsley for garnish
For Tuna Mayonnaise
4

egg yolks

3

anchovy fillets, chopped

1 tablespoon

capers, drained

3 tablespoons

fresh lemon juice

1 tablespoon

Dijon-style mustard

1/3 cup

chopped fresh Italian parsley

1 cup

olive oil

1/2 cup

vegetable oil
Salt and freshly ground black pepper to taste

1

can (6 1/2 ounces) tuna packed in oil

1/2 cup

sour cream
---
Instructions
Prepare the chicken in the morning. Pour the broth and wine in a large saucepan. Bring to a boil, add the onion, celery, bay leaf, lemon and peppercorns and simmer 5 minutes. Carefully lower the chicken breasts into the broth in a single layer, adding some boiling water, if needed, to cover them. Bring back to a boil, then turn the heat right down and simmer very slowly for another 5 minutes. Turn the heat off, cover the pan, and allow the chicken to cool in the broth. (This will take about 4-5 hours.).
Make the Tuna Mayonnaise
After many hours, remove the chicken from the poaching liquid and cut into thin slices.
Toss the greens with 2 of the sliced scallions in a large glass bowl. Add fresh tomatoes, basil, red onion, prosciutto and asparagus and toss. Season with salt and pepper.
Place salad on large platter. Scatter juliened cheese slices, prosciutto and olives. In the centre of the platter lay a layer of the thinly sliced poached chicken. On top of chicken place a thick layer of tuna mayonnaise wgich is the tonnato portion of this salad. Over the tonnato sprinkle capers and chopped parsley. Over the entire salad grate the hard boiled eggs.
Use 2 large salad spoons to serve the salad and enjoy!!!!
Tuna Mayonnaise
Process the yolks, anchovies, capers, lemon juice, mustard, and parsley in a food processor fitted with the steel blade for 15seconds. With the machine running, pour the oils in a steady stream through the feed tube to make a thick mayonnaise. Season to taste with salt and pepper.
Flake the tuna and add it with its oil to the mayonnaise. Process until thoroughly blended.
Scrape into a small bowl, fold in the sour cream, and taste and adjust seasonings. Refrigerate covered until ready to use.
Makes about 3 cups.
Prep Time:

5 hours

Cook Time:

10 mins
Valerie Harrison
Valerie is the author of More Than Burnt Toast living in British Columbia, Canada. Join Valerie as she explores the worlds cuisine using local and sustainable ingredients found in the Pacific Northwest. Every day we should be inspired and excited about what we are eating even if it just means making use of a wonderful find at our local farmers market.