This grilled watermelon and shrimp salad is a playful, yet sophisticated entrée or side that is bursting with summer flavors. Perfect for a backyard gathering.
By Caroline LaMorte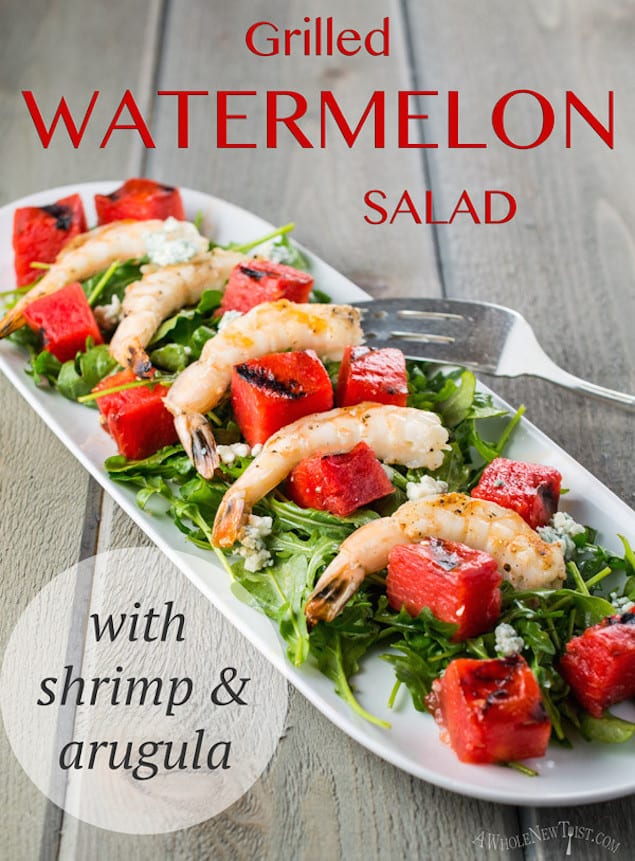 I love watermelon salad, it's one of my favorite summer dishes. You may have already tried watermelon salad made with cucumbers, feta, and mint, (yum!), well I also make a version with, blue cheese, and basil. My mom calls it my "Italian" version. I really love the combination of the sweet watermelon, the savory blue cheese, and the tangy balsamic, and I knew I wanted to include those flavors in this recipe too.
Because I wanted this salad to be a dinner entrée, I needed some protein and greens; the shrimp and arugula work really well in this dish. I love how the sweet, salty, tangy, bitter, and smoky flavors all mingle together and make a little party. Add a glass of crisp white wine, and you'll feel like you're on vacation!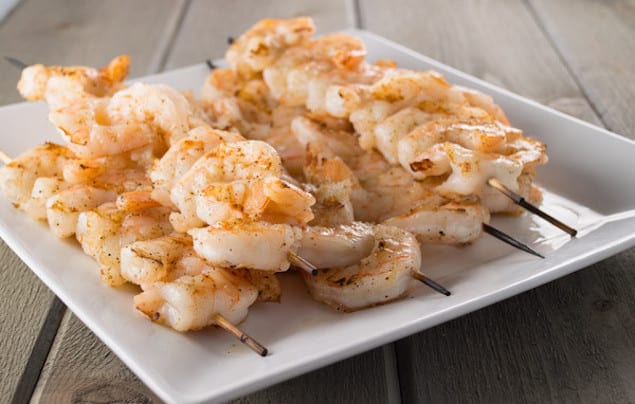 There is already a lot going on in this salad, so I kept the shrimp simple by just seasoning them with salt and pepper, and brushing with olive oil.
For a delicious surf and turf meal, serve this salad along side grilled steak with my favorite rub, find the recipe here.

Arugula Salad with Grilled Watermelon and Shrimp
This grilled watermelon and shrimp salad is a playful, yet sophisticated entrée or side that is bursting with summer flavors. Perfect for a backyard bbq.
Ingredients
Two 1" thick slices from a round 5 lb seedless watermelon, (about 8-9" in diameter).
¼ cup olive oil, for brushing watermelon and shrimp
1 lb medium size shrimp, shelled, deveined, and cleaned, (about 25 per pound)
8 cups of loosely packed baby arugula
½ cup of crumbled blue cheese, (omit for dairy free)
fine ground sea salt and freshly ground pepper to taste
For the balsamic vinaigrette:
2 tbs balsamic vinegar
¼ tsp Dijon mustrd
½ tsp raw honey
2 tbs extra virgin olive oil
¼ tsp course kosher fine ground sea salt
Instructions
Soak 3 wooden skewers in clean, cold water for 10 minutes.
Preheat a clean and seasoned grill to high.
Cut two 1" thick slices of watermelon, you can either trim off the rinds before or after grilling. Save remaining watermelon for future snacking or another recipe.
Brush watermelon slices, on one side with olive oil, about 1 & ½ tsp of oil per slice.
You only need to grill the slices on one side. Lay the slices oiled-side-down, onto the grill and close the grill lid. After about 90 seconds, quarter turn (don't flip), the slices to create crosshatch marks and grill for another 90 seconds.
Remove to a cutting board and allow slices to cool while you prepare the rest of the salad.
Clean and season the grill, then heat back to high.
Following the directions from the video above, skewer shrimp onto soaked wooden skewers, approximately 8 shrimp per skewer for 1 pound of shrimp, (or 10 shrimp per skewer if you will cook 2 pounds).
I left the tails on my shrimp because I think they are pretty, but you could remove the tails if you prefer.
If your shrimp are moist, pat them dry with a paper towel. Season with salt and pepper, and then brush fronts, and backs of the skewered shrimp with olive oil, about 1 Tbs per skewer.
Grill shrimp for 2 minutes on one side, with the grill lid closed. Then flip the skewers and cook for 1 more minute, lid closed. Remove to a clean platter; the shrimp will continue to cook, off of the heat, as they rest.
Meanwhile, cut the watermelon slices into 1" cubes.
For the vinaigrette, whisk together the balsamic, Dijon, honey, olive oil and salt.
In a large salad bowl, toss the arugula with the balsamic vinaigrette and season with freshly ground black pepper.
Sprinkle the dressed arugula with crumbled blue cheese, and top with cubed watermelon and grilled shrimp (removed from skewers).
carolinelamorte
Caroline LaMorte is the author of the food blog awholenewtwist.com. A home cook with strong Paleo leanings, her food is often grain-free, it is usually gluten-free, and it is always unprocessed. She loves to sing, ski, and entertain large gatherings. She lives Connecticut with her husband, her two sons, and their neurotic Black Lab.