Discover the true flavors of one happy island with Aruba Marriott.
Caribbean islands, notorious for its' white sandy beaches, bright skies and blended cultures. These small countries surrounded by turquoise waters and vibrant skies are a magnet for visitors like myself. Seeking heat from the blustering cold, peace from the crowded streets. A chance to actually see the sky from smoke filled skies. Finding joy from sipping a glass of wine. Toes scrunched in the sand awaiting a fresh fillet of sea bass for dinner. Aruba Marriott Resort provided me with these simple pleasures for three glorious days.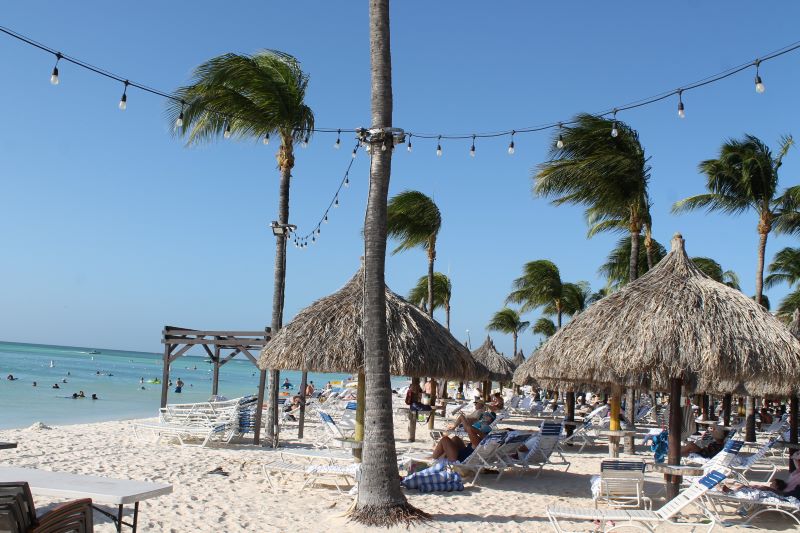 Unlike many resorts trapping tourists to stay within properties walls', Aruba Marriott offered myself and many other guests to have a true taste of the island.
Arriving to Aruba Marriott; First Impressions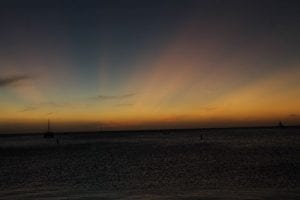 Upon arriving I first met Eduardo a jubilant driver who grew up in the Netherlands but moved to Aruba because "why not?!" he said. Before arriving at my destination, Eduardo did a fantastic job of teaching me Aruba 101. First the language. Arubans official language are Dutch and Papiamentu (also spoken in Curaçao and Bonaire), a creole that evolved mainly from Portuguese, Spanish, and Dutch. Also, English and Spanish are spoken too. Second part I remembered from my 20-minute driving session, Aruba is a dry island, populated by many cacti. Popular in New York too, used for decorating in many millennial homes. Aruba is also home to Aloe Vera. A product essential to endure and overcome the effects of the Aruban sun. Especially if you're laying on the sands of Palm Beach. Easily accessible through your guest room doors at the Aruba Marriott.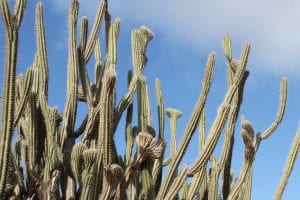 Eduardo introduced a taste of Arubans and what to expect for the trip. As you've guessed, they are all nice and truly happy to show off their sunny home. "We want people to visit us and experience our culture and lifestyle" says Eduardo proudly. Aruba is the happy island because we are all happy here and want others to experience this. At Marriott resort the staff are the same. Always happy to accommodate guests needs. Whether it's to swap out feather blanket due to a rare allergy in an ocean view room. Or reserve a cabana after tanning on Palm Beach accessible through the resort.
Beach Front Access and Other Amenities at Aruba Marriott
Overlooking the Palm Beach, located on the west side of the island. Aruba Marriott offers these white sands and calm waters as a backyard for all guests to divulge in. During my stay, I started my days working out at the resorts' two level full equipped gym. Which ended with peaceful meditations at Palm Beach. This occurred every morning at the crack of dawn, when the beaches' music isn't interrupted by external noise.  The convenience of just walking out onto the beachfront from the gym was just blissful.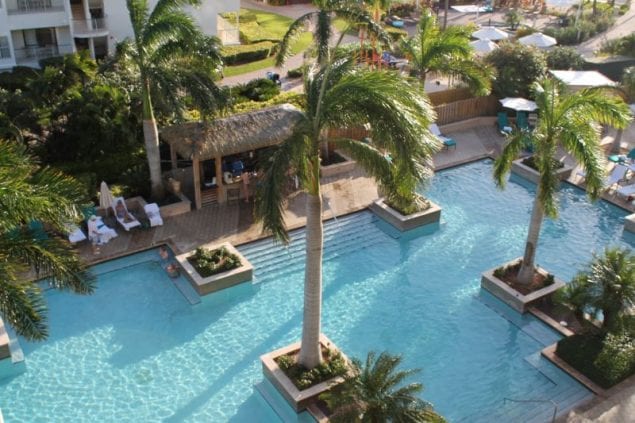 Also, around 6:30 am (approx. the same time I arrived at the gym) an elder crew congregated at the resorts' Outdoor Resort Pool gates. Patiently awaiting its opening. Securing their spot for the majority of the day. While some dipped in the pool, the other chilled on the lounge chairs reading or resuming their nap. Until the happy hour alarm buzzes and its time to enjoy the islands' libations and eats.
Other water options include the H2 Oasis Adult Exclusive Outdoor Pool. Where guests mostly interact via a game of volleyball or commenting on the how great the bar's signature rum punch tastes.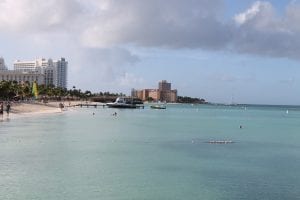 While I didn't have the opportunity to try my hand at black jack in the Stellaris Casino. I appreciated the holiday décor spread throughout the casino and resort lobby area. Although White Christmases are beautiful a tropical holiday is just as magical. One where palm trees are decked with holly, rum punch filled with jolly and the weather is above 10 degrees. Nonetheless occasional pops of carnival masqueraders bring more excitement to the resort and festive season.
The Aruban cuisine is a wonderful blend of Caribbean, Latin American and Dutch influenced meals, with its own Aruban twist. Lots of fresh fish and seafood, fried delicious goodies, light fish soups and hearty stews. All of which you can experience at the Aruba Marriott here are a few options;
La Vista
Offering all day dining, La Vista features stunning ocean views, innovative cocktails and delicious Italian or international cuisine. Dine for breakfast, lunch, dinner, with menu selections such as omelets, traditional Aruban pastechis (I'll describe later), pasta etc.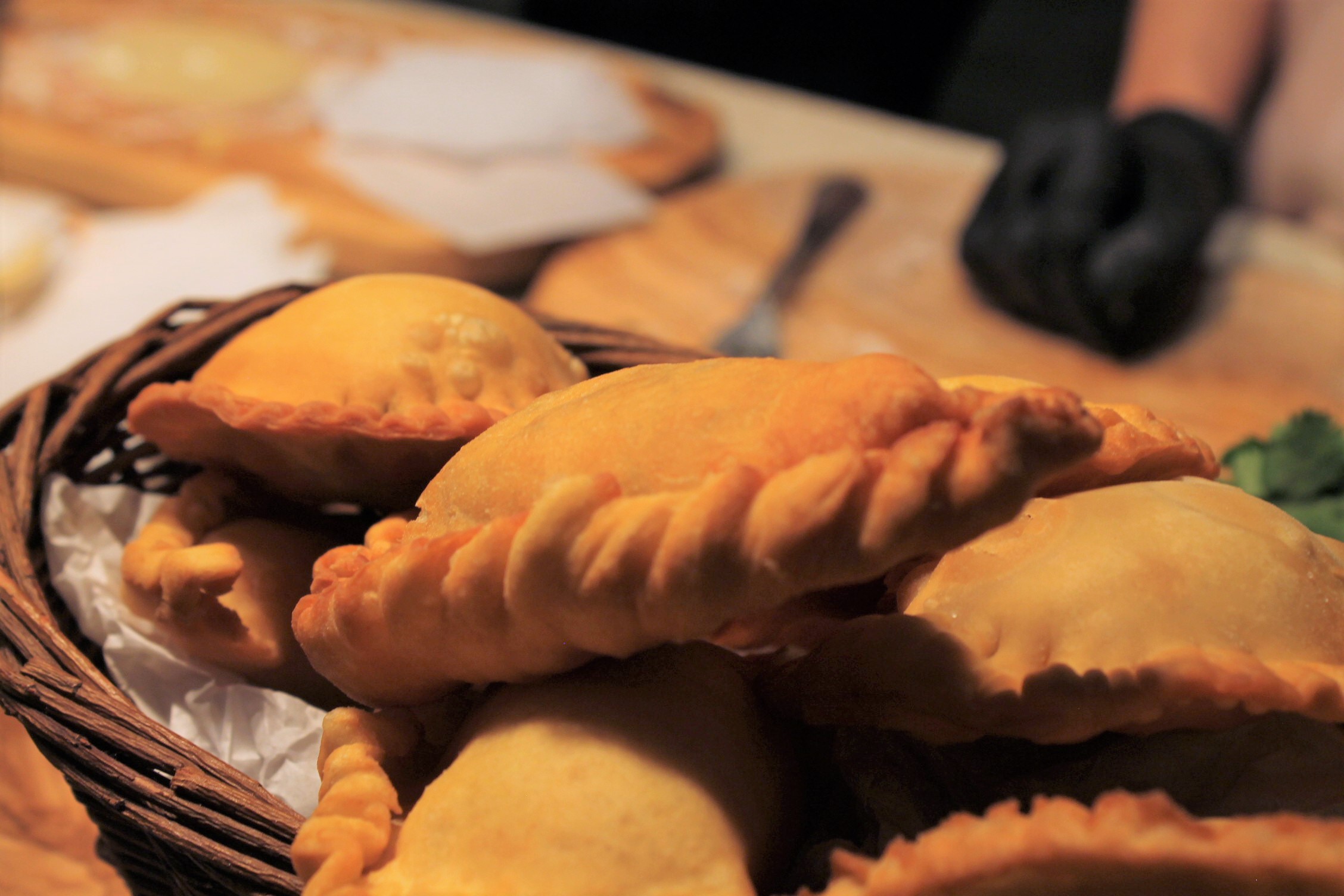 On Thursdays nights La Vista restaurant transforms into a mini tropical theater where diners can view a live Carnival Show. Thereby giving another taste of the island beyond the food. Similar to Carnival event, popular in Caribbean islands like Trinidad and Tobago or Brazil. Where colorfully decorated floats, throbbing music, luxuriously designed costumed groups of celebrants parades the island.
The Art of Pastechi with Chef Eva De Pena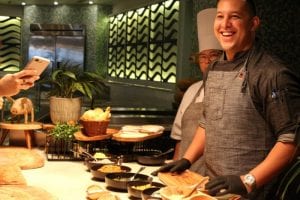 I like to call these the Aruban empanadas. I loved everything about the Pastechi, as I do a good empanada. The light flaky crust. The glorious fillings like ham and cheese, salt fish, and carne asada, the shredded saucy chicken. Along with heaps of sauces to pair with the fried morsels. From the cilantro guacamole, to the mango hot sauce and the basic but so good mayo and ketchup i.e aioli. Once filled and fried dip these golden-brown beauties into your preferred sauce. Indecisive as I am, I choose a mixture of the mango and the aioli. Locals eat these brown bites for breakfast, snacking, lunch or a late-night munchies.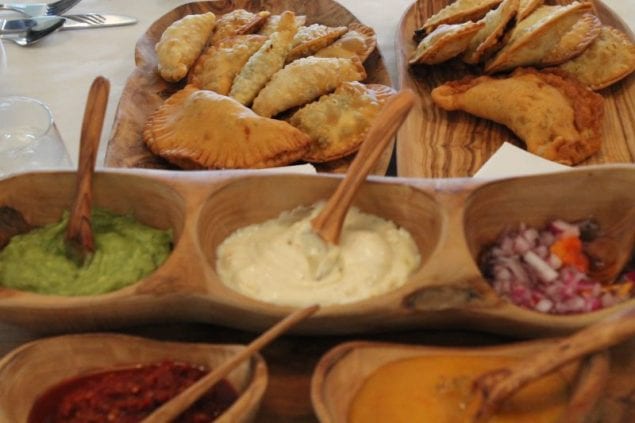 Thanks to Chef Eva De Pena I will make these my holiday appetizers and perhaps heavily rotate them for my lunch routine. These are true Aruban culinary favorites and has become a favorite of mine too.
The Lobby.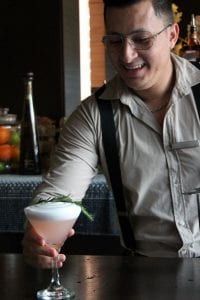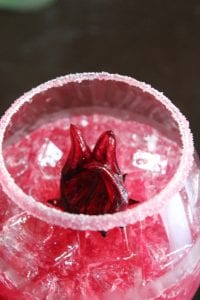 Located in Marriott's sophisticated lobby bar right across from Starbucks. After a relaxing day the resort's direct Palm Beach access, guests can refresh with libation in the Lobby.
While it may be hard to choose just one drink from their extensive cocktail list. Pro tip will be to interact with expert's aka mixologists like Danny.
If you're lucky ask Danny to create the Hibiscus Margarita or Aloe Paradise cocktails. Another must try recommendation is the smoked old fashioned. Presented in a glass case box to strengthen the potency of the drink's smoky taste. Also, it's pretty cool to watch and capture for Instagram sharing.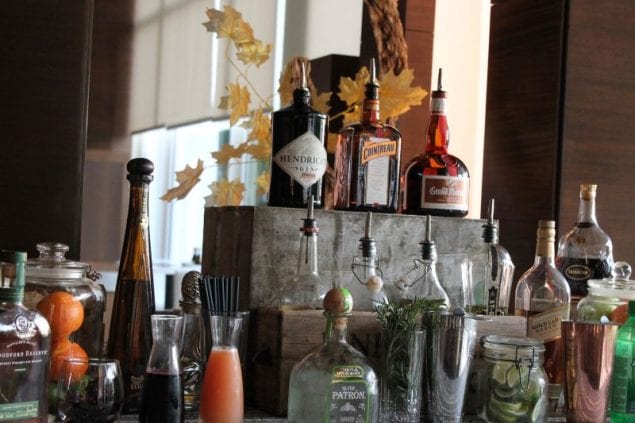 Atardi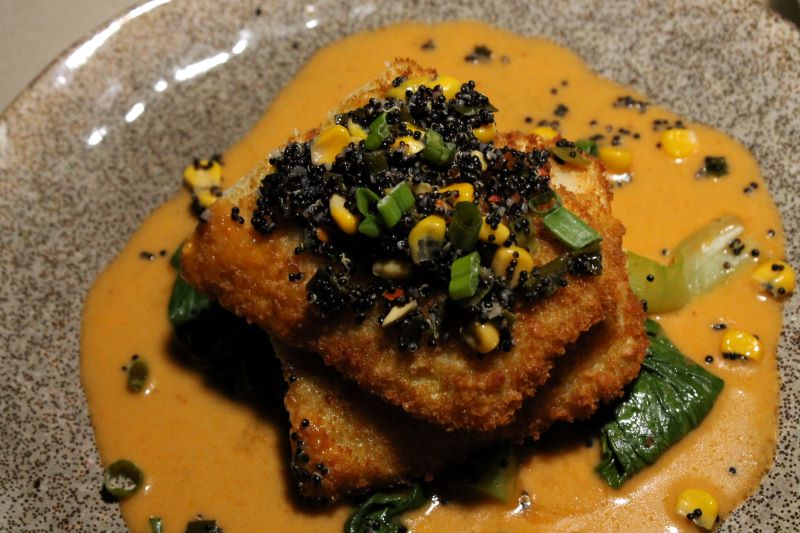 Specializing in fresh seafood and spectacular views. Watch the sunset over the Caribbean and of course take a million photos too when dining at Atardi. Enjoy fresh, succulent seafood such as the Seabass served with sautéed asparagus, the local Red Snapper with a hearty black squid ink risotto. Or the wonderful crusted grouper. Combined with spectacular views and live serenades of Bob Marley "Three Little Birds", it's the perfect way to end every night on a happy note.
Offsite Recommended Culinary Offerings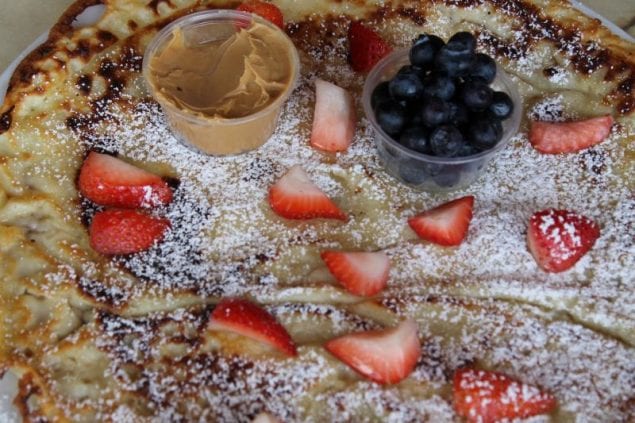 Brightly colored, representing the islands happy vibes, Linda's is a cute breakfast place, just a short cab ride from Aruba Marriott. They specialize in Dutch pancakes, which are crepe-like pancakes and have both sweet and savory options. These include the Ham Cheese and Mushroom, the Brie Walnut and Honey. Or create your own divine pancake as I did with basic toppings of berries and peanut butter and a drizzle of the Dutch Pancake Syrup.
Screaming Eagle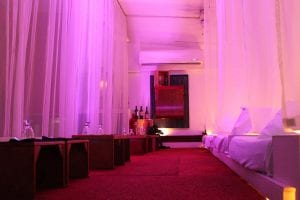 Offering a trendy South Beach style dining in Aruba. Surprised at first at the thought of dining in bed. But truthfully, we eat in our beds in the comfort of our home so why not outside of home. Better yet, instead of the routine home cooked meal I enjoyed a wonderful chef selection by Chef Erwin Hüsken. Dishing little plates of wonderfully prepared seafood such as the gilled yellow fin tuna, Mexican tacos. All while I sat in the comfortable lounge beds enjoying the tropical evening.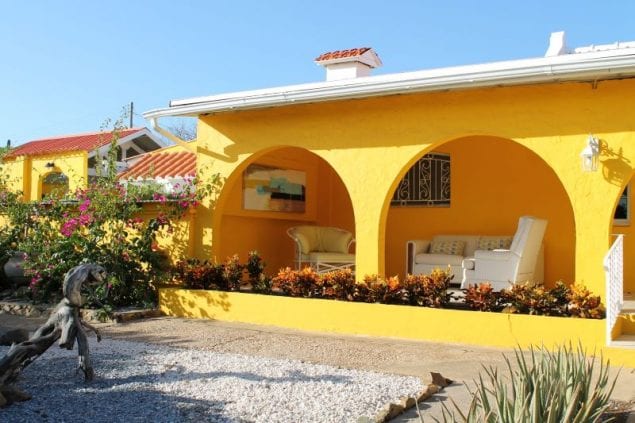 Honestly while I loved the meal at Atardi, this meal was the best. I felt connected to Aruba its culinary and historic roots at Goshen. Goshen is a sustainable farm a true holistic experience for locals and guests. Creating a "Back to the Land Experience", where I was able to see how local products and grown and harvested. Which included feeding the farm goats and trying my hand at recreating the local dish Keshi Yena.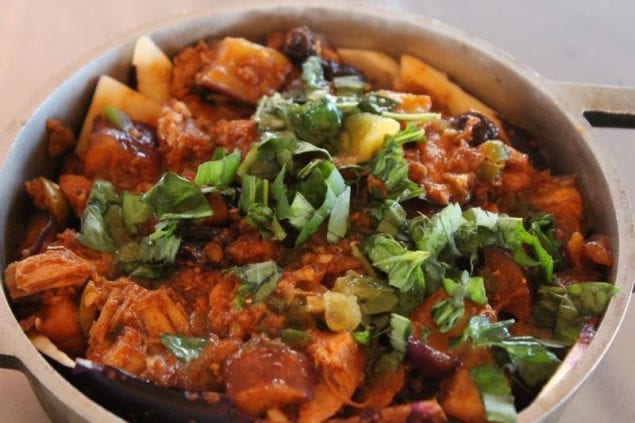 Typically, this local casserole is layered and filled with a lot of gouda cheese. Instead I made an eggplant layered version filled other farm-grown vegetables to recreate a healthier dish. Apart from this I also I learnt how to make a healthier rendition of the Pan Bati. As both dishes were baking in the authentic stone-brick oven, I enjoyed the spectacular sunset and fed the goats again.
Aruba
Dutch colonization led to a mixture of Portuguese, Hispanic, African and other nationality blends for the happy island. Which then led to a melting pot of people, languages and the cuisine. True flavors of the island are not limited to the culinary greatness but to the culture and lifestyle too. Aruba Marriott is the destination to experience all the flavors of the happy island. Book your stay here
Alyssa Holder
I enjoy listening to the stories of the people who devote their time to fill our stomachs with scrumptious food. And of course, experiencing and sharing my thoughts on the cuisines that span across the world.