Sponsored Post: We've partnered with North Coast Organics, makers of delicious apple products, to bring you fun recipes ideas for the coming season. Their apple sauces, vinegars, juices and ciders are made with only U.S. grown apples. You're sure to taste the difference!
These Apple Blondies are made with brown sugar, applesauce, fresh apples, and a touch of cinnamon. A honey and whiskey-laced Hot Toddy Glaze crowns this delicious fall treat.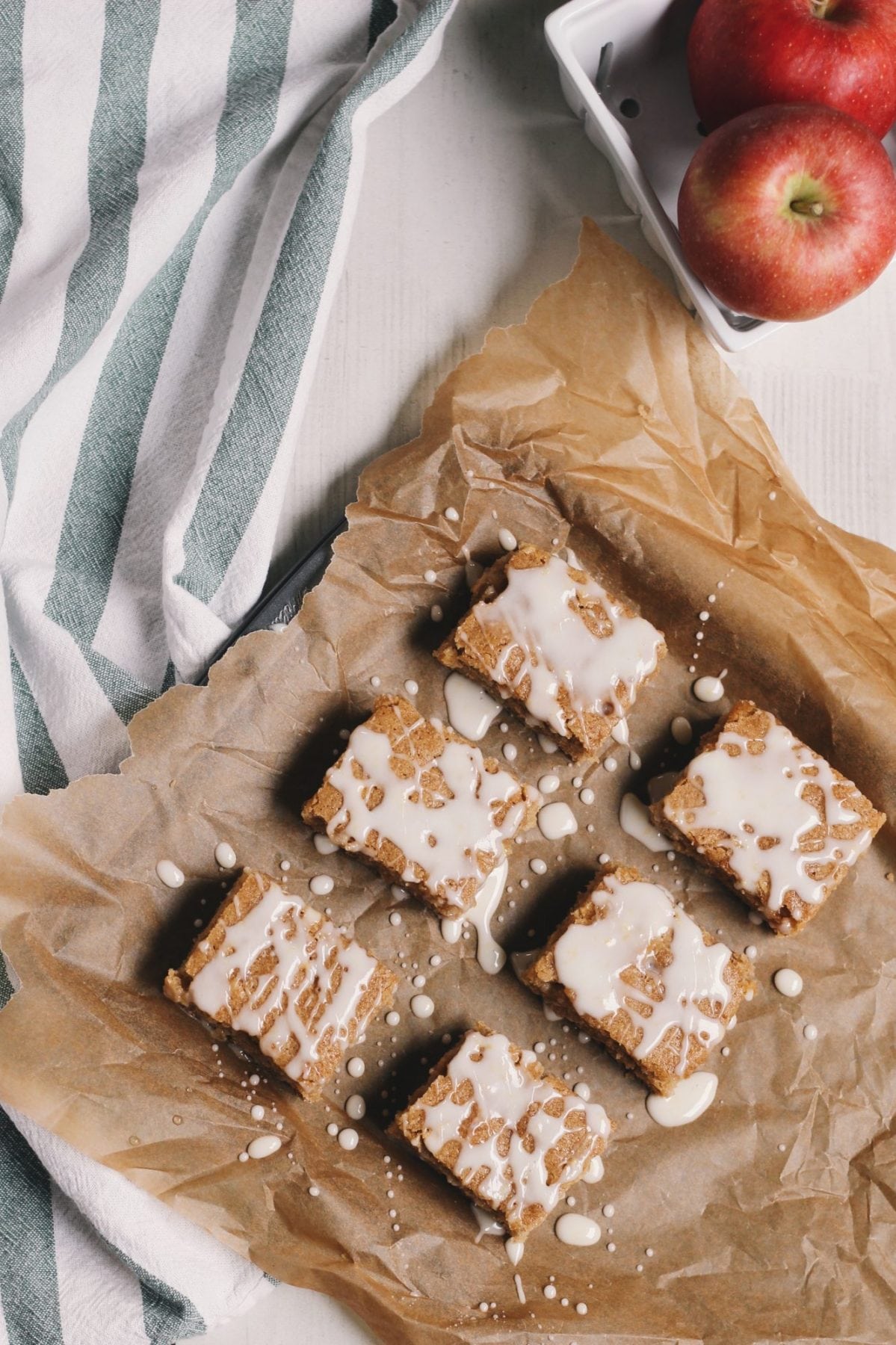 What are your favorite parts about fall?
Mine are definitely the cozy clothes, hot beverages, comfort foods, changing leaves, and apple picking.
There is an adorable area not far from where I live called Green Bluff. Green Bluff is a farming community that has tons of U-Pick Farms, markets, wineries, breweries, cut-your-own-trees, the best ever piping hot and made-to-order donuts, and a sprawling apple orchard.
I love going there in the fall, and filling a bin with far too many apples than I have need for.
But the fall is definitely my favorite when it comes to baking, so it's usually not a problem that I buy dozens of apples. There's always pie, crumbles, or these apple blondies to be made.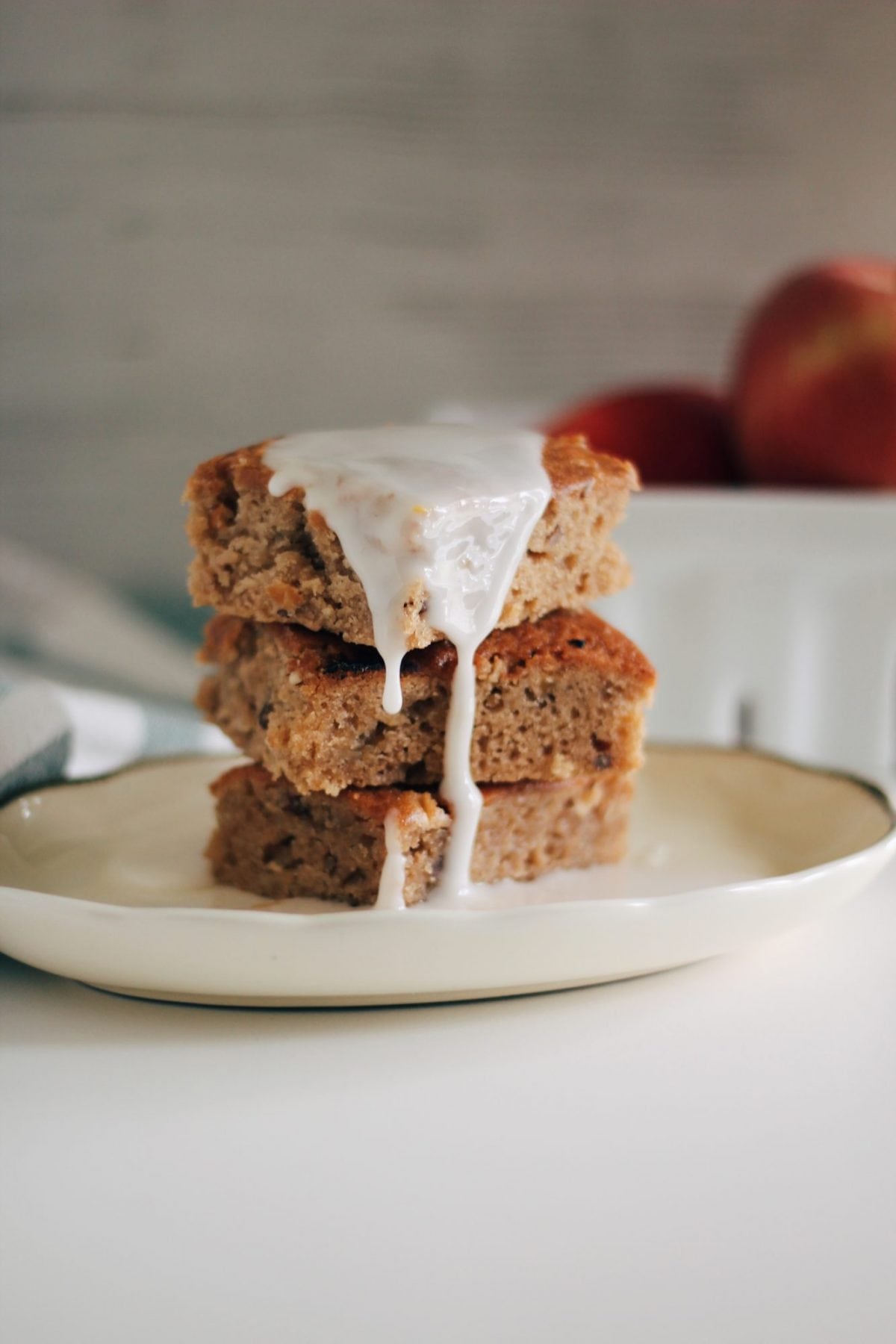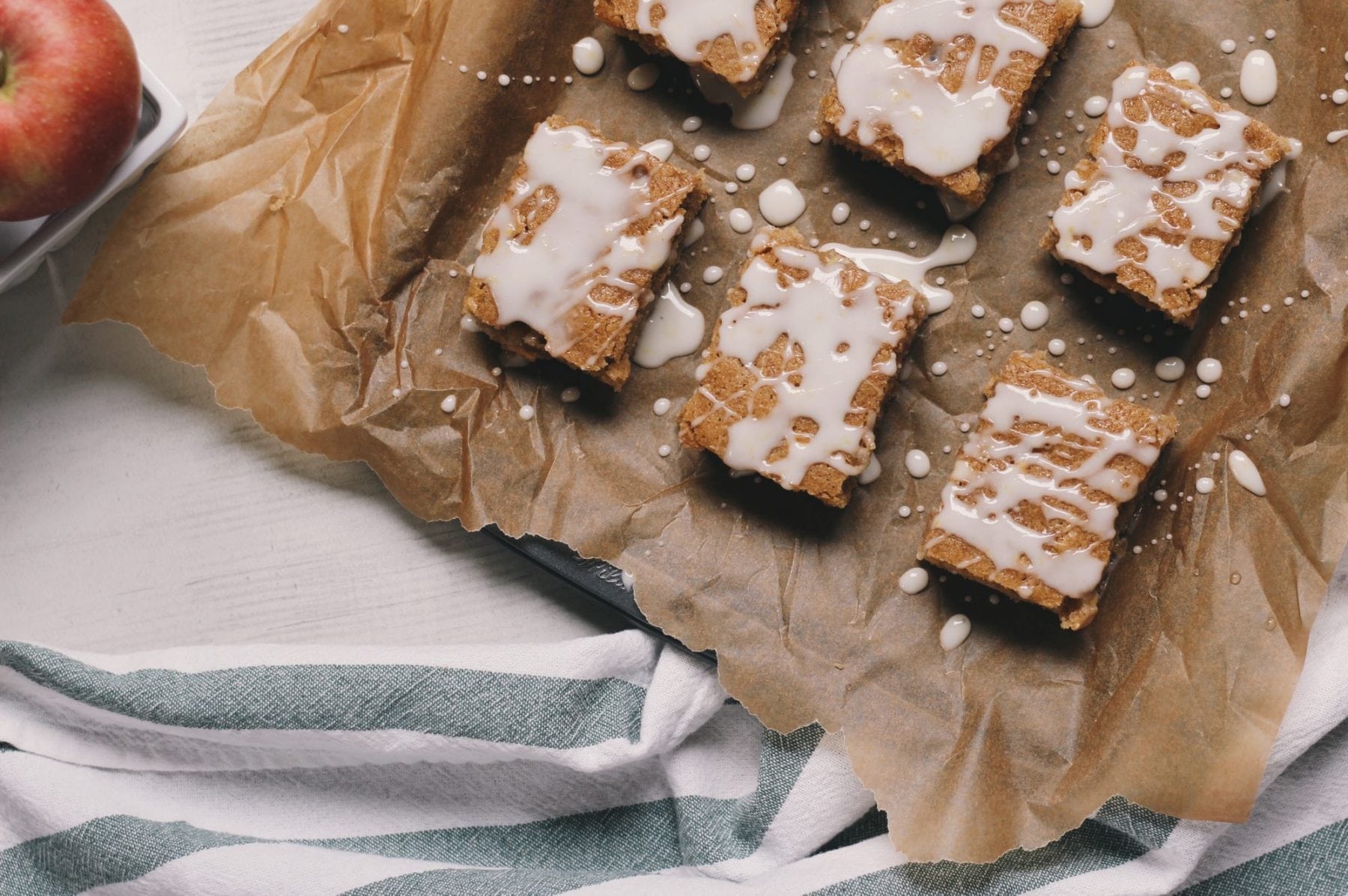 This Apple Blondie recipe is made from molasses-laced brown sugar, a touch of cinnamon, fresh apples, and applesauce.
The applesauce I used here is from North Coast Organic. You can buy this applesauce online at Amazon, Jet, Walmart, Kroger, Vitacost, or Boxed.com. I always have this applesauce handy! It's delicious, organic, and Non-GMO Project Verified. This fresh-pressed applesauce contains no added sugar or preservatives and is produced with the help of solar energy.
This applesauce is a great go-to for fall baking! Did you know that applesauce can replace the oil in most baked goods?
The glaze to these apple blondies is a sweet spin on the Hot Toddy. This honey-infused glaze is studded with fresh lemon zest and gets a kick from a dash of whiskey. If you're making this for the kids, the whiskey is completely optional. Don't worry.
These Apple Blondies are certainly getting us excited about fall!
See Also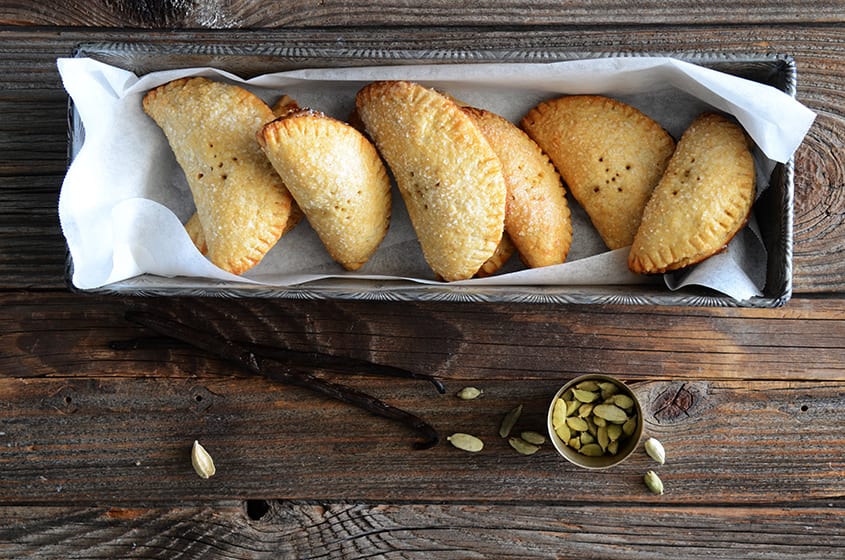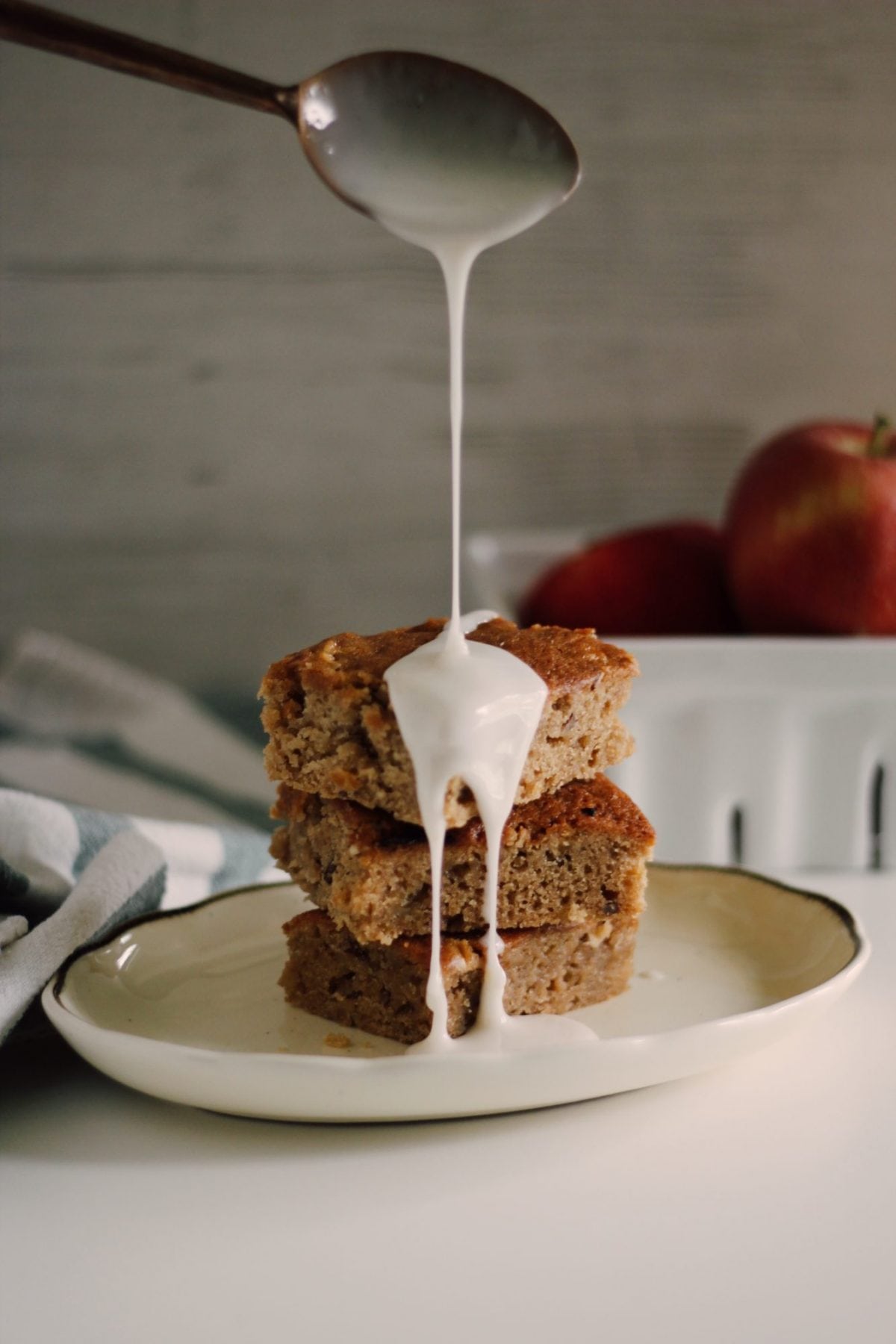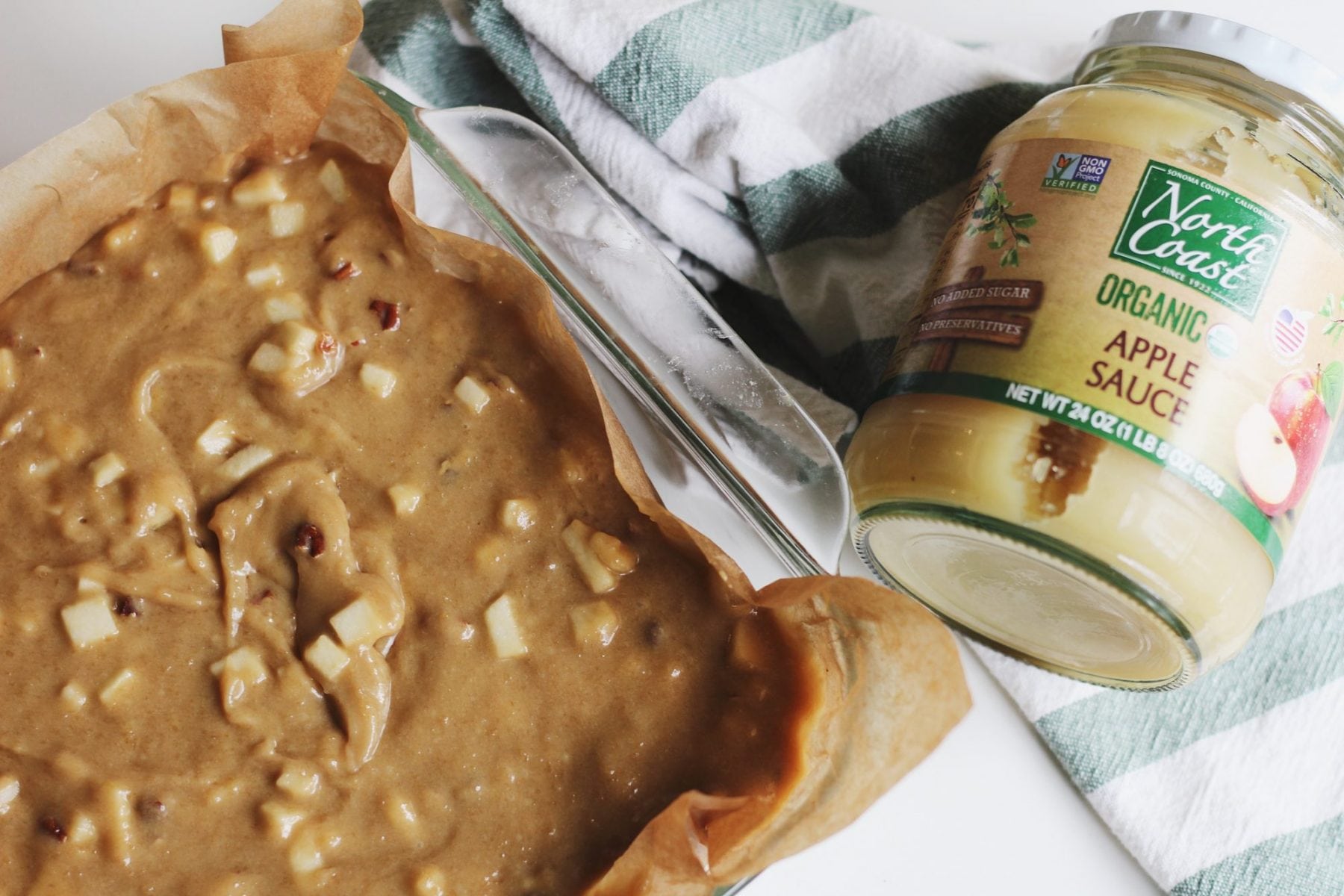 I hope that you enjoy these Apple Blondies with Hot Toddy Glaze! What's your favorite way to use applesauce? Let us know in the comments below and enter North Coast's giveaway to win a $250 Visa gift card!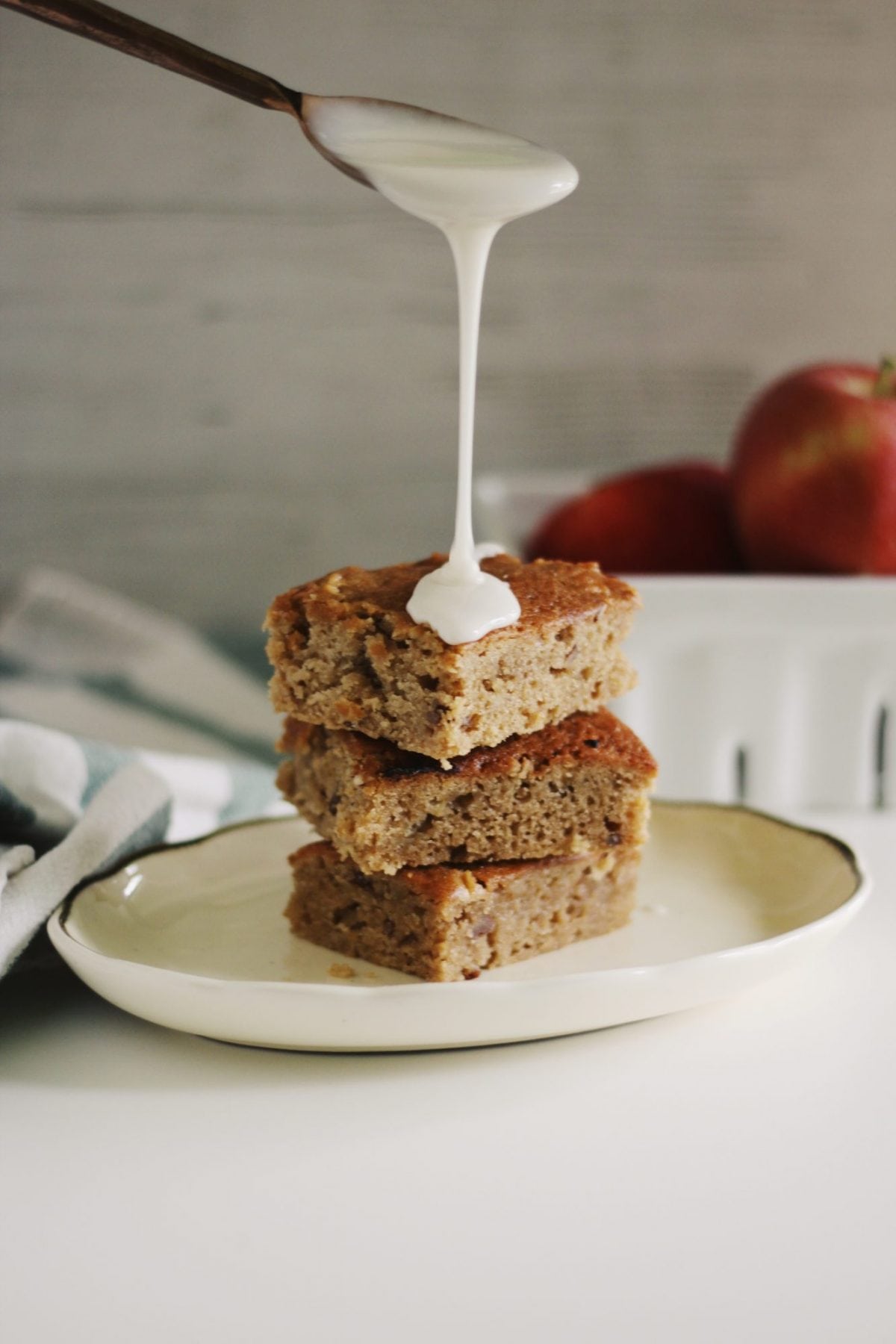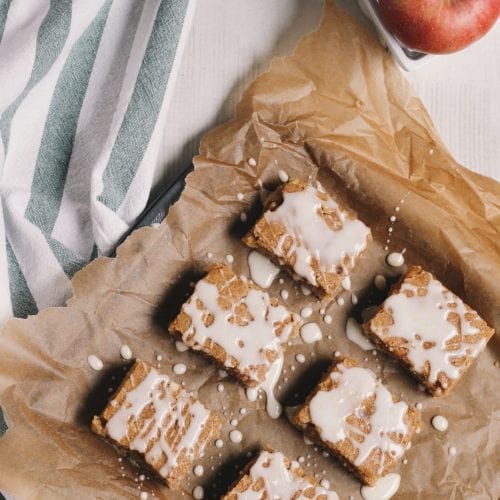 Apple Blondies and Hot Toddy Glaze
Tiffany La Forge
Ingredients
FOR THE APPLE BLONDIES:
1

stick unsalted butter

1

cup

dark brown sugar

1/4

cup

North Coast Organic applesauce

1

egg

2

teaspoons

pure vanilla extract

1

cup

all-purpose flour

1/4

teaspoon

cinnamon

1/4

teaspoon

baking powder

1/4

teaspoon

salt

1/2

cup

finely diced apples

1/4

cup

chopped pecans

optional
FOR THE HOT TODDY GLAZE:
3/4

cup

confectioners sugar

1

tablespoon

honey

1/2

teaspoon

finely grated lemon zest

1

tablespoon

whiskey

optional*
Instructions
Preheat oven to 350 degrees F.

In a small saucepan, melt the butter. Pour into a bowl and whisk in the brown sugar until completely incorporated. Whisk in the applesauce and vanilla. Then whisk in the egg (ensuring the butter mixture is not too hot).

In a separate bowl, whisk the flour, cinnamon, baking powder, and salt. Stir the flour mixture into the butter mixture in two additions, mixing until just combined. Do not overmix. Fold in the apples and pecans, if using.

Line a 8×8 baking pan with parchment paper. Oil lightly. Spread the mixture evenly into the pan and bake until golden and a toothpick inserted in the center comes out clean, about 30 minutes.

Let the blondies cool and prepare the glaze. Mix all of the ingredients together until combined. If not using whiskey, substitute it for apple juice or milk. Add more sugar if you would like the glaze thicker, or more milk if you would like it thinner.

Cut the blondes into 9 squares and drizzle with the glaze. Store in an airtight container in the fridge. Enjoy!
Notes
You can substitute whiskey for equal parts apple juice or milk.
Tiffany La Forge
Professional Pastry Chef and food writer, exploring the world and all of its culinary adventures. Parsnips + Pastries is a food blog about seasonal produce, healthy recipes, and the occasional sweet indulgence. It also offers DIY, tips, and tricks to help you live your happiest, healthiest life.