Almond Milk Vanilla Panna Cotta with Blood Oranges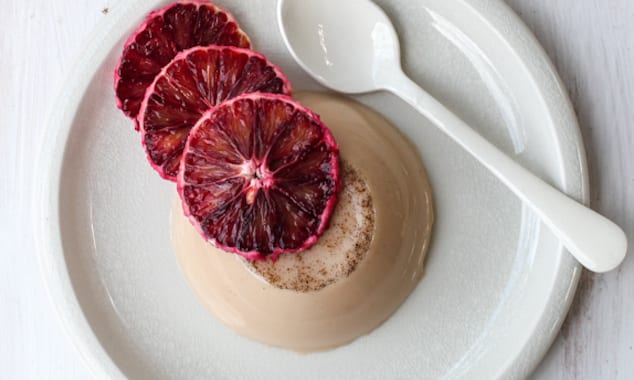 Without cream, these panna cottas come with a softer texture. Try steeping chai tea in the milk for added flavor. Serve with blood oranges for beautiful color and tart flavor.
By Martyna Candrick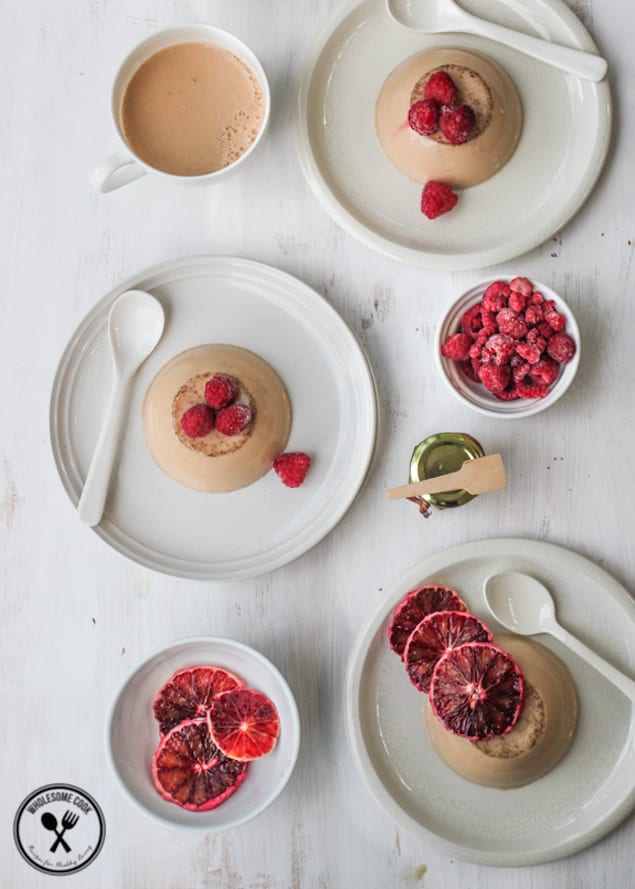 I whipped up a few cups of this creamy and lightly sweet panna cotta to go with a haul of market fresh blood oranges. I utterly adore them. All dressed in breathtaking hues of orange, crimson and red, their flavour is citrusy and sweet with just a hint of lip-puckering tartness. They peel well and make fantastic juices (I blend mine in their entirely with some water). They also go perfectly well in cold cheesecakes, which got me thinking and a non-dairy variant of sorts on this particular dessert.
Now, because the fat content of these is much lower than in regular cream and milk panna cotta, the result is more like a soft jelly. It is still very lovely and moreish. If you'd prefer more flavour, try steeping a chai tea bag in the warm almond milk. While I used rice syrup in the recipe, you could use the same amount or slightly less that of honey. Serve in cups with blood orange chunks, or macerated berries, or turn out into serving bowls or plates.

Almond Milk Vanilla Panna Cotta with Blood Oranges
Without cream, these panna cottas come with a softer texture. Try steeping chai tea in them for added flavor. Serve with blood oranges.
Ingredients
2 cups well-strained almond milk (I used Pure Harvest long-life Organic Almond milk)
⅛ cup rice syrup (or slightly less that of raw honey)
¼ teaspoon vanilla powder or vanilla bean paste
21/2 teaspoons gelatin powder (I used grass fed Great Lakes gelatin)
2 free-range organic eggs
To serve, as you prefer:
1-2 blood oranges, peeled and sliced finely OR
½ cup raspberries or blueberries
Instructions
Place almond milk, rice syrup (or honey) and vanilla in a small saucepan. Heat over medium heat until warm. Add gelatin, mix until dissolved and remove saucepan from heat. Place eggs in a bowl and whisk until pale and fluffy. Add warm almond milk mixture and whisk to combine.
Divide mixture between 4 serving bowls or tea cups and place in the fridge for around 4 hours or until set.
To serve, top the panna cotta with fruit inside the cups, or turn it out onto serving plates and top with fruit then.
Martyna Angell
Martyna is a Polish-born Australian recipe developer and food blogger. Her creativity and passion for good food shines through in many of the delicious and easy to prepare meals which she cooks, styles and photographs for her blog, Wholesome Cook. Fresh cream-filled eclairs are her only weakness.