Quiche Lorraine is as classically delicious as it gets. Learn all about making a winning Quiche Lorraine with a recipe that uses plenty of bacon and Gruyere.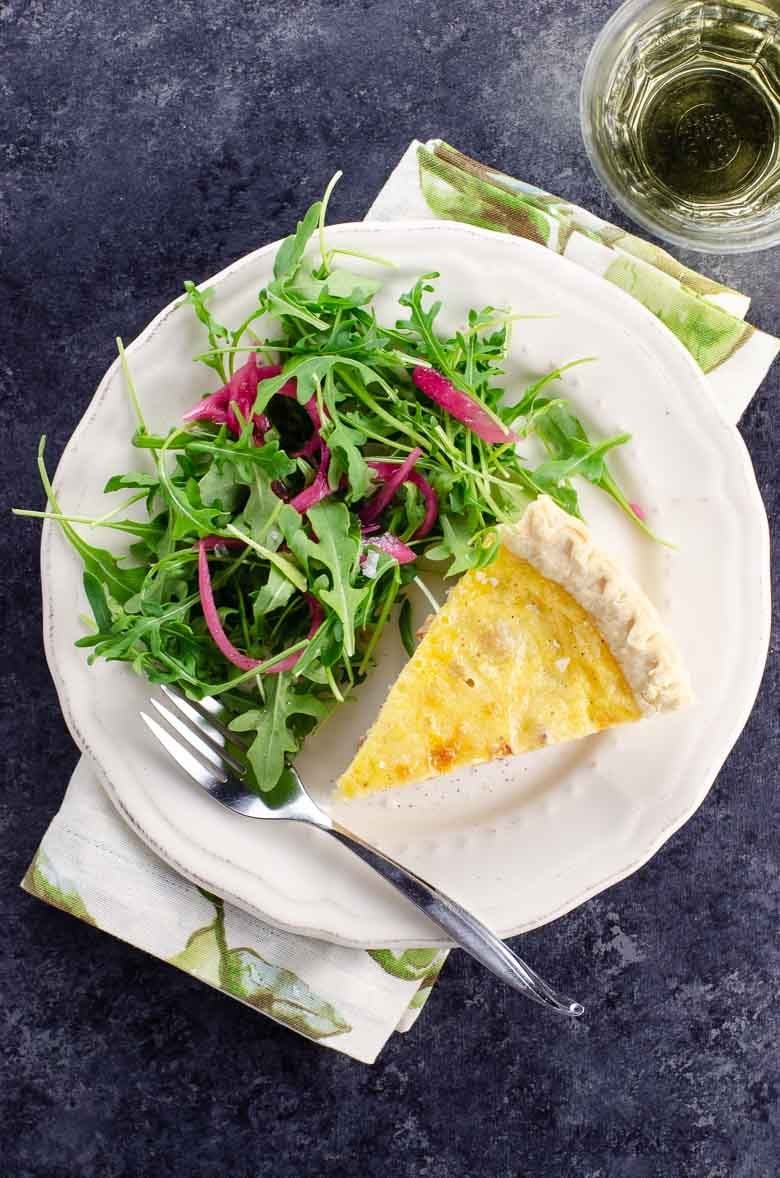 Quiche Lorraine is as classic as it gets, and we think that's a great thing. After much hemming and hawing and testing, our winning Quiche Lorraine recipe uses plenty of bacon and Gruyere, a low oven temperature to keep the filling tender, and a good-quality pre-made pie crust to keep this dish easy enough to make on a regular basis (or for a special occasion where you're making lots of other things, too).
If you're hosting a big party and would like to offer a vegetarian quiche as well, we recommend buying a two-pack of frozen pie crusts and baking this dream of a brunch buffet item alongside our Quiche Florentine (spinach quiche) recipe, right on the same rimmed baking sheet.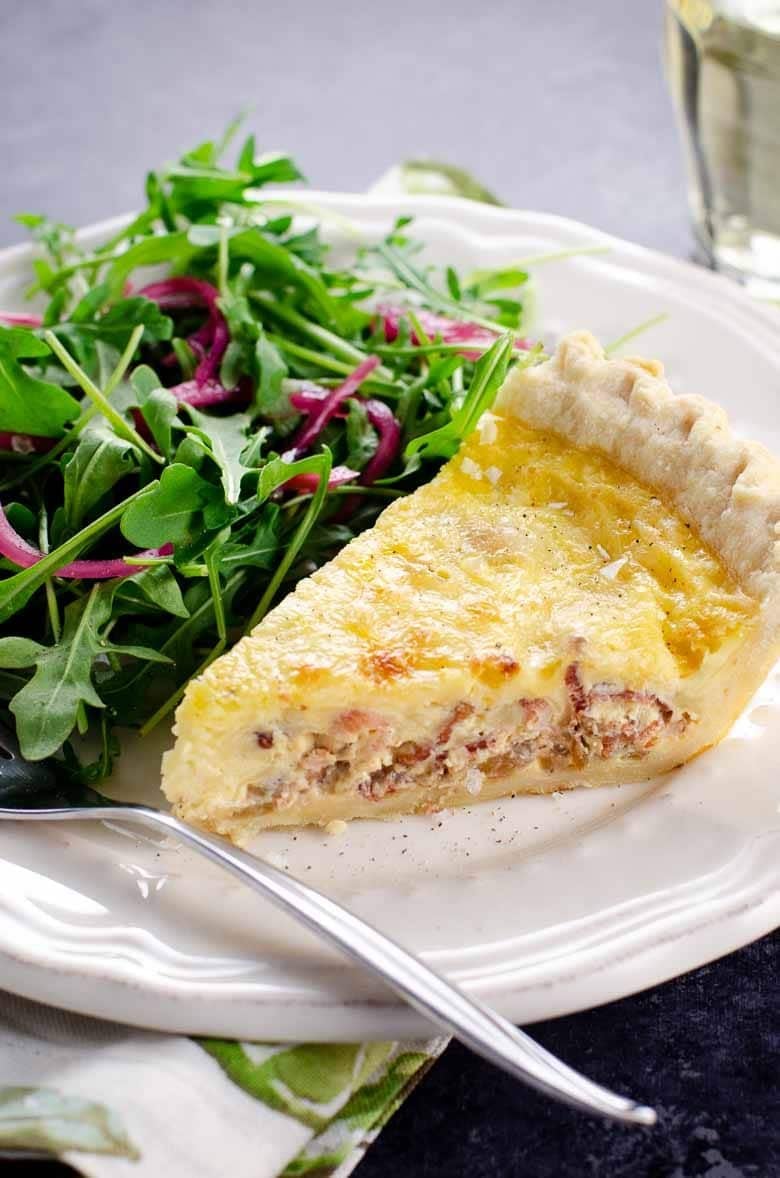 Classic Quiche Lorraine is a savory tart made with pastry dough and a filling of eggs, cream, and lardons (short, thick sticks of bacon). Today, many versions of this dish, including ours, also contain sautéed onions and Gruyere cheese in the filling. Quiche Lorraine was the first quiche recipe to become popular in the U.S. Since the mid 20th century, it's been an iconic brunch dish in this country. It also makes a great lunch or dinner.
For whatever reason, quiche, deviled eggs, and a wide variety of classic cocktails (along with A-line dresses with bodices that hug just so, if you must know) are right in the middle of our Venn diagram where hardcore feminism meets event planning / holiday hosting. We're just gonna roll with it and hope you join us, cool?
Why is it called Quiche Lorraine?
You can be sure that any classic recipe flavored with lardons has a history in the region of France that was once called Alsace-Lorraine and once belonged to Germany. The word "quiche" comes from the German word Kuchen, for cake. Though quiche is now thought of primarily as a French dish, there's plenty of evidence that its existence predates the French ownership of this region by many centuries, originating in the medieval kingdom of Lothringen.
We're delighted that Quiche Lorraine survived its trans-Atlantic journey after World War II and that it continues to thrive as a classic brunch dish despite also being the butt of a bestselling book title and multiple memes.
How to make Quiche Lorraine
Here's a quick list of our protips for making quiche. You can find more details about some of these items below.
Start with a really good crust, whether homemade or store-bought. See below for our crust recommendations
Traditional quiche Lorraine is made with lardons, which are thick, short "batons" or sticks of bacon cut from slab bacon. We don't usually bother with slab bacon, but we do like to use a good, thick, center-cut applewood-smoked bacon for this recipe. We cut it crosswise with kitchen shears or a chef's knife into bite-sized pieces before cooking it.
Cut your onions nice and small. You can choose whether to dice them small or to slice them very thinly from root to tip. If you like, you can replace the onion in this recipe with two medium shallots.
We prefer to use one cup of heavy cream and one half cup of whole milk in this recipe, to yield a nice, custardy filling. This method also has the benefit of using up a pint of heavy cream when you bake a spinach quiche alongside.
A generous helping of good, aged Gruyere is the right cheese for Quiche Lorraine. If you have a Trader Joe's nearby, check there for high-quality Gruyere at a reasonable price.
Prebake ("blind bake") the crust for ten minutes at a higher oven temperature to ensure the crust cooks through, stays flaky, and doesn't get soggy.
Bake the quiche itself low and slow to ensure the filling is tender.
Don't overbake the filling. Pull the quiche out of the oven when it's still the slightest bit jiggly in the center. It will set further as it cools.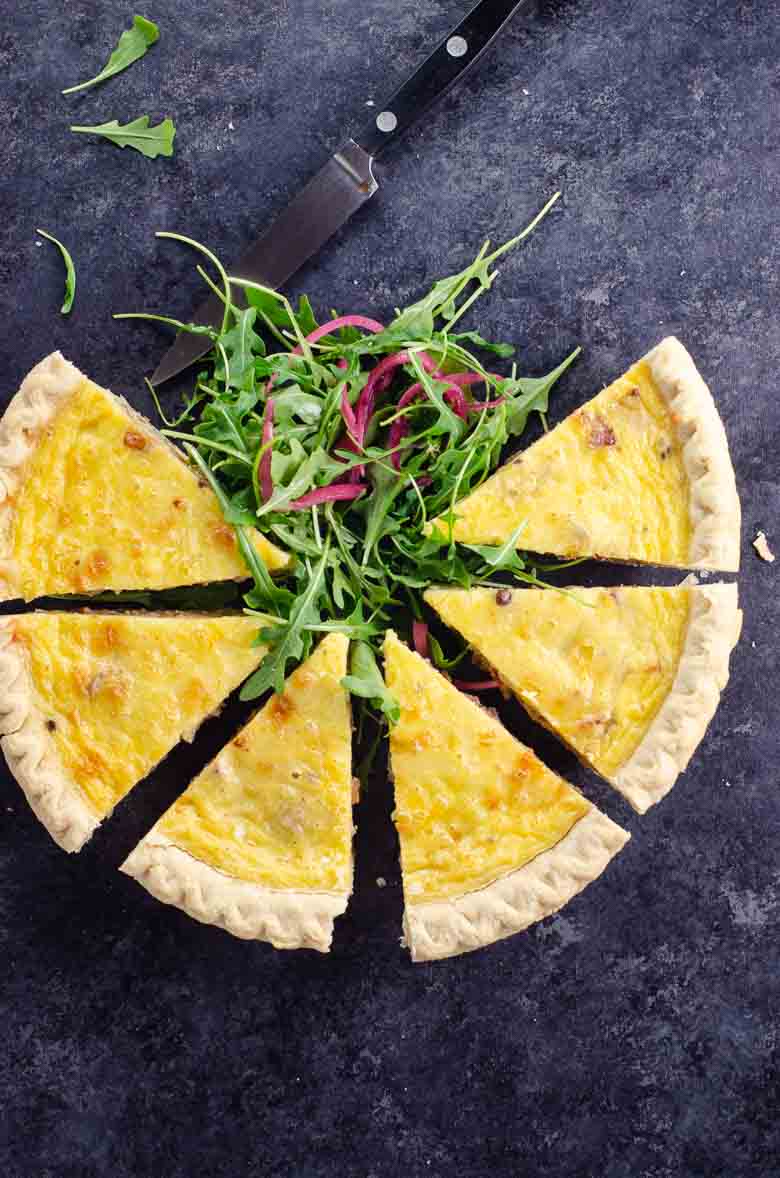 Frozen pie crust: How to make it work for quiche
There are a few things to know in order to make a frozen pie crust work for your favorite quiche recipes.
Use a 9-inch deep dish pie crust. This is true for our quiche recipes and most others we've seen online.
Not all frozen pie crusts are created equal. Some bake up flaky and tasty, others don't. We really like Wholly wholesome traditional organic pie crusts, available in the Whole Foods freezer section and ready to bake in foil baking pans. If you can find those, go for it. If not, and you're planning to serve your quiche to guests, you may want to test out a new crust ahead of time.
Even if you're working with a good quality crust, make sure it isn't too sweet. Some tasty, flaky frozen pie crusts work well for sweet pies but are too sweet for quiche.
Blind baking (prebaking) really helps a crust stay flaky and prevents sogginess. See below for more information on how to do it.
Since sugar contributes substantially to a crust's browning potential, a good quiche crust may not brown much. (See our photos for evidence.) If you'd like a browned crust, you can brush the edges of the crust with an egg wash: place an egg yolk, a tablespoon of milk or heavy cream, and a pinch of salt in a small bowl and whisk with a fork to combine. Brush a bit of egg wash onto crust before baking.
Do you need to prebake crust for quiche?
"Blind baking" is the term for baking an empty pie or tart crust before adding fillings. The traditional method of blind baking is to prick the uncooked crust all over with the tines of a fork, line the bottom of the crust with parchment paper, and weight it down with dried beans so it doesn't puff up while baking. Prebaking helps the crust to get a head start on cooking and also ensures that even with a wet filling like quiche, the crust will stay crisp and flaky rather than soggy.
If you are using a homemade crust, you definitely need to prebake it. Homemade crusts tend to be thicker than premade crusts and need additional time to bake.
See Also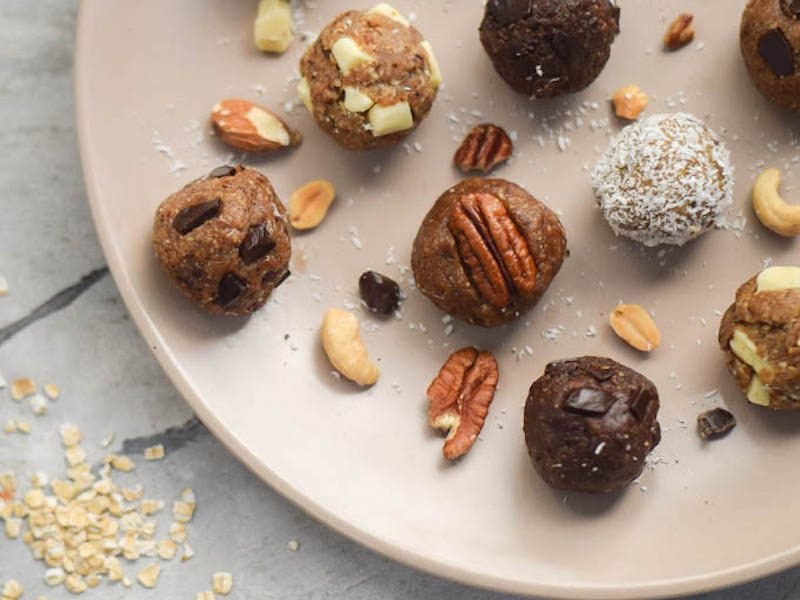 If you're using a premade crust, it's not strictly necessary to prebake, but we find that the crust will turn out much better if you do. We don't tend to bother with lining a frozen crust with parchment and beans. Rather, we prick the bottom and sides of the crust all over with a fork and then bake it for 10 minutes at 400°F. This is enough to crisp up the crust a bit and ensure flakiness, without adding much extra work. If the crust puffs up a bit while blind baking, you can gently tamp it down after it's cooled a bit and before adding the filling.
How to tell when quiche is done
Quiche is ready to pull out of the oven when it's set on the outside and still slightly jiggly — but not sloshy — in the center. A small knife inserted into the outer inch or so of the quiche should come out clean, and the edges should appear set. The center should jiggle a bit in the oven. The filling will continue to set as the quiche cools, and removing it from the oven at this stage will ensure a tender filling rather than an overcooked one.
All quiche is make-ahead quiche
One of the best things about serving quiche at a party is that it actually improves with a little rest, so it's a great make-ahead dish. You can make quiche the night before for a brunch party or in the morning for a dinner party and simply leave it to rest on the counter in a cool kitchen until ready to serve.
You can even make quiche two or three days in advance and store it tightly covered in the fridge once completely cooled, then reheat it until warmed through in a 325°F oven, covered with foil, shortly before serving.
What is the difference between a quiche and a frittata?
Let's give it up for all the cultures that have a version of easy, flexible, classic egg dishes to feed a crowd. Quiche and frittata both fall happily into this category. A frittata is an Italian variation on this theme. It's crustless and is cooked in an oven-safe skillet that goes from stovetop to oven during cooking. We've got lots of great frittata recipes on the site.
Quiche, of course, traditionally includes a pastry crust. But even a crustless quiche differs from a frittata, using a much higher ratio of cream and/or milk to eggs. (Most of our frittata recipes don't include milk or cream at all, though many frittata recipes do incorporate dairy to lighten and fluff the egg mixture a bit.)
The more you know.
Print
Perfect Quiche Lorraine
Learn how to master the art of making the perfect quiche lorraine.
Author:

Carolyn Cope

Prep Time:

15 minutes

Cook Time:

1 hour

Total Time:

1 hour 15 minutes

Yield:

4

1

x
Category:

Appeitzer, Main Course

Cuisine:

French
1

9-inch deep dish pie crust

6 oz

thick cut bacon, cut crosswise into bite-sized pieces

1

small yellow onion or large shallot, finely diced

4

eggs

1 cup

heavy cream

1/2 cup

whole milk

1/2 tsp

sea salt

1/4 tsp

freshly ground black pepper

1/8 tsp

ground nutmeg

1/8 tsp

cayenne pepper

1.5 cups

shredded Gruyere
Instructions
Preheat oven to 400°F
Place crust (in foil pie plate) onto a rimmed baking sheet and defrost on countertop for 10 minutes. 
Prick crust all over the bottom and sides with a fork. 
Bake crust for 10 minutes, then let cool for 10 minutes. 
Reduce oven temperature to 325°F.
While crust bakes, set a medium-sized frying pan over medium heat. Add bacon and cook, stirring frequently, until browned and crisped to your liking.
Remove bacon from pan and drain on paper towels. 
Pour off all but about one tablespoon bacon fat from pan and replace pan over medium heat.
Add onion and cook, stirring occasionally, until softened, about five minutes.
In a medium mixing bowl, beat eggs well with a fork.
Add cream, milk, salt, pepper, nutmeg, and cayenne, and mix until well-combined.
Gently spread onion, bacon, and cheese evenly over bottom of crust. 
Open oven and pull out rack enough to set the partially filled crust (still on rimmed baking sheet) onto the rack.
Carefully pour the egg mixture into the crust. It will be very full. Gently slide rack back into place.
Bake until filling is just set and still ever so slightly jiggly (but not sloshy) in the center, 45-60 minutes. The center will firm up as it cools, and pulling the quiche out at this stage will prevent it from getting tough.
Let cool for at least 10 minutes before serving, preferably longer. Quiche is even better the next day.
Keywords: french, pie, quiche, simple, weeknight
Carolyn Cope
Carolyn is the voice behind the popular blog Umami Girl and writes frequently for other food-related publications. Equal parts live-to-eat and eat-to-live, she holds certificates from both the French Culinary Institute and the eCornell Plant-Based Nutrition program. Carolyn has lived and worked in New York and London and currently resides with her husband and two daughters in a sweet little seaside town in New Jersey.