From their graham cracker crust bottoms to their toasted Swiss meringue tops, these s'mores cupcakes are a delight to make and eat. And, with the fudgy, chocolatey brownie cupcake in the middle… they're nothing short of perfection.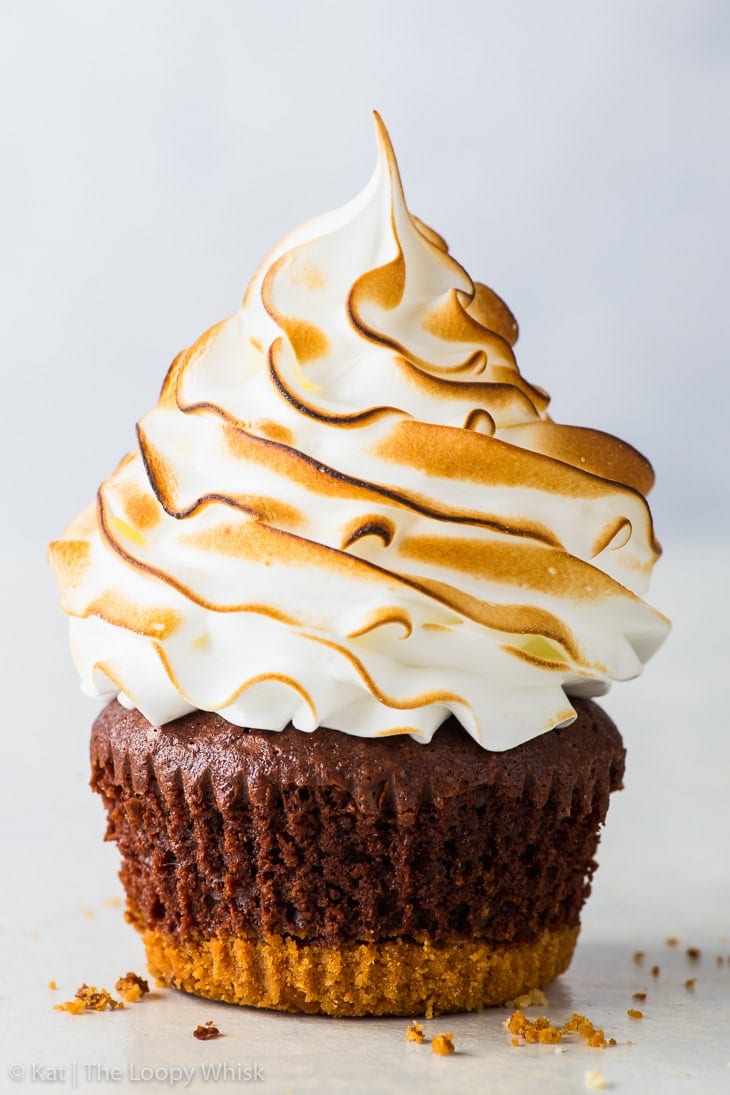 Recently, a blowtorch moved into my kitchen. It's been a long awaited addition to my various baking schnick schnack, and I've been itching to torch something to my heart's content ever since.
There's a particular kind of magic to taking what is basically an elegant, refined and controlled flamethrower to your dessert. Never mind the fact that a kitchen blowtorch is nothing like a flamethrower… I love the touch of drama it adds to baking.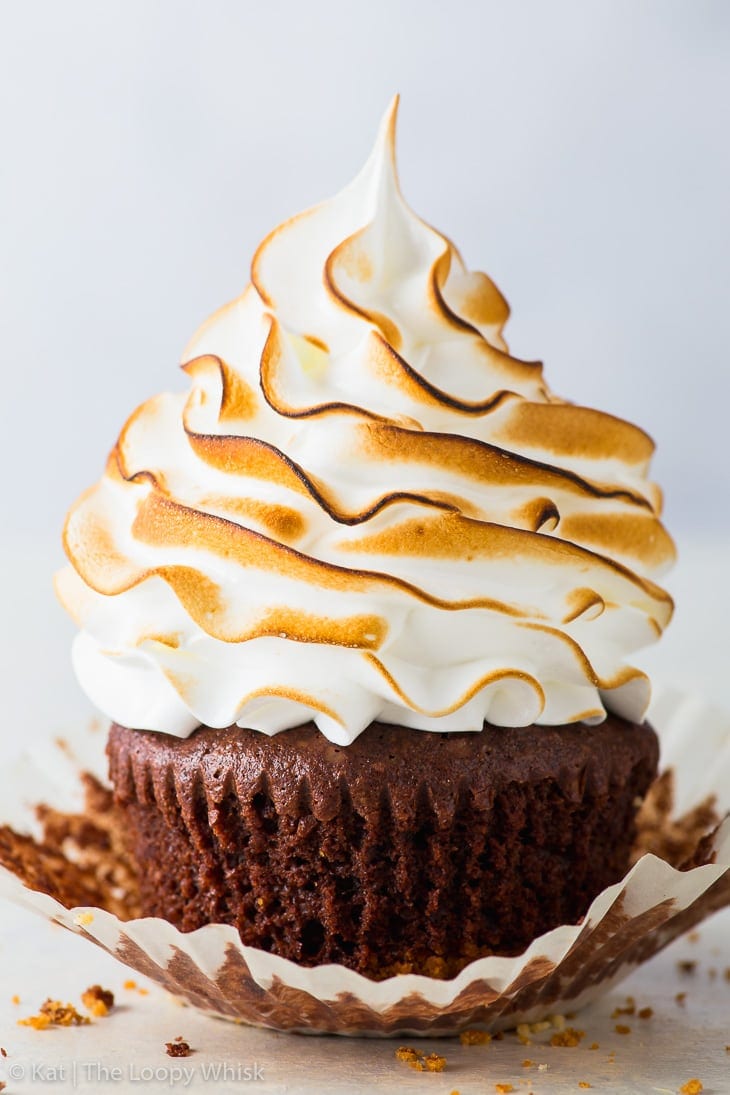 (And if you're a bit too enthusiastic and a bit too novice at this torching thing… it actually turns out the blowtorch can come dangerously close to mimicking a flamethrower. So, you know, just be careful, mmkay?)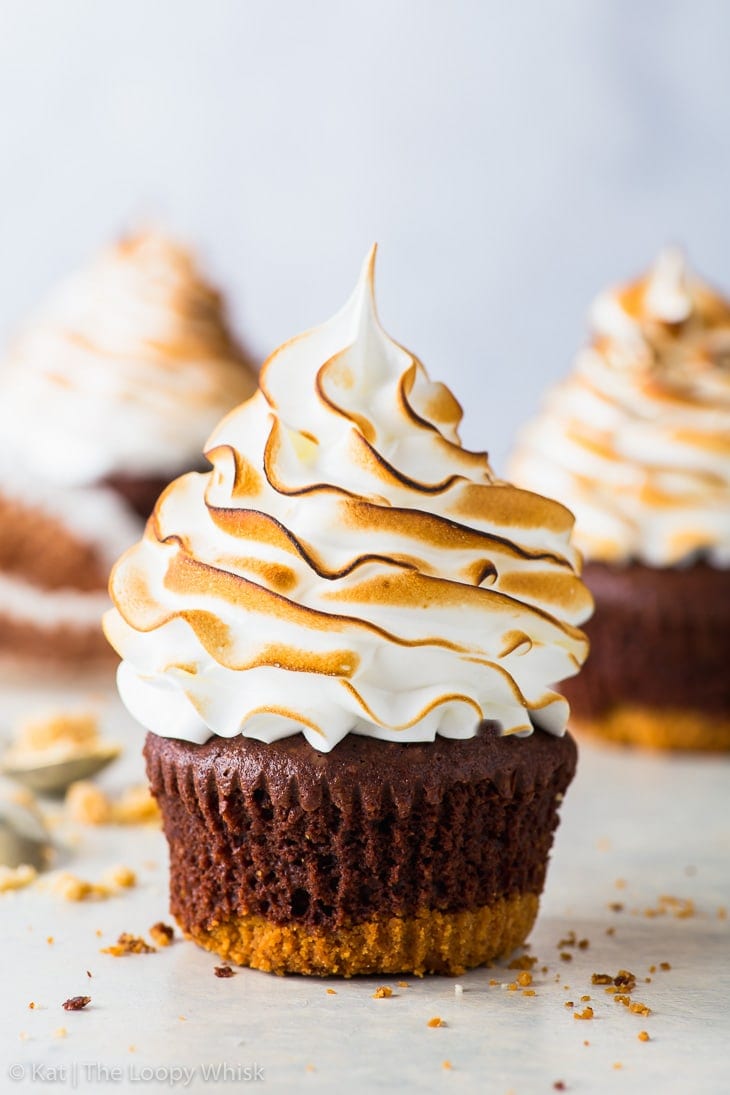 Now, we all know that s'mores and fire are basically a match made in heaven – so here's my (elegantly) torched offering to your sweet tooth: s'mores cupcakes.
With a crushed graham cracker bottom, ridiculously fudgy brownie cupcake middle and a toasted marshmallow (Swiss meringue) frosting top – these cupcakes are here to make your life infinitely sweeter and more delicious.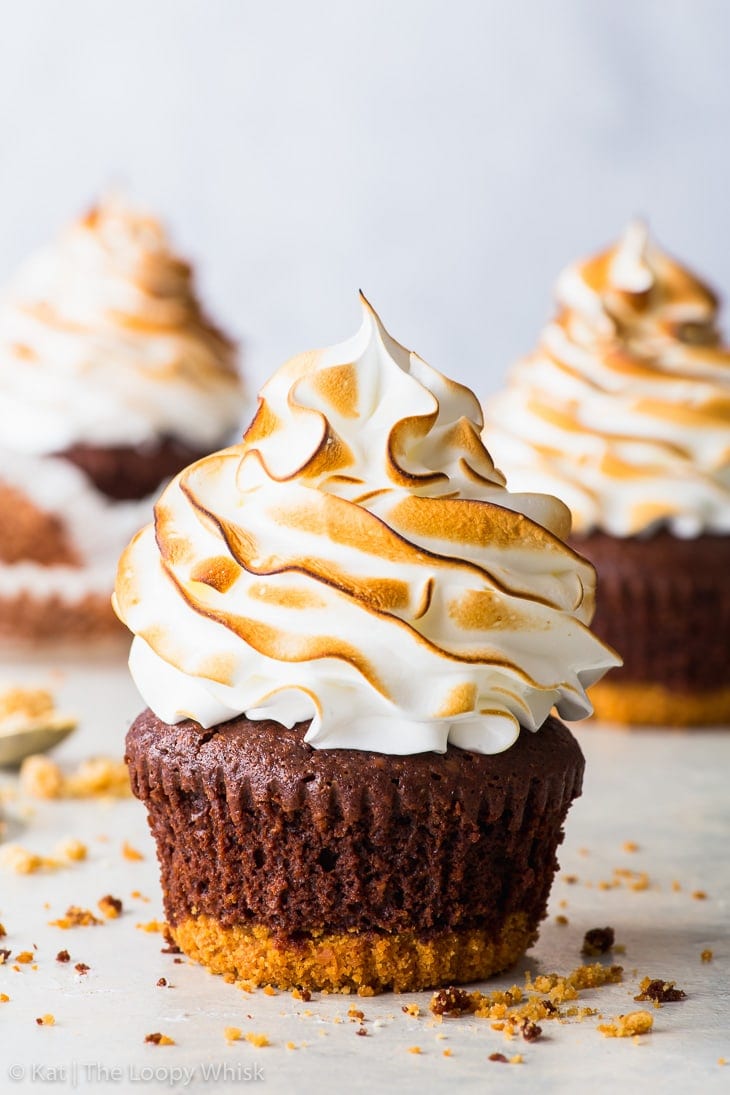 Now, I've made these s'mores cupcakes gluten free by using gluten free graham crackers (if you're in the UK: rich tea biscuits work just as well) and a plain gluten free flour blend in the brownie cupcakes.
If you don't need the cupcakes to be gluten free – just use the regular graham crackers and plain wheat flour instead. Because no matter your dietary requirements, trust me, you'll want to make (and eat) these yummy little beauties.
Surprisingly, my favourite bit in these s'mores cupcakes isn't the toasted marshmallow frosting – yes, even with how COMPLETELY OUT OF THIS WORLD it tastes and looks. (So delicious and soooo pretty!!!)
No, the crowning glory is the brownie cupcake bit in between the crushed cracker crust and the toasted Swiss meringue frosting.
You see, I didn't want to settle for chocolate cupcakes. (Though.. is it really settling if chocolate cupcakes are involved?) I wanted fudgy bordering on gooey, intensely chocolatey and dangerously delicious.
And you know what? The brownie cupcakes totally 100% undoubtedly deliver. Oh boy, do they deliver. (They're basically brownies in cupcake form – and yes, that tastes just as amazing as it sounds.)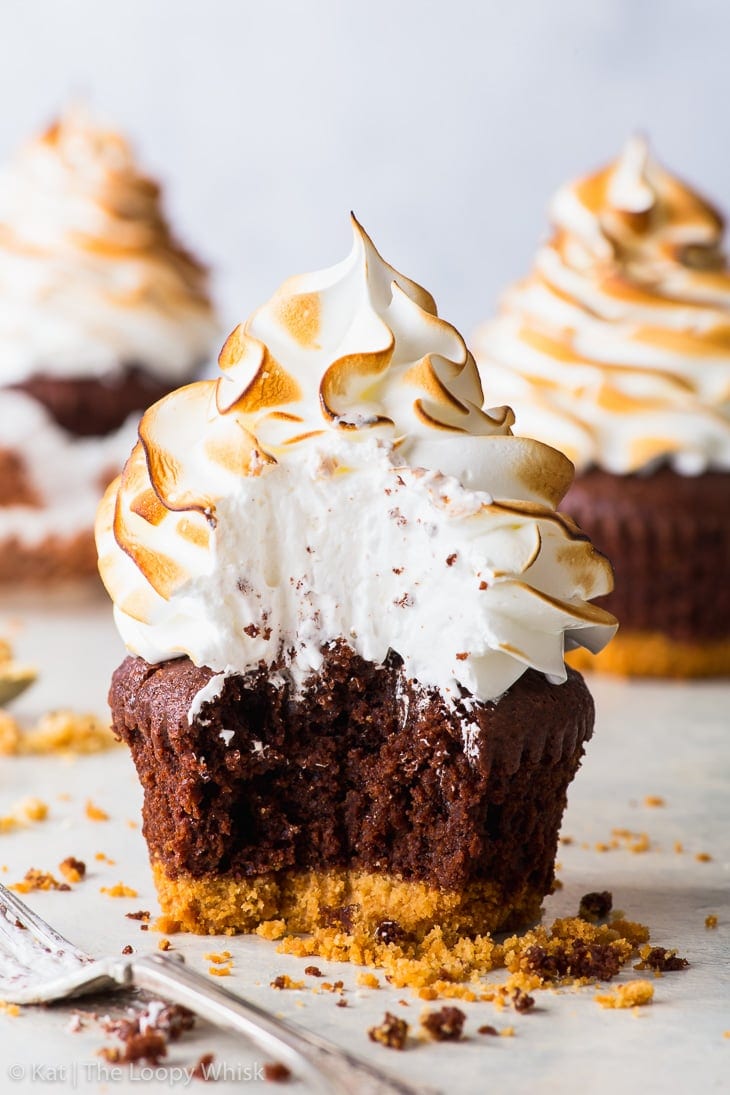 And then, when you get the crunch of the crushed graham crackers, the gooey chocolateiness of the cupcake and the toasted, sweet softness of the frosting… well, it's nothing short of fireworks.
Click HERE for the Swiss Meringue Frosting Recipe.
Print

Meringue-Topped S'Mores Cupcakes
---
Author:

Kat @ The Loopy Whisk

Total Time:

55 minutes

Yield:

12

cupcakes

1

x
For graham cracker crust bottom:
1 cup

100 g gluten free graham cracker crumbs (rich tea biscuits work too)

1/2

stick (56 g unsalted butter, melted)
For brownie cupcakes:
7 oz

200 g dark chocolate, chopped

1 1/3

sticks (150 g unsalted butter)

1/8 cup

15 g cocoa powder

3/4 cup

150 g granulated sugar

3

medium eggs (room temperature)

1/2 cup

+ 1/2 tbsp (

65 g

plain gluten free flour blend (I've used Doves farm plain gluten free flour blend, which doesn't contain xanthan gum))

1/3 cup

32 g almond flour

1 1/2 tsp

baking powder

1/2 tsp

xanthan gum
pinch of salt

3/8 cup

boiling hot water
For Swiss meringue frosting:
Click the link above for the recipe.
---
Instructions
For graham cracker crust bottom:
Pre-heat the oven to 355 ºF (180 ºC) and line a 12-hole cupcake/muffin baking tin with cupcake liners.
In a bowl, mix together the graham cracker crumbs and melted butter until combined. Divide this mixture between the 12 cupcake liners (about 2 tbsp of mixture per cupcake), and press it down into an even layer.
Bake at 355 ºF (180 ºC) for 8 – 10 minutes until it's a deep golden brown colour.
Set aside and allow to cool slightly.
For brownie cupcakes:
Reduce the oven temperature to 320 ºF (160 ºC).
In a heat-proof bowl above a pot of simmering water, melt together the chocolate and butter.
Once melted, remove from the heat and allow to cool for a few minutes. Then, mix in the cocoa powder and sugar.
Add the eggs, one at a time, whisking well after each addition.
Sift together the gluten free flour blend, almond flour, baking powder, xanthan gum and salt, and add them to the wet ingredients. Mix well until combined.
Add the boiling hot water to the cupcake batter, and whisk well until you get a smooth, glossy batter.
Divide the batter evenly among the 12 cupcakes (on top of the graham cracker crust), so that each cupcake liner is about 3/4 full.
Bake at 320 ºF (160 ºC) for 23 to 25 minutes, until an inserted toothpick comes out with a few moist crumbs attached. (You don't want the toothpick to come out completely clean, the cupcakes should be a bit fudgy in the middle.)
Remove the cupcakes from the cupcake tin, and allow to cool on a wire cooling rack.
For Swiss meringue frosting:
Click the link above for the recipe.
Assembling the s'mores cupcakes:
Transfer the Swiss meringue into a piping bag with a piping nozzle of choice.
Pipe the Swiss meringue on top of each cupcake (be generous!) and toast it, using a kitchen blowtorch.
Enjoy!
Storage:
The s'mores cupcakes keep well in a closed container in a cool dry place for 3 – 4 days.
Prep Time:

30 minutes

Cook Time:

25 minutes

Category:

Cake, Dessert
Katarina Cermelj
Katarina is a Chemistry PhD student at the University of Oxford. At least by day – by night she transforms into a food blogger, baking up a storm, taking way too many close-up photos, and writing up blog posts for "The Loopy Whisk" (click on 'website' below to take a look!). Her recipe repertoire ranges from buttery, sugary goodness to raw vegan gluten- and refined sugar-free treats. But they are all joined by a common thread – an emphasis on easy and (mostly) quick recipes that are above all else about flavour. Oh, and she talks (writes) a lot.