Chef Marco Sacco needs no introduction and is arguably of Italy's most prized processions in the culinary field. Michelle Tchea of Chefs Collective visited the Piedmont region (read more about it on her adventures around the Lake District and also Novara Country side in the North of Italy here), discovering the heart and soul of Italy with its amazing collection of chefs.
Piccolo Lago is a 2-Michelin star restaurant sitting on one of the beautiful lakes in Piedmont and here Chef Sacco shares his recipe for two favourites, Carbonara and Bettelmatt Flan
*Bettelmatt is a local cheese unique to the Piedmont region – strong and robust in flavour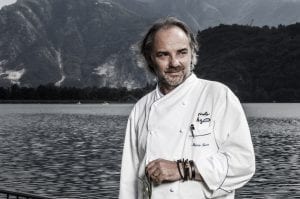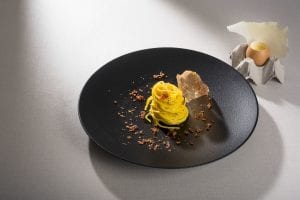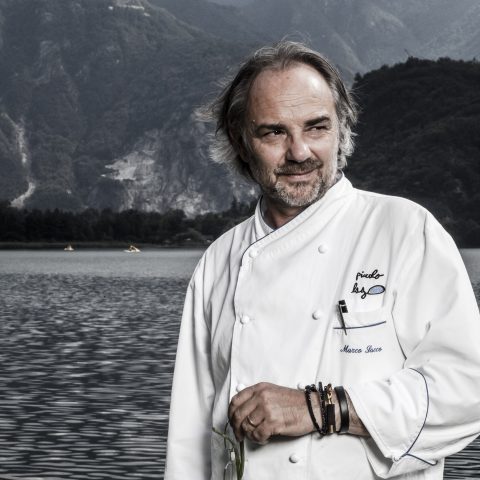 Secrets To Making Perfect Carbonara From A Michelin-Star Chef - Chef Marco Sacco
Ingredients
700

g

Fresh pasta

500

g

Au Koque sauce

n°10 dried chips of beef bacon

50

gr

beacon powder

n°10 chips of milk

180

g

butter

black pepper

section of cardboard egg carton

whole egg shells with top cut off to create sauce container
For the fresh pasta:
400

gr

durum wheat flour semolina

100

gr

00 flour

30

gr

yolk

220

gr

eggs

10

gr

white vinegar
For the au Koque sauce :
150

gr

yolk

90

gr

Grana Padano

300

gr

cream 20%
For the chips of milk:
400

gr

whole milk

4

gr

xantana gum
Instructions
Procedure for the tagliolini:
Knead all the ingredients in a planetary mixer. Let dough rest for 2 hours in refrigerator. Roll out make 70-gr nests of tagliolini.
Procedure for the Koque sauce:
Mix all the ingredients and keep at 60 °C (140 °F).
Procedure for chips of milk:
Whip the milk with the xanthan gum for 10 minutes. Spread into oven paper and dehydrate. Cut into desired size.

Procedure for chips of beef beacon:

Cut the beacon very thin with a slicer. Dehydrate @ 55ºC overnight. Keep 10 slices aside and chopped the rest.
Finishing and plating:
Cook pasta for 3 minutes in salted water. Mix butter and cooking water in a pan. Stir the pasta and add the chopped beacon.

Place tagliolini nest in center of plate. Sprinkle with black pepper and place slice of dehydrated prosciutto on top. Serve with 60° sauce in eggshell with milk chip placed near.
Michelle Tchea
Buy the book
https://www.amazon.com/Chefs-Collective-Recipes-Secrets-Greatest/dp/9814771929
Find her
https://www.facebook.com/AChefsCollective/
Michelle Tchea
Michelle Tchea is a 4-time bestselling author. Her books include, Building a Perfect Meal, My Little SoHo Kitchen, Signature Dishes (Australia's Best) and Chefs Collective. Her work can be found in other leading luxury travel and food magazines including Travel+Leisure Asia, SMILE, NUVO Magazine and The Telegraph