Discover vibrant food products of Idaho presented in a flavorful Italian format with inspiring fresh pastas at the downtown restaurant.
http://alavitaboise.com/
Boise, Idaho may be known more for their Basque restaurant scene than having an Italian influence. However, that was the perfect motivation for Àlavita's owners Cameron and Amanda Lumsden to introduce the downtown area to a new restaurant. Àlavita is a smartly decorated space inside the historic Boise City National Bank building, serving high quality Italian cuisine and just around the corner from the Lumsden's first food concept, Fork. While Àlavita is strictly an Italian restaurant, it is evident with its focus on quality Idaho ingredients, that both restaurants were spawned from the same local-loving, creative minds.
The Lumsden's opened Àlavita after many trips to Italy, home to Cameron's personal favorite cuisine, that left them smitten. They traveled about the country, spending time in bustling Venice, attended pasta making courses in Bellagio, and then escaping to the country side and wine world of Tuscany. Upon their return to Boise, they realized their surroundings were lacking in a quality restaurant that made a menu of fresh pastas using local ingredients, and it was time to change that.
"It was another chance [for us] to support the local farmers, producers and provide Boise with a 'Big City', small Italian joint feel." Cameron Lumsden
http://alavitaboise.com/
Upon entering Àlavita, diners have a clear view to the kitchen, with fresh pasta being rolled out throughout dinner service, in plain sight. The drink menu will keep you sufficiently watered until those pastas arrive with barrel aged cocktails and a well-rounded wine list that easily pairs with the food. The love toward Italian cuisine that Cameron confesses to is apparent the moment you set foot in the restaurant. Don't be surprised if you find him behind the host stand, helping out the dining room on a busy night. The excitement continues to be evident as food flows from the kitchen. As your first bite from the Italian-Idaho love affair, be sure to have a plate of Alavita's burrata. Some of the creamiest, freshly made cheese that you may ever taste will hit your tongue and explode with flavor from a basil sea salt foiled by a sweet apricot mostarda. After devouring the entire appetizer on your own will you intensely recognize the Lumsden's passion for Italian food and quickly feel the same.
The kitchen's favorite ingredient to incorporate into dishes this season has been squid ink. In their spicy arrabiata pasta dish, squid ink linguine adds bold hues to the bowl along with a host of hearty seafood. No matter what pasta you choose, you can be sure it is freshly made and flavorful. Cameron's current favorite is the Black Ravioli stuffed with West Coast lobster and fontina, and served with butter poached shrimp, and a lemon-fennel-thyme cream sauce made with dairy from the local Cloverleaf creamery.
"Italian cuisine comes from the heart and we think of it as 'family food.' We put lots of love into each recipe and dish and we think it transpires to the guest." Cameron Lumsden
The Burrata at Àlavita
See Also
At dessert you will again be impressed with the boldness that can come from simple Italian flavors. A server may even boast that the Budino is "life changing" and promptly another guest may overhear and add in that Alavita is his "favorite place in Boise". However, it doesn't take any such convincing to enjoy the meal. And the server is completely correct, the vanilla Budino, or rich custard-like dessert, is topped with a decadent salted caramel sauce and will leave your mouth silky smooth and watering for more.
While such delectable dishes are of course inspired by the amazing, authentic foods that can be enjoyed in Italy, they are also inspired by the surrounding Idaho. And with such a vibrant culture of food producers and eaters, that is everything any diner could hope for in Italian food.
"Our primary focus when creating a new dish is what ingredients can we use that are local and how do we prepare them in an Italian format."Cameron Lumsden
The next time you are in the area, be sure to check out Àlavita for an inspiring meal that will put you in touch with the flavors of the Idaho land with an Italian twist and all the while in hospitable hands.
Àlavita
807 W. Idaho Street
Boise, Idaho
208.780.1100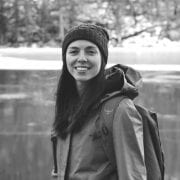 Annelise McAuliffe
Mandatory family outings to the Detroit farmers' market and nightly home-cooked meals cultivated Annelise's respect and curiosity for food. A graduate of The Culinary Institute of America, she spends her free time in New York City recipe testing, eating breakfast all day, and dreaming up international culinary adventures.