Ladies and gentlemen, hide your mint leaves. Stella Parks on how to elevate garnishing to more than just bling.
Text By Stella Parks – Photo By Stephen Weber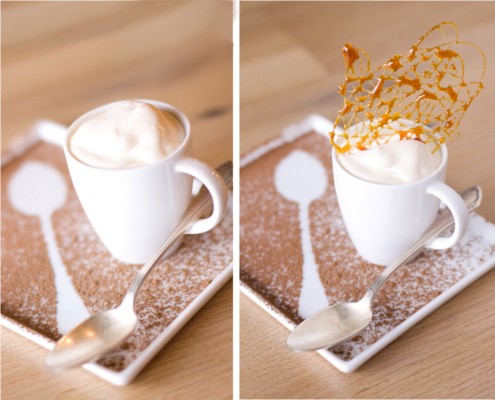 People almost never write articles on garnishes. Rather, they dish about the main dessert alone, whether a cake, scoop of ice cream, or a custard. Maybe a garnish features in their photo, but generally, it comes as an afterthought.  Which is a shame, because a thoughtful garnish can transform a dessert.
Merriam Webster says the first documented use of the word garnish occurred in 1569. After a modest search, I found a medieval cookbook, printed in 1596, that contains the word garnish. I'll step out on a limb and guess that Merriam Webster refers to The Good Huswifes Jewell.
The recipe, for a mutton stew, really embodies the concept of Honest Cooking with its straightforward approach and simple method. Here's the excerpt in question, spelling preserved:
Take a peece of Mutton, and cutte it in peeces, and washe it very cleane, and put it into a faire potte with Ale, or with halfe Wine, then make it boyle, and skumme it cleyne, and put into your pot a faggot of Rosemary and Time, then take some Parsely picked fine, and some onyons cut round, and let them all boyle together,then take prunes, & raisons, dates, and currans and let it boyle altogether, and season it with Sinamon and Ginger Nutmeggs, two or three Cloues, and Salt, and so serue it on soppes, and garnish it with fruite.
The recipe leaves an awful lot unsaid, but this first known license to garnish actually brims with genius. It enhances the dish in four distinct ways. First this garnish would add color to a drab pot of stew. Second its sweetness and acidity complement the savory, rich flavors of braised mutton. Third, as a raw element, it would provide a crisp texture to set off the melting textures of the cooked fruits, vegetables, and tender meat. Fourth, the fruit would offer a contrasting temperature to the hot stew. In short, 16th century housewives knew more about garnishing than most do today.
In the margins of one of my school course books, among various scribbled notes on garnishing, I have written, "NFG = NFG." Unless you went to culinary school or have a lot of chef-type friends, you probably have no idea what that means.  The first NFG stands for "non functional garnish." The second is not fit for print. Suffice it to say NFG means bad. Really, really bad. Dishonest, if you will. Everyone seems to agree a garnish should be edible, but if no one wants to eat it, why bother? That sprig of mint might as well be a daffodil; if you don't eat either, at least the flower's prettier.
People usually think of garnishes as jewelry for food. A little bit of bling to elevate a dish from simply delicious to delicious and stunning. To an extent, I can get behind that. But if a garnish only adds a visual pop? My kitchen doesn't have room for one trick ponies. I need a garnish that can do double duty, adding layers of flavor, texture, and overall deliciocity. (To use a technical term.)
Conversely, a lazy garnish could ruin the same dessert. A sprig of mint and some out of season fruit give a dessert all the visual finesse of a waiting room watercolor. Sure, it would add a splash of color, but mint's a palate wrecker and a single raspberry looks cheap.
Don't let figuring out a garnish become an afterthought in the kitchen. Garnishing makes a dessert more memorable and figuring out the best garnish is child's play. Really. Remember Opposite Day? If you let topsy turvy opposite day rules guide you, you'll never have to resort to technically edible but totally undesirable NFGs like mint leaves or citrus twists.
For the perfect garnish, think of what qualities the dessert already has in terms of temperature, texture, and flavor. Whatever the answer, head in the opposite direction. Cut the fattiness of a dessert with an acidic garnish, like a slice of candied orange (instead of a raw slice that people will push to the side). Pair a dense dessert with something airy; a toasted marshmallow, perhaps? A light dessert may need a rich chocolate curl or sprinkling of rich, toasted nuts. If you can pack several opposites into one garnish, all the better.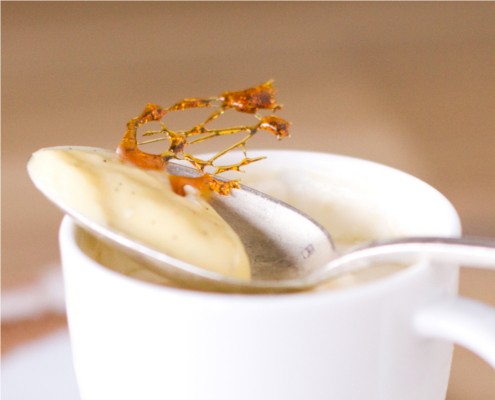 In this case, I have a simple vanilla bean pot de crème. A shard of hard caramel plays against its silky sweetness, imparting a bitter edge and a terrific crunch. Something like a deconstructed crème brûlée. And what looks like a decorative dusting of cocoa powder (a classic NFG; who wants to eat straight cocoa powder?) turns out to be raspberry truffle dust; a blend of freeze dried raspberries, cocoa, and sugar pulverized until fine.  This simple powder has all the intensity of a framboise truffle, but in a powdered form. It liquefies on the tongue, as the raspberries rehydrate, and delivers an intense punch of flavor. Each bite of pot de crème can be "dosed" by dragging the spoon through the powder while purists can leave it to the side and enjoy the unmitigated vanilla.
These are two of my favorite garnishes. Use the crunchy caramel designs with any sweet, creamy dessert. From cheesecake, ice cream, to baked custards. The raspberry truffle dust makes a great sprinkle for ice cream, or use to dust over dessert plates or directly onto cakes or brownies.
Print
Crunchy Caramel & Raspberry Truffle Dust
A simple but flavorful garnish made from sugar
Author:

Stella Parks

Prep Time:

2 mins

Cook Time:

30 mins

Total Time:

32 minutes

Yield:

1

2

1

x
Crunchy Caramel
4 ounces

(

113 grams

) water

8 ounces

(

227 grams

) sugar
a pinch of salt
Raspberry Truffle Dust
2 1/2 ounces

(

70 grams

) good quality cocoa powder

3 1/2 ounces

(

100 grams

) powdered sugar

2 ounces

(

56 grams

) freeze dried raspberries (available in specialty foods shops, health food stores, or online)
Instructions
Have a parchment covered cookie sheet standing at the ready. You will need this when the caramel is finished.
Use the smallest sauce pot you have to make the caramel. Put the water, sugar, and salt into a pot and set it over medium heat.
Stir only occasionally to help the sugar dissolve; once the mixture begins to simmer, stop stirring. Let the mixture cook, undisturbed, until it begins to take on a rich, amber color. If you notice any dark spots forming, or one side of the pan coloring faster than the other, give it a gentle stir.
When the mixture has turned a nice amber color, shut off the heat and transfer the pot to a cooling rack or a pot holder.
Please use caution when drizzling the caramel, it is much hotter than it looks! Use a metal or wooden spoon to scoop out a little caramel. Hold the spoon over the parchment lined cookie sheet and allow the caramel to drizzle down to the paper. Drizzle the caramel into a pattern, whatever size and shape you like. You may need to experiment with the first few to get the hang of drizzling.
Allow the caramel designs to cool thoroughly before using or storing. To use, simply peel the parchment away from the caramel and garnish any dessert that needs a hint of caramel and a pleasant crunch.
To store, cut the parchment into pieces with the caramel still attached and store, stacked, in an airtight container. The caramel will keep indefinitely.
Raspberry Truffle Dust
Put all of the ingredients together in a food processor and blitz until fine.
Use to garnish plates or to sprinkle over ice cream, custard, or just about anything.
I love these garnishes because they keep for ages, which means I can whip them up on a lazy afternoon and store them for emergencies. Whether preparing dessert for last minute dinner guests or making up something sweet to take to a party, I can pull them out at the last minute to jazz up just about anything. When a simple dessert needs a little omph, they fit the bill without being gimmicky or distracting.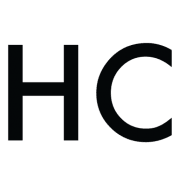 Stella Parks
Stella Parks is the pastry girl at Table 310 in the heart of bourbon country: Lexington, Kentucky. She graduated from the Culinary Institute of America and went on to attend school in Tokyo, part of an elaborate scheme to better understand Japanese cuisine. When not actually making food, she writes about it on her blog BraveTart, and here on Honest Cooking.