Okra is a vegetable that falls into one of three categories: love it, hate it or what the heck is it? 
By Laura Davis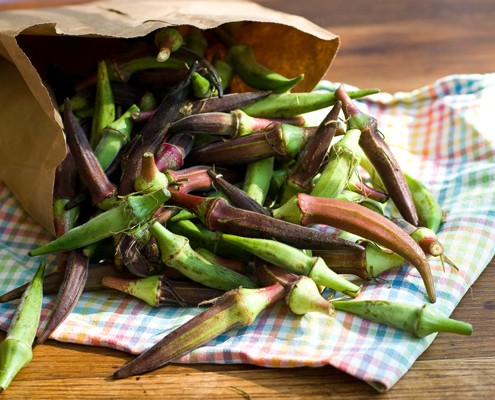 Okra is a vegetable that falls into one of three categories: love it, hate it or what the heck is it?  People who don't like it mention its sliminess and people who love it usually grew up with it.  People who don't know what it is probably did not grow up in the south.  I fall into the category of "I grew up with it" and love it. Okra is a vegetable that originated in Africa and grows in more temperate climates such as the southern United States.  For me it is hard to choose a favorite vegetable dish, but if I had to it would be my Granny's fried okra.  I grew up going to my grandmothers house for Sunday dinners and I always had creamed corn, fried okra, corn bread, cantelope (during the summer) and black eyed peas.  I never wavered on this, ever.  My grandfather had a garden and a large freezer the size of most people's back porch.  It was always full at the end of summer and lasted throughout the winter with plenty to share with family and friends.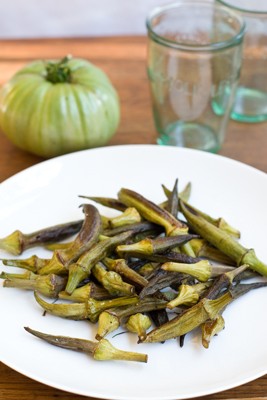 Roasted okra is a new favorite for me.  Roasting brings out the full, delicious flavor of okra and is a very simple preparation. Easy plus delicious make this a perfect dish for me!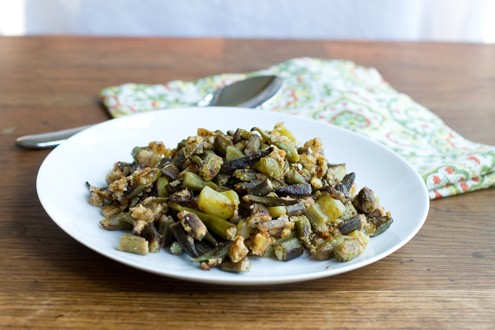 My granny prepared fried okra differently than most.  There is fried okra that is perfectly coated, each and every one, and then there is my Granny's okra.  Her version is much simpler and in my opinion, much tastier.  It tastes more like okra.  She would cut the okra into pieces, sprinkle them with salt and pepper and dust them with cornmeal so that they were lightly coated.  An iron skillet was heated to medium or medium high, a couple of tablespoons of oil was added in and then add the okra in it.  When it starts to brown she would stir it around for even browning.  A lid was placed ajar on the iron skillet during cooking and  after about 20 minutes, the okra was done.  Delicious.
Print
Okra, Roasted or Fried
Okra is delicious either lightly fried or roasted. Fried okra is a popular side dish in the south, but roasting really does the flavor of okra justice.
Author:

Laura Davis

Prep Time:

10 mins

Cook Time:

25 mins

Total Time:

35 minutes

Yield:

6

1

x
For Fried Okra
1 quart

(

400 g

) fresh okra

1/4 cup

(

42 g

) cornmeal

1/2 teaspoon

salt
fresh ground pepper to taste

2 tablespoons

oil such as canola or corn oil
For Roasted Okra
1 quart

(

400 g

) fresh okra

1 tablespoon

olive oil

1/2 teaspoon

salt
fresh ground pepper to taste
Instructions
For Fried Okra
Cut the okra into 3/4 inch pieces, roughly. Discard the top stem part, they are not edible. Place into a bowl and toss with cornmeal, salt and pepper. The okra will be lightly coated.
Heat a large iron skillet or a non stick pan (When using a non stick pan less oil is needed. I start with one tablespoon and add more if needed). Add the oil and then the okra. After a couple of minutes stir the okra and place a lid ajar on the pan so the steam can escape. Stir every 4 or 5 minutes and keeping the lid on and ajar throughout the cooking. After 20 or 25 minutes, remove and place on paper towels to remove any excess oil. Taste for salt and pepper and serve.
For Roasted Okra
Heat oven to 425 degrees.
Place the washed and dried whole okra on a baking sheet. Add oil, salt and pepper and toss.
Place in the oven for 20 to 25 minutes tossing after 15 minutes. They are ready when they are browned and they will be slightly crisp.
Serve while still warm. Do not eat the top part of the okra, it is very woody and can be prickly.
Enjoy!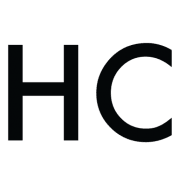 Laura Davis
Laura Davis is the author of the blog Sweet Savory Planet and has a life long culinary passion with southern roots originating in her home state of Alabama. She has a degree in nutrition from University of Texas at Austin.