Crunchy and delicious julienne shredded zucchini gets enhanced with fresh basil and nutty pine nuts.
By Vicky Cohen and Ruth Fox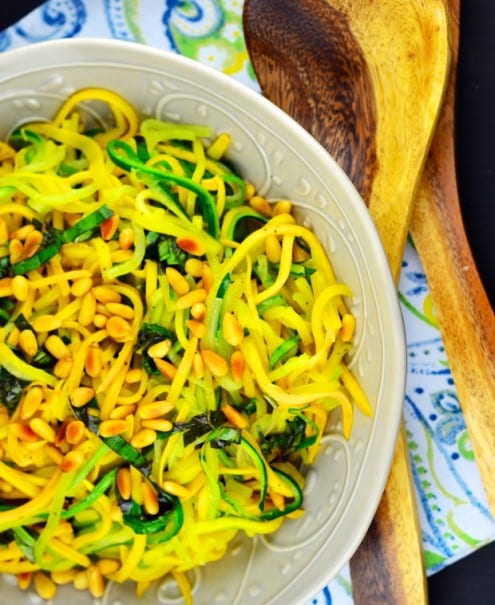 Zucchini "Spaghetti" with Basil and Pine Nuts
Crunchy and delicious julienne shredded zucchini gets enhanced with fresh basil and nutty pine nuts.
Author:
Vicky Cohen and Ruth Fox
Ingredients
4 small yellow zucchini
1 large green zucchini
2 tbsp olive oil
4 cloves of garlic, grated
¼ tsp salt
? tsp black pepper
½ cup chopped basil
3½ tbsp raw pine nuts
1-2 tsp lemon zest (optional)
Instructions
Using a julienne peeler, cut long strips of zucchini, until you reach the seeded core (where it becomes too soft to peel). Reserve the cores to use in soups, stir fries, etc (See Note)
Heat 1½ tablespoons of olive oil in a large non stick pan. Add zucchini, grated garlic, salt and pepper and cook at medium heat for 5-10 minutes ( the times depends on the texture you prefer. For firmer, "crunchier" zucchini, cook for less time). Remove from heat and place in a shallow bowl
Add pine nuts to the pan and toast for 2-3 minutes until golden brown, tossing often (pay close attention to the pine nuts as they can easily burn!). Add to cooked zucchini
Sprinkle chopped basil and lemon zest (if using) and drizzle remaining ½ tablespoon of olive oil
Notes
If you don't have a julienne peeler, use a regular vegetable peeler to make wider ribbons. You'll have "fettuccine" instead of "spaghetti"!!
Vicky Cohen and Ruth Fox
We are two sisters born and raised in Barcelona, Spain, with Sephardic and Middle Eastern roots. We grew up eating the best, most flavorful, comforting home-cooked meals prepared by our mom, who taught us everything we know about cooking. When we moved here to the U.S. we felt it was really important to keep our traditions and background alive, and we've done so by sharing it with everyone we've met throughout the years. After all, what better way to make new friends and share our love and culture than through food, right? Our friends have come to enjoy our food and gatherings so much that are always asking us for our recipes. That inspired us to start a cooking blog called "May I have that recipe" where we share recipes we've created inspired by our multicultural background.