You need just two ingredients to make these nutty, not-too-sweet candies that are popular during Eid, the Muslim holiday celebrated at the end of Ramadan.
By Zerrin Gunaydin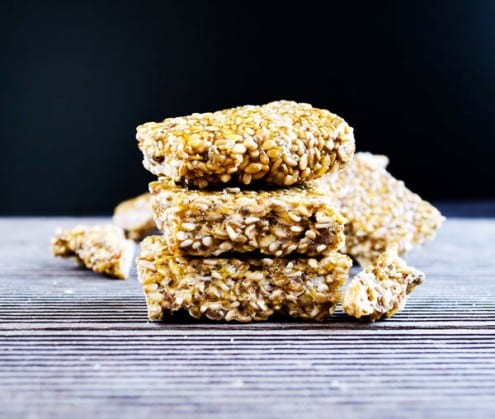 Crunchy Sesame Candy
You need just two ingredients to make these nutty, not-too-sweet candies that are popular during Eid, the Muslim holiday celebrated at the end of Ramadan.
Ingredients
1 cup sugar
1 cup sesame seeds
Instructions
Line a small tray with parchment paper.
Prepare another piece of parchment paper in the same size.
Heat sugar in a non stick skillet over low heat until it melts and caramelizes stirring occasionally for about 45 min.
Take it from stove and add in sesame seeds. Mix quickly with a spatula.
Pour the mixture on the parchment paper and cover it with the other piece of parchment paper.
Flatten it with the help of a rolling pin.
Let it cool and remove parchment paper.
Break it roughly with hands and serve.
Zerrin Gunaydin
Zerrin Gunaydin is a food blogger living in Turkey. She loves to share recipes mainly from Turkish cuisine on her blog Give Recipe. Zerrin is trying to inform people around the world about Turkish cuisine, which has a very large repertoire with its various kind of dishes.